There is a huge discussion going on right now within the boatbuilding community. Lately the final ban of Teak imports from Myanmar is the last "nail in the coffin" for this traditional decking material, as it was the growing trend towards sustainable boat building. Thus, new materials are sought after more than ever with the old bulls like Flexi-Teak gaining momentum again. I decided to re-new the deck materials of my (now sold) First 27 SE months ago and had to learn it the hard way: Cheap bought is bought twice.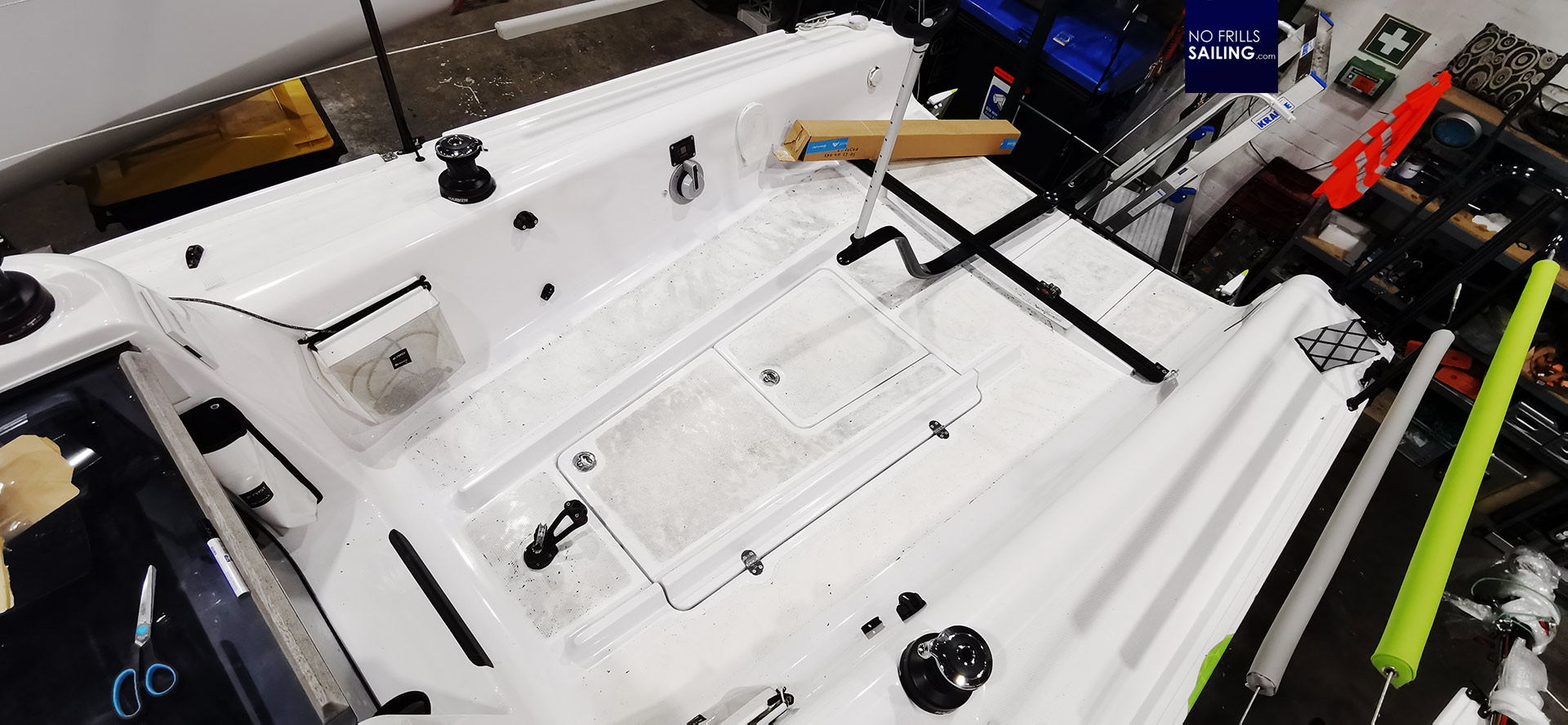 In this I had decided to work with a professional decking manufacturer instead to giving my cheap Amazon-China EVA-experiment a second chance. SeaDek is a top dog brand when it comes to self-adhesive EVA-decking floorboards for boats. Their origin is outboard power boats but especially performance sailing boats where lightweight is a definitive pro soon discovered the advantages of this synthetic material. After my EVA-foam experiment on GEKKO I decided to definitely stick with EVA. Two weeks ago our yard freed the boat from the rest of my works and now the sheet is white again for a second trial. This time with the pros!
Checking the offer by SeaDek
I met with a SeaDek official during Lake Constance boat show at the beginning of September to discuss my project with him. In this, he brought a small sample of the 2-color flooring which has a material thickness of 6 millimeters. SeaDek also offers a 1-color decking with 5 millimeters and a 3-layered extra-thick material with a thickness of 9 millimeters.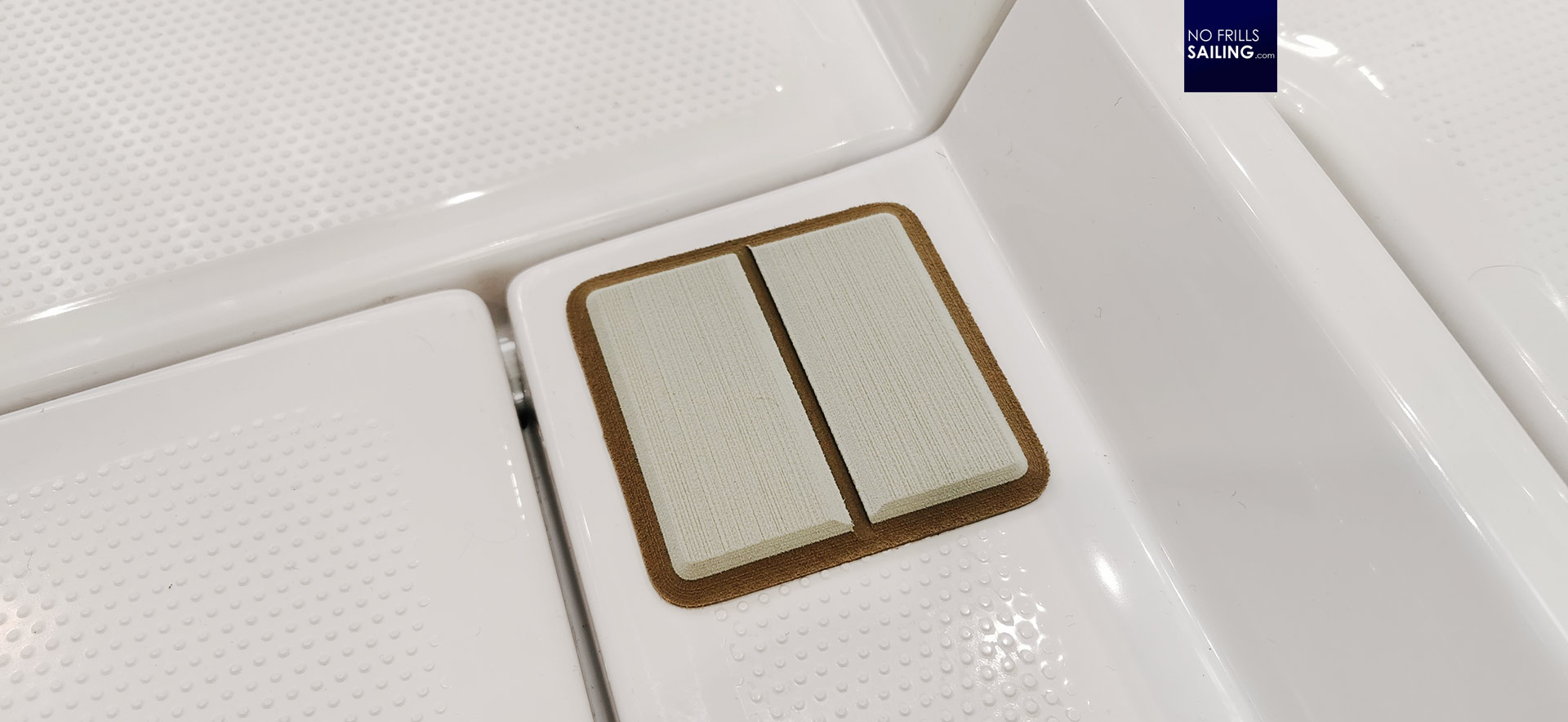 The sticking test on bare GRP non-skid surface showed the superior adhesive qualities of the material. Other than with my cheap Amazon-products, the patch sticked completely and bomb-proof after being pressed upon a few times. We could also easily take it off again without destroying it to re-position the panel. As said, the glue is due to be sticking completely after a few hours bonding time. I thought that this was exactly what I wanted and agreed to order.
The new owners of GEKKO followed my suggestion to keep the color-scheme of the old deck which was grey "battens" and black caulkings. The cool thing about SeaDek is that there will be an embrasure around each panel, something I couldn´t produce on the China-plates. Also, the edges of each panel are softened and rounded so that accidentally peeling them off when walking on the deck is virtually impossible.
Working the gauging templates
I asked Seascape to send the CAD-file of the non-skid areas of the First 27 SE which they did instantly. Sending these data to SeaDek it took no longer than 3 working days to produce the gauging templates. Same as with the solar-panels on my boat, the company wants each owner to re-assure before production that the size and fitting of the panels is 100 per cent.
Together with a set of 9 gauging templates printed in form of a thin red outline on transparent plastic foil a sheet of paper arrived with instructions. That said, I started to cut out each panel with leaving some surplus "flesh" at the sides just in case the panels needed to be enlarged. The paper stated that I was to fix the templates well in place and check if the red outlines produced from digital data adhere to the real-life non-skid pattern.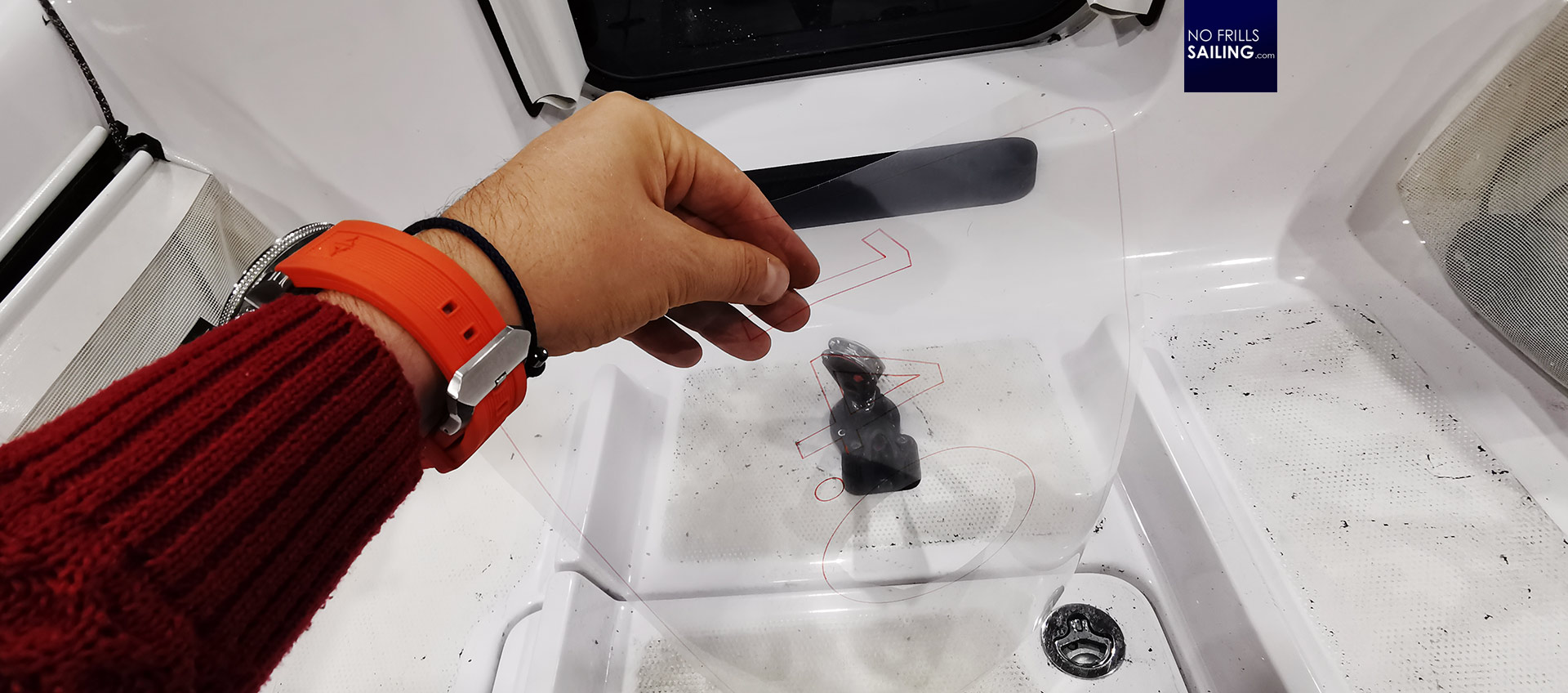 Kneeling down and putting each panel on the designated place I took an Edding to apply changes. Well, why changes?, you might ask: Shouldn´t then CAD-based data produce a completely perfect fitting panel? In theory yes, but not practically. First, on one non-skid area apparently Seascape changed the pattern slightly, that´s the one underneath the mainsheet traveler. Secondly, three of the panels had been too short at their ends, a divergence of 2.5 centimeters, which is a lot. And then I decided to have each panel widened to 3 millimeters to each side to minimize non-covered surface. It took me about half an hour to cut out, lay down and correct all of them nine panels.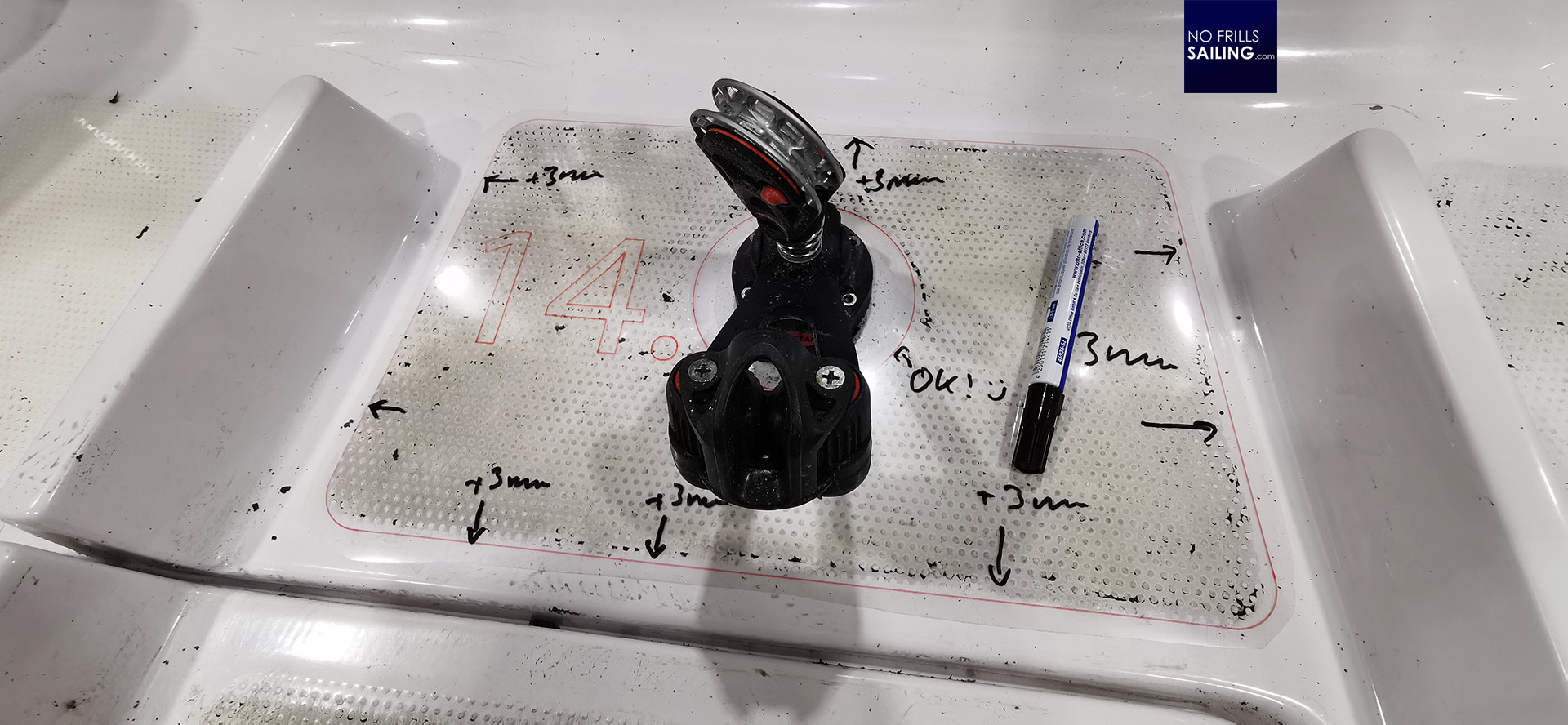 If you are thinking of maybe doing a re-fit on your own boat with SeaDek (or any other provider of such a product) I would strongly advise to ask for 1:1 gauging templates and a thorough check as well. The budget for such a venture is too big to rely solely on digital data or – worse – self measured input. Talking budget, how much is needed? Well, for the area covering the cockpit of my boat I will pay around 1.800 Euros in the end (incl. German VAT which is 19% here) and this is just the material plus 300 Euros for the removing-works of the old EVA-deck.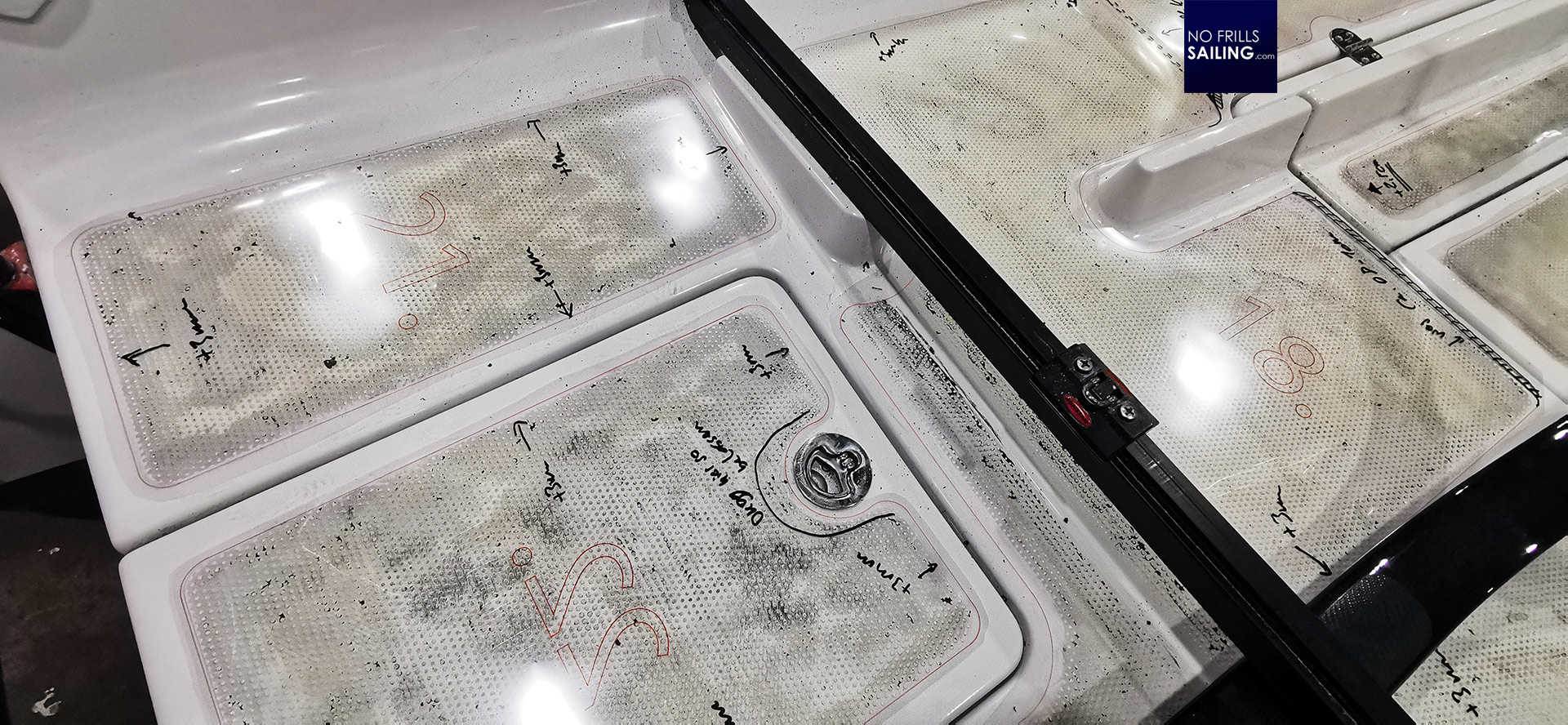 You could also book a SeaDek-Specialist who is doing the gauging and sticking works, paid extra of course. Remember, my Amazon DIY-project with EVA cost me less than 200 Euros. That´s a ratio of some 1:10 if you will, cheap versus pro. You decide. Seeing the complete deck covered in the plastic templates, written with instructions where to add and where to remove, I realized that this was quite a venture and not a quick-fix indeed.
What´s coming up next?
So what is going to happen next? Rolling my plastic templates together and filling in the paper-forms sent by SeaDek, the whole bunch got parceled back to the company. They are now re-visiting the data and – possibly – producing new templates just to be sure. If not, my new deck is entering production.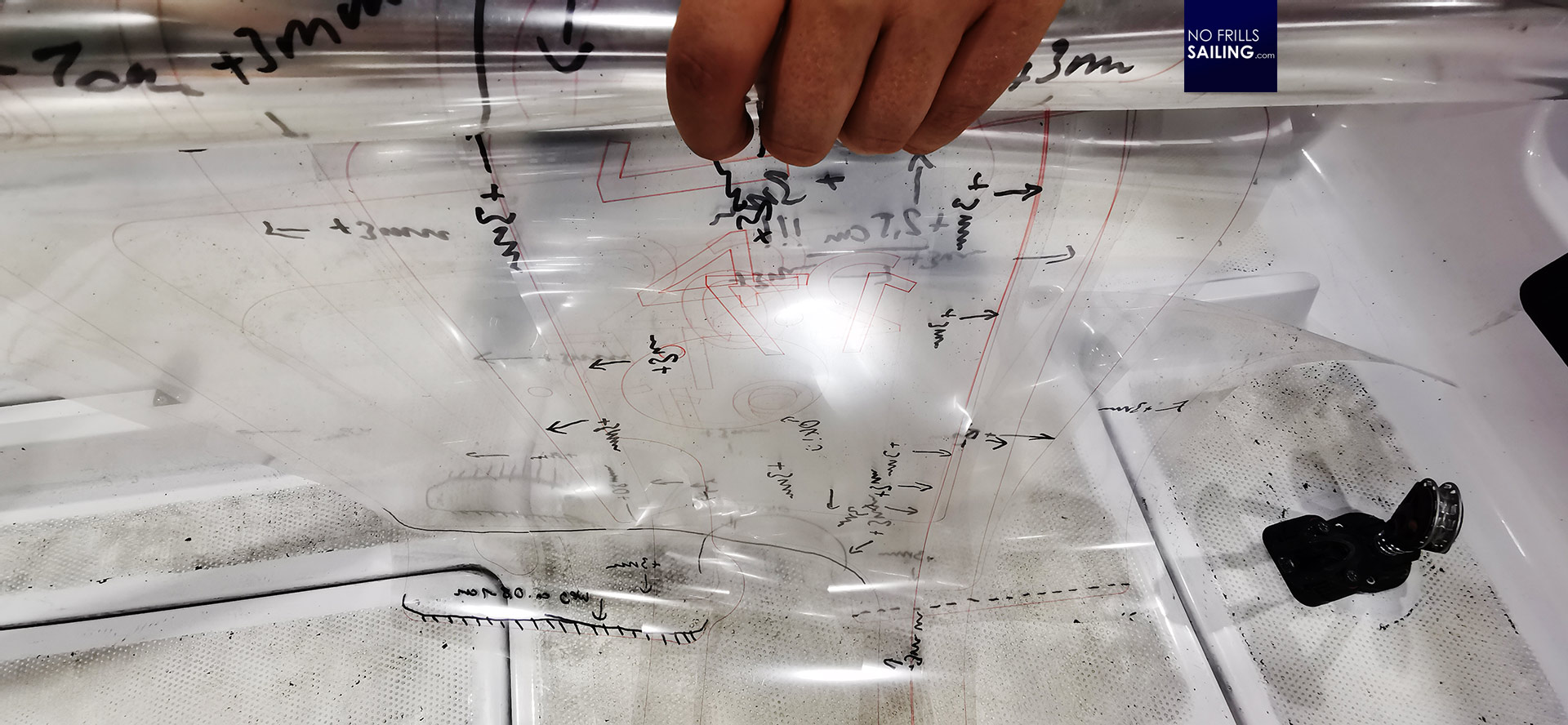 I am glad to learn that EVA-foam production is not affected by the worldwide soar in raw material prices nor subject to delivery shortages so I hope to receive the decking back within a 2-week-period. I am going to then prepare the surface a last time for the application of the deck panels, another big canister of Acetone is already ordered. And then – well – last not least we will put on our white gloves to fit the new freshly produce deck to the boat.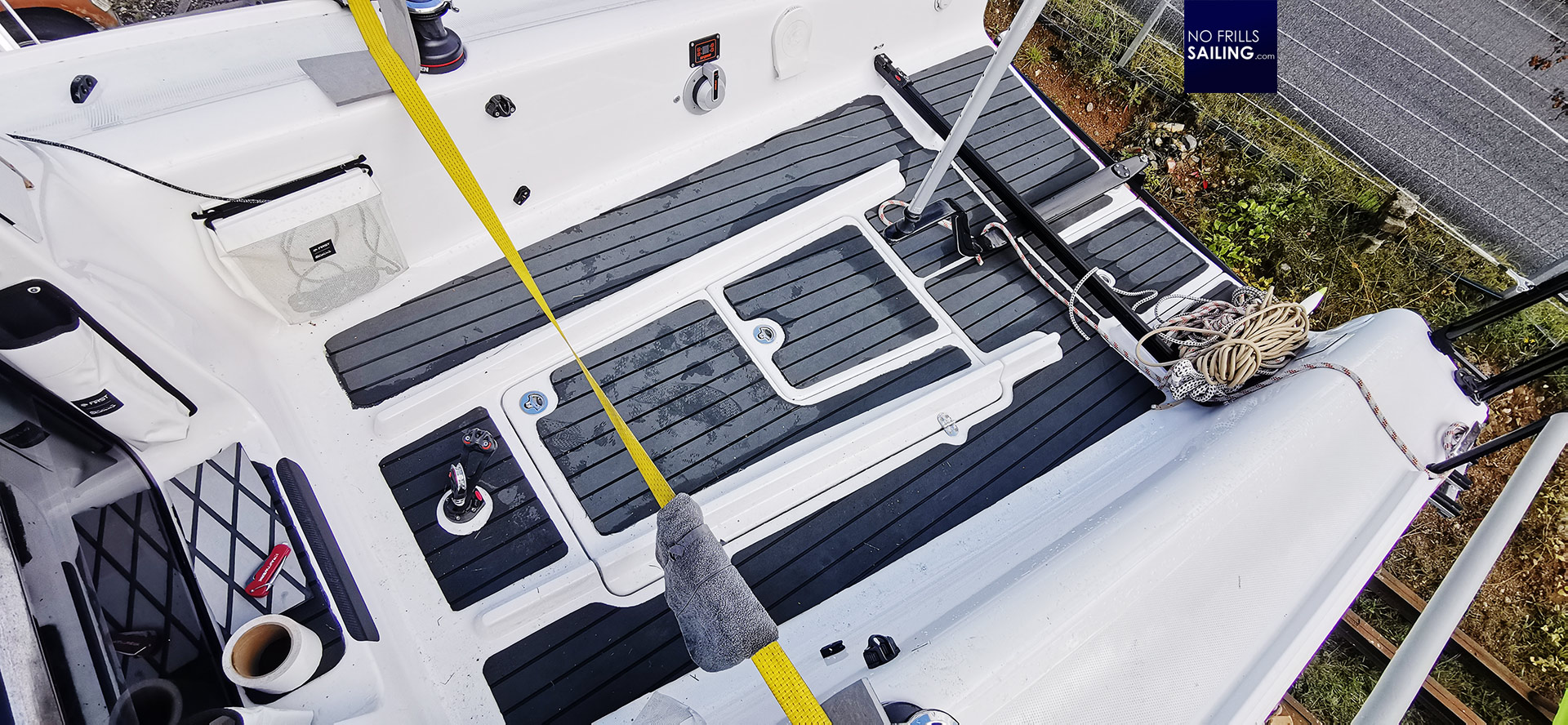 The benchmark is not very high: The material quality of the cheap Amazon-bought China EVA was poor, more so the awful sticking qualities of the glue. But visually I must say I found that even the DIY-foam looked sick on the boat. So my pleasant anticipation is very high. And who knows? If this works out fine, maybe I will go on to order a SeaDek-deck for my new boat as well?
Articles on the same topic which might be of interest:
Removing old decking
Supplanting Teak in boat building