I cannot help but to describe this yacht as a "happy boat". Why? Well, maybe it´s the vibes this Jeanneau Sun Odyssey 410 is radiating or the nice choice of colours the owners have take to fit her interiors: I loved the blue cushions and the bright, honey-white Oak veneers. It was during this years Interboot boat show on the Lake of Constance I´ve had the chance to see this cruiser for the first time live, and I am happy the dear colleages from our French sister-company granted me access.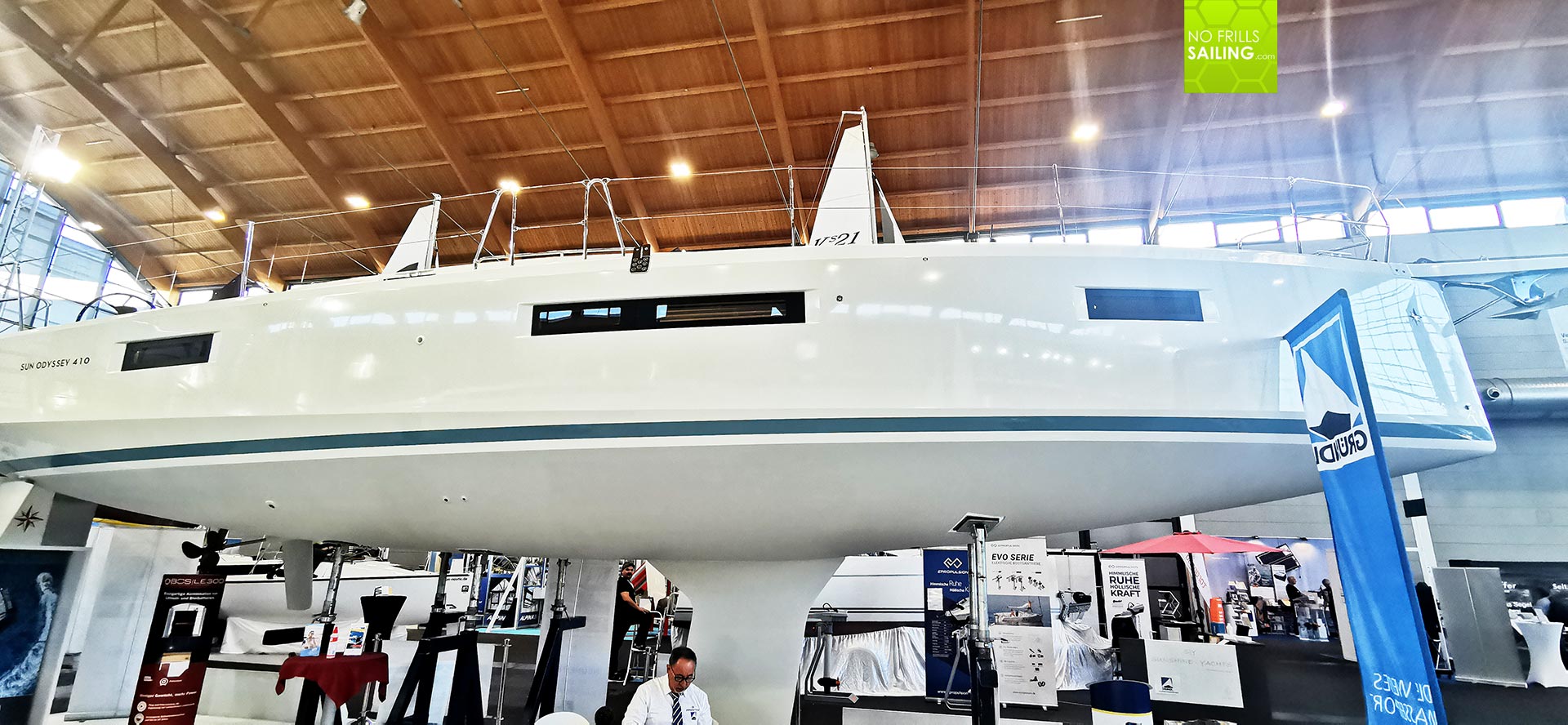 I do have a special relation to the Jeanneau Sun Odyssey 410 as this was the first of two brand new 40-feet-cruising yachts designed by one of my favourite naval architects, Monsieur Marc Lombard. A already knew that he was working on his second one, the Beneteau Oceanis 40.1 when I interviewed him on his general view on 40 feet cruising boats. As he was restricted not to give away any info on the new Beneteau, we instead talked about the then freshly launched Sun Odyssey 410. Read the interview here.
Light suffused: A Salon light in those "good ol´ days"
The Sun Odyssey´s hull clearly speaks Lombard´s language: The inverted bow is a feature that is more and more taken on by production companies. Kind of timely shifted to the professional racing yacht design these negative stems more and more become a "must" for ordinary cruising boats. The Dufour 470 has it and now with Hanse´s new 460 launched another inverted bow is out. Same for the Odyssey. Her sharp lines and – for Jeanneau – relatively low profiled cabin roof make for a sleek, speedy look. I quite like it.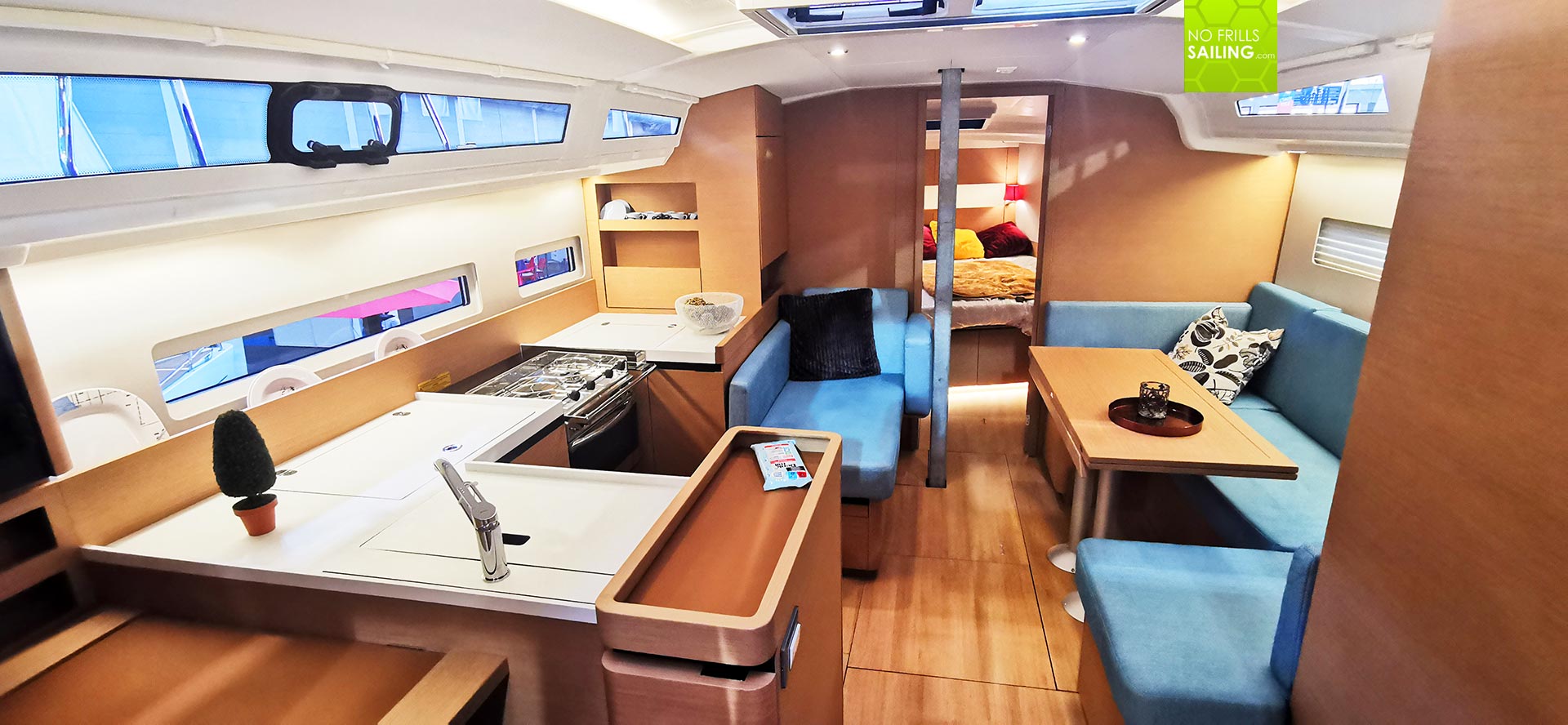 Now, with a good briefing my Lombard himself still vivid before my eyes I entered down into the salon and was really astonished. Up until now I thought of Jeanneau boats as the more charter-compatible, voluminous variant of the Beneteau group whereas Beneteau Oceanis is targeted more on to ordinary private owners and having charter companies as their secondary aim. Not so apparently for the Sun Odyssey 410. Sailors will be delighted to see this saloon. More on that in detail later in my text.
What again was quite nice – and I must state this is a must have for any new production cruising yacht on the market – was the abundancy of natural light. There are large porthole windows near the waterline in the hull, coachroof windows to the sides of course and well placed skylight hatches. What a great view onto the full canvas this must be when the boat is not placed into a poorly lit trade fair hall … now, back to the boat for an owner. Why is that?
Surprise, surprise: A proper Chart Table!
Well, look at this chart table. It is a proper chart table. Not one of these makeshift alibi mini-desks where a normally sized laptop will be too large, but a decent sized chart table where a dedicated owner will have the ability to work paper charts as well as do Captain´s work. There´s a nicely cushioned seat, lots of stowage underneath the table and all switches of the main panel right there where you would need it.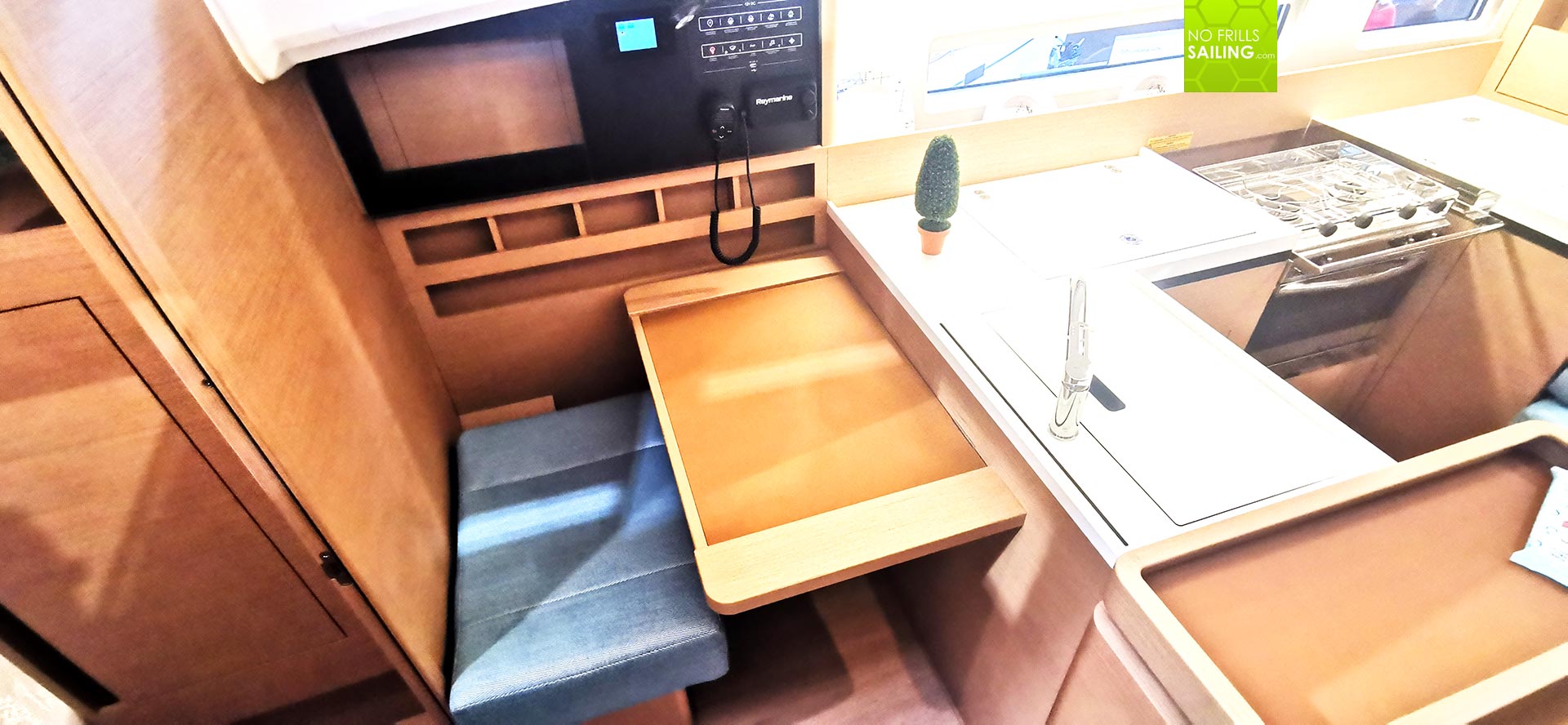 I know that many, many skippers do not do paper charts any more and most use their Navionics apps on tablets or smartphones, but me personally, I love boats with a chart table as I prefer – at least on long haul cruising – to work with ordinary naval charts, do my logbook entries and plan weather ahead. This can be done on dinner tables for sure, but a dedicated nav station is something I like. Chapeau, Jeanneau!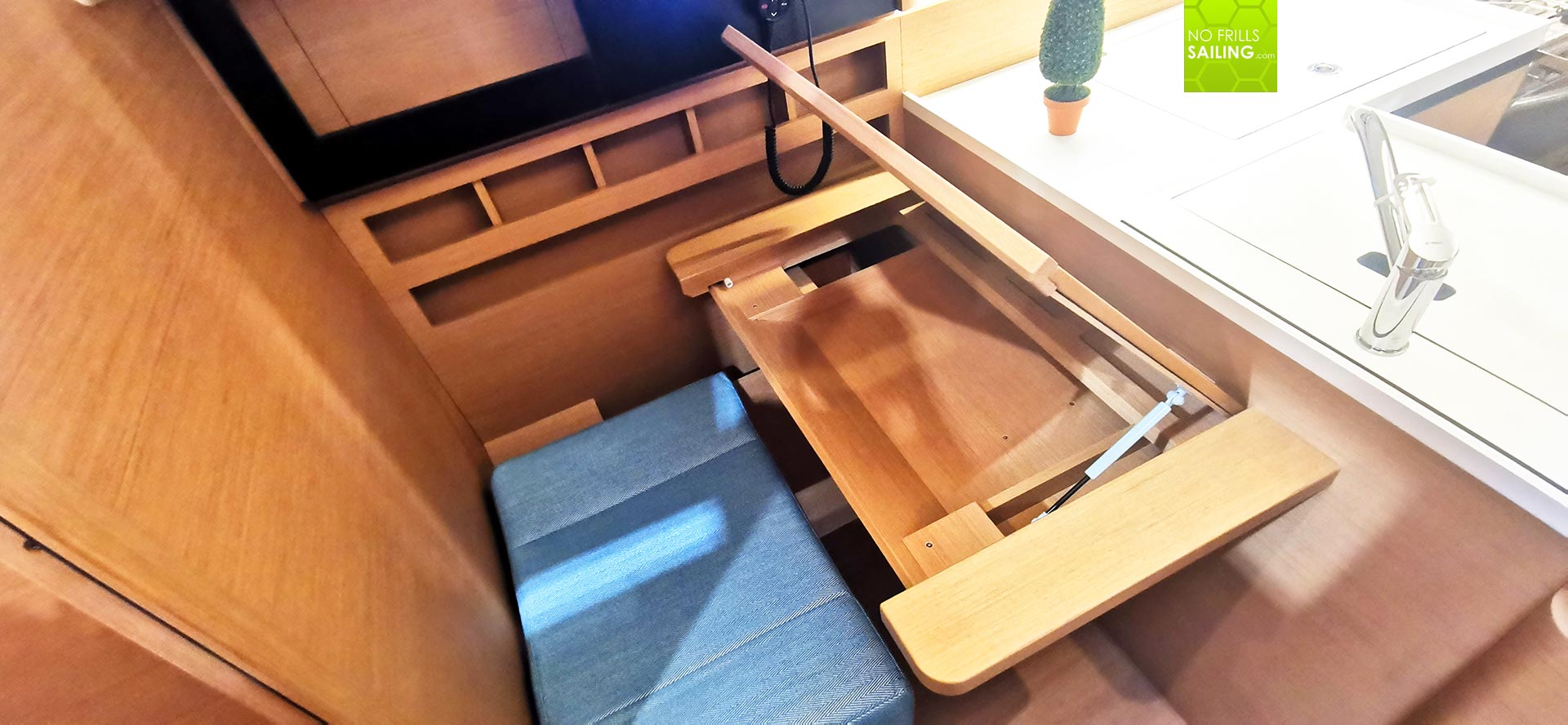 Also the whole saloon did not look like it was meant for charter crew usage. Normally you´d expect large free spaces, lots of seats and benches and wide open volumes. On the Sun Odyssey it seems that the interior designers have looked into offshore sailing in more detail: Lots of motion in heavy seas, so open spaces pose a danger. There is always a grab near you as you work your way through the saloon. The longitudinal galley makes offshore cooking a safe occasion and the large U-settee around a normal sized dinner table can house a party of 4, when extended 2 more, guests for a nice below-deck-dinner.
Portside galley
Speaking of the galley: I found the amount of fridges astonishing. There is a large fridge that is accessible from top and front as well as a second one (option) as top loader. Decent stowage, although sometimes a bit oddly placed. I had to laugh when I discovered where the tray for the cutlery has been placed… As I said, a bit odd but I guess one can get used to it.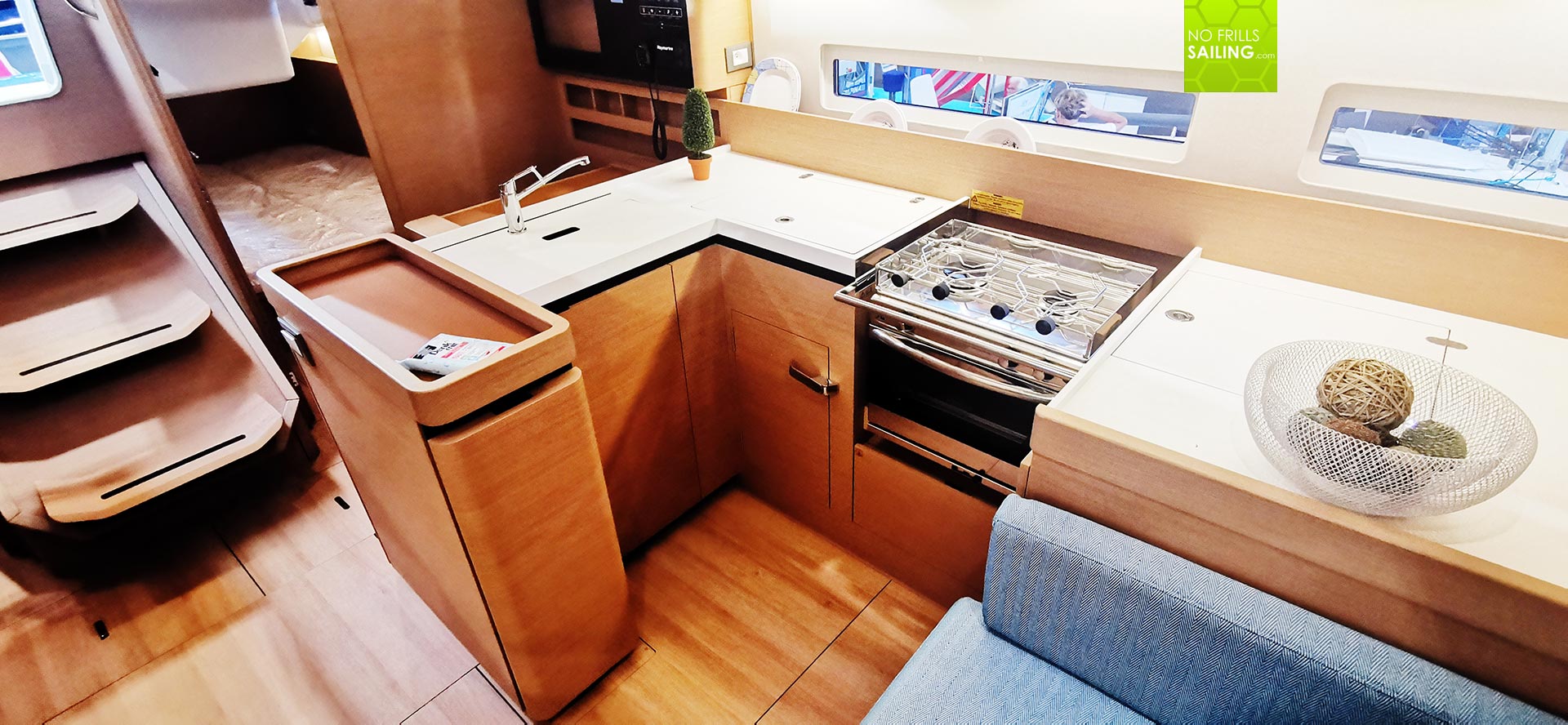 Cooking in this galley will be safe and sound even in bad weather as the ship´s cook will be able to wedge himself between the furniture. Doing the dishes or preparing a meal can be done in excellent positions here and there is absolutely nothing to criticize in the setup of this ship´s galley.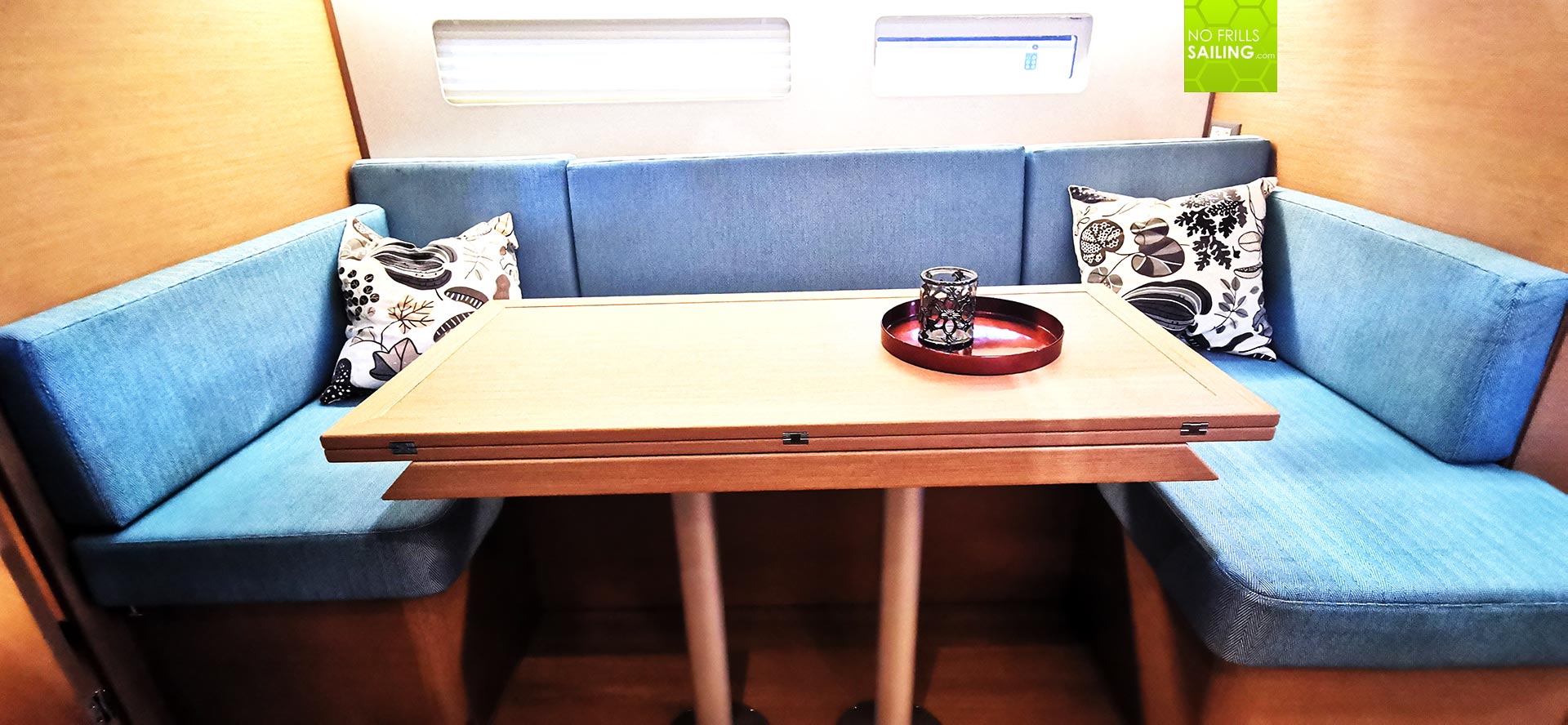 The large dinner table can be lowered (by replacing the stands with shorter stands) to function as a third berth where a seasick person can be laid down near the centre the boat to avoid most of the motion. The table can also be extended and together with the small 2-seater vis-à-vis on port side 6 persons can be fed on this table. Nice. All looked cozy and nice, as I said, I loved the fresh color-choice in this particular boat, something, I would wish for in a Beneteau where there are no such nice cushion colours available.
A minus: The Cabins
As much as I loved the saloon, the less I liked the cabins I must admit. For a 40 feet yacht both fore cabin for the owners as well as the aft cabins in my opinion have been too small. Especially the owner´s cabin in the front was disappointing. The second bathroom in the bow takes away so much space that the bunk size and the impression of the cabin itself was appearing to be very small.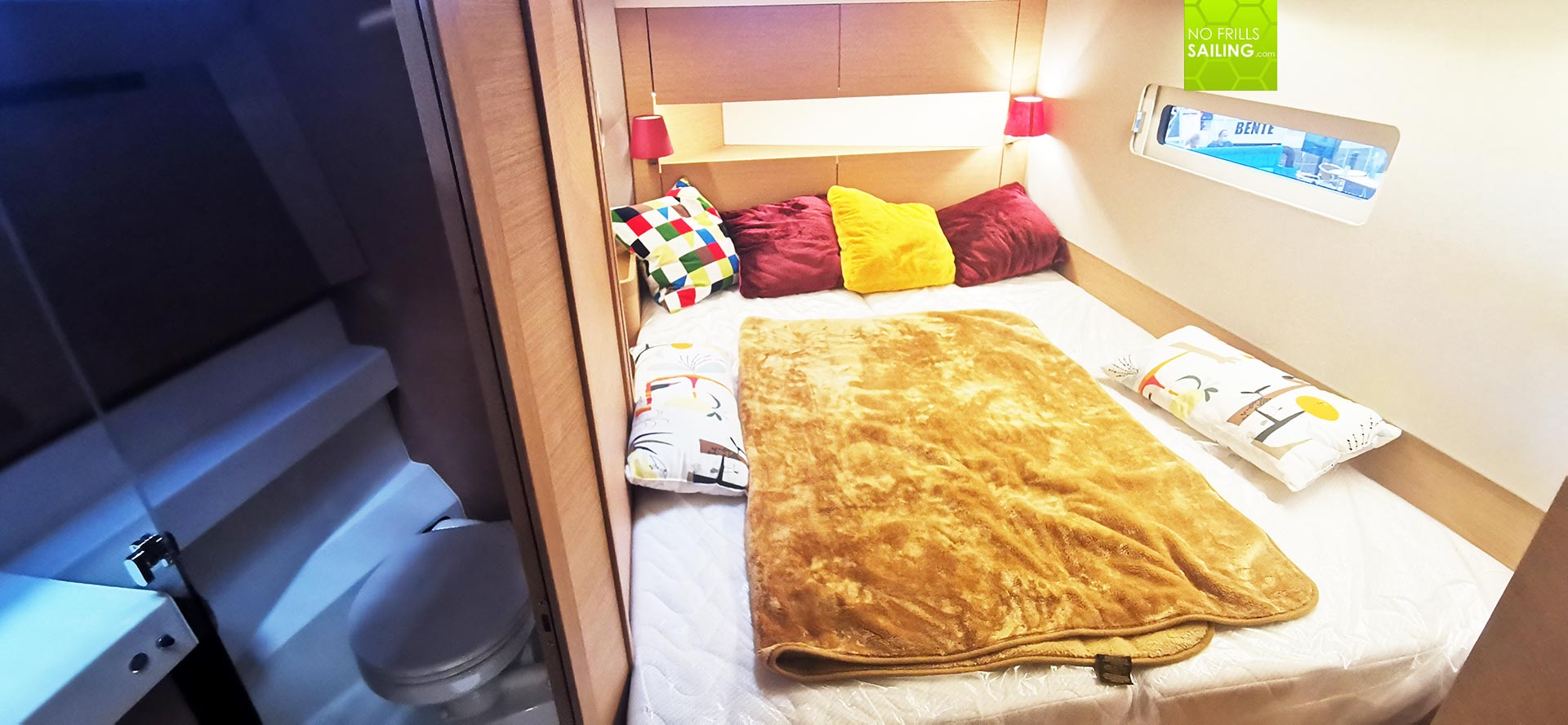 Also in the stern, the two aft cabins (which appeared much bigger than the one in the bow by the way) left not a good impression with me. I thought the bunks where too slim. Although the size of the cupboards and stowage in general was plenty of which I liked and most crewmembers will most certainly give Jeanneau credit for that, but in general I must say for a modern 40-footer my enthusiasm was a bit turned down.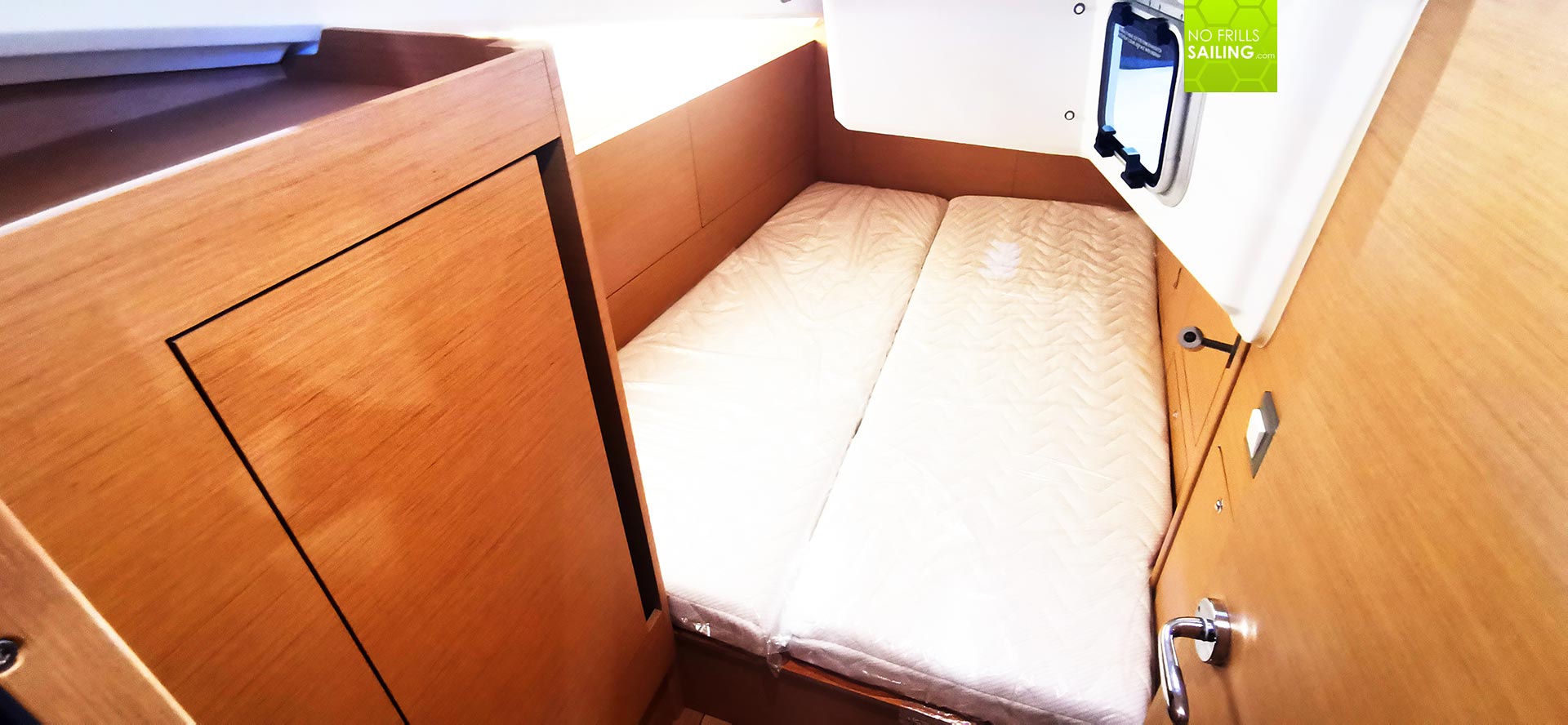 Anyway, I thought: When do you use a cabin? Normally to be unconscious, namely when you sleep. So in a way, trading a larger saloon for smaller cabins seems a good bargain as much more time is spent here in the middle of the boat. Bathrooms did not suffer any loss in volume on the Sun Odyssey 410 so everything "important" was taken care of: A large bathroom (especially the showers!) are a must have for a modern cruiser, a sociable saloon more important than a cabin where you "just" sleep. Maybe that was the intention here?
Marc Lombard´s take on a 40-footer
So, how did I like Lombard´s first take on a 40 feet production brand cruising boat? I like the outward appearance of the Sun Odyssey that is both bold and aggressive. In this, Jeanneau can pride itself with having a really sleek boat to offer. Layout is classy with working winches besides the entryway and Genoa winches in the back. There are no consoles at the steering wheels for the instruments, something that is far better solved on the Oceanis 40.1, also by Lombard.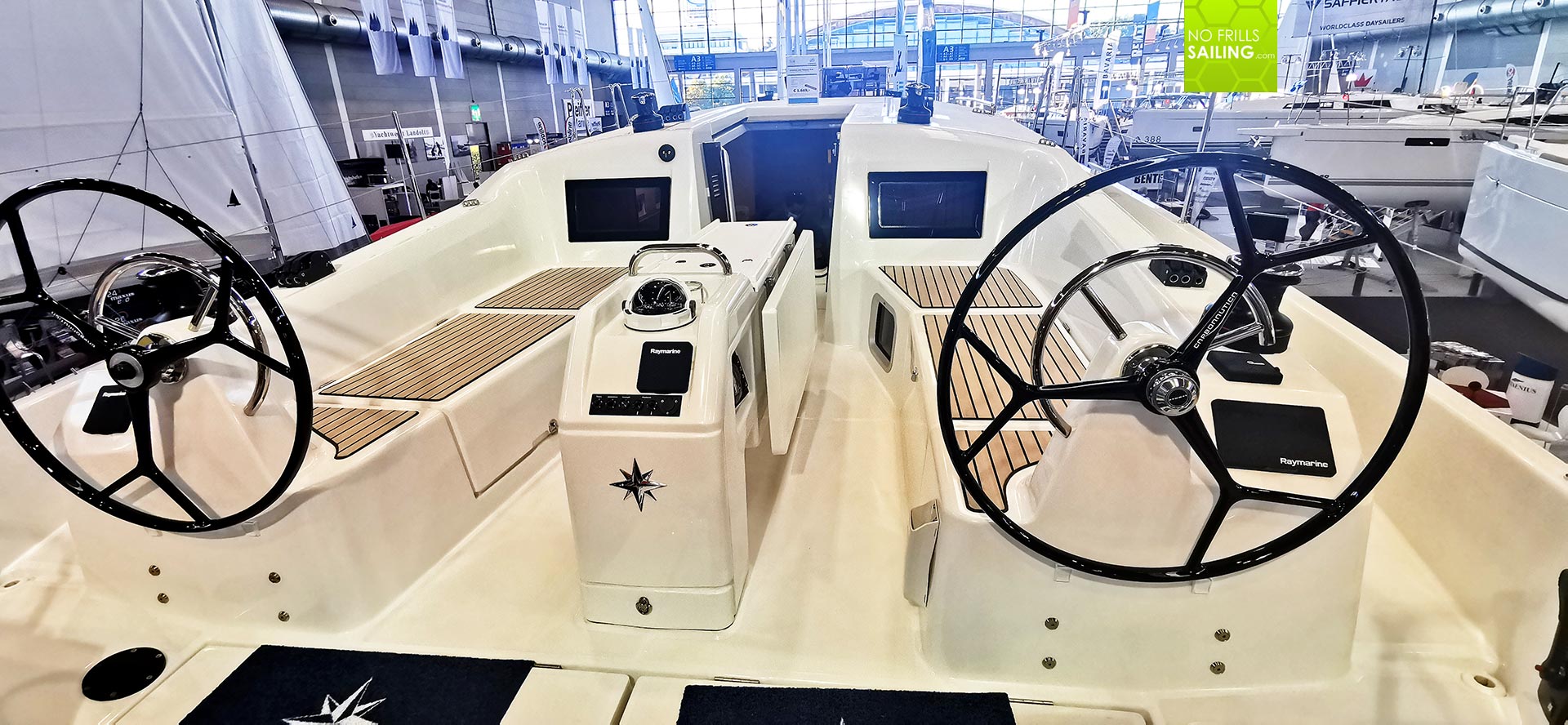 Comparing both Lombard 40´s I must say the Oceanis is still my favourite (and I do not say this because we sell this brand) although the salon and the colour palette in the Jeanneau is what I liked more. I also tend towards the Sun Odyssey when it comes to the salon layout which I prefer over the kind of "cold" appearing salon in the Oceanis. The longitudinal galley in the Beneteau is also not what I´d prefer, I fancy Jeanneau over this. You see most perfectly in my assessment (which of course is purely subjective) that a boat is always a compromise. You cannot have everything. If I could, I´d take the Oceanis´ hull with Sun Odyssey´s bow, the salon by Jeanneau with Beneteau´s cabins, Jeanneau´s colours and Beneteau´s style. Well, that is only possibly in dreams, I know. But interesting to play around with.
These articles could also be of interest:
The other 40-footer of Marc Lombard: Beneteau Oceanis 40.1
Speaking to Marc Lombard on designing boats
Masterpiece in 16 metres: Cigale 16 by Marc Lombard