There are boats and there are yachts. The line drawn between these two is a definition everybody might do as he pleases. For me, this line is 40 feet, of which below I´d call a boat a boat and from 40 feet up I´d name it a yacht. Seldom I come across yachts which are so special in their properties that even the term "yacht" feels a bit understating or inappropriate, not really describing what type this particular hull might represent. These yachts, mostly boats made from aluminum are so rugged and rigid, so confident in their appearance and capable that I refer to them as "ships". Two days ago – as a starter into a well-deserved week on vacation – I visited one of those real ships. It was a Berckemeyer BM 50.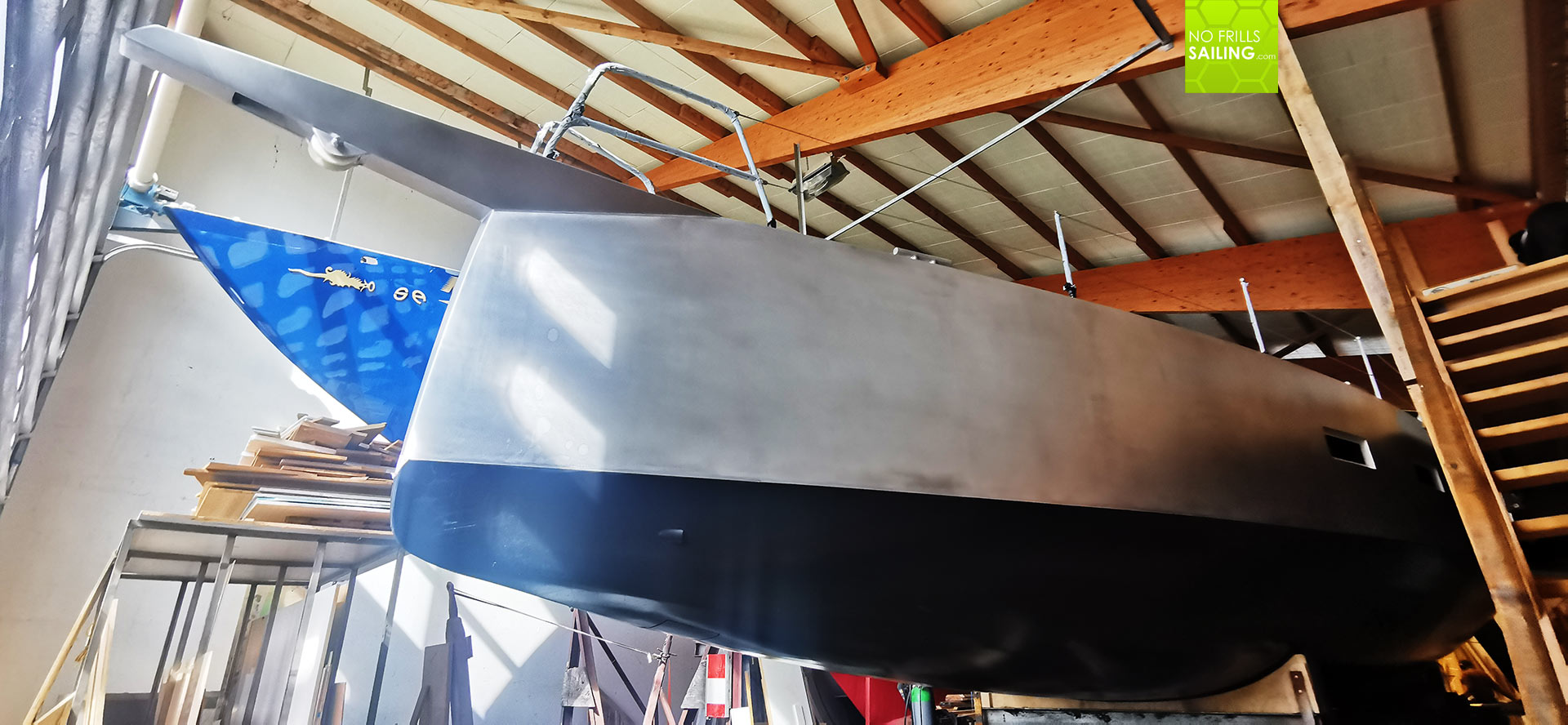 You might know about my passion for these rare sights. From the first day I saw one (it was the BM 43 ANTONIA) I fell in love with the clean lines, the breathtaking sheer line, the well-proportioned and speedy appearance. A Berckemeyer is a very rare sight: As all of them are custom made and at least individualized by naval architect Martin Menzner, just a few will be drawn by his hands per year. Let alone that Menzner does only have less than a hand full of yards he trusts with making a Berckemeyer hull. So, last time I met him we chatted and when I asked if there was a new Berckemeyer somewhere in the pipeline he sent me to Erftstadt where he said a new ship is in the making that might be of interest, so here we are.
Fifty feet for the big trip
As Menzner deems less than 5 yards in Europe capable of producing a hull in a quality that suits his definition of quality, the number of companies he trusts worthy of fitting a Berckemeyer is even less. On of these is Brune Yachtbau of Erftstadt near Cologne. I was astonished to find such a comparatively big venture in the middle of Germany. Three workshops – all of them filled with yachts in various stages of refit and building process – and a 4.000 square meter open boat storage. The boss, Willi Brune, runs the small company with 10 skilled craftsmen employed, a company that exists some 100 years and originated from a carpenter´s shop. I enter the workshop and immediately run into the sharp inverted bow of the new Berckemeyer.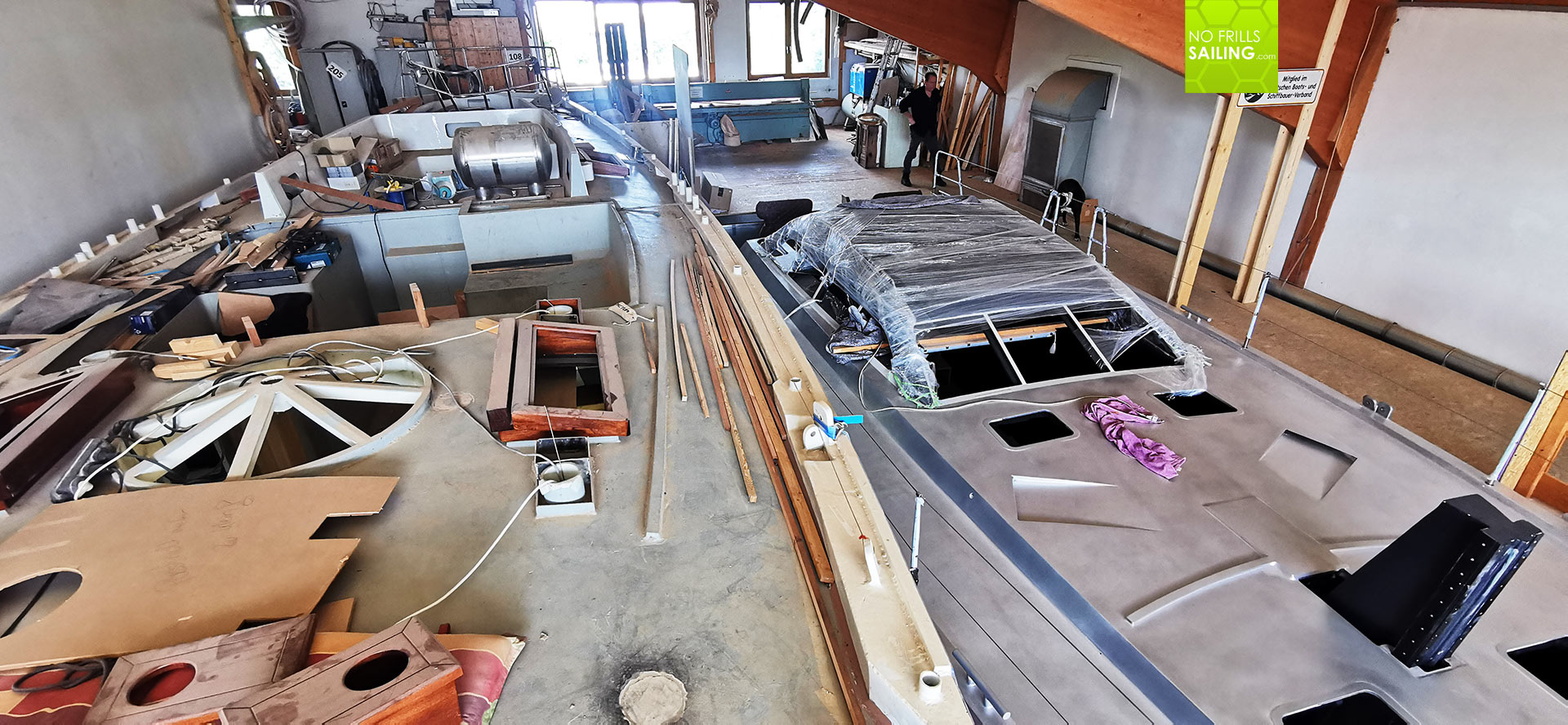 The boat is docked next to a 25 meter classic steel sloop: Amazing to see a ship-to-ship size comparison, how "small" 50 feet indeed are compared to an oceangoing blue water ship like the NIS RANDERS. Nevertheless, I´d say that 50 feet are the perfect size for the blue water cruiser, manageable by one or two people, decently well-sized for storing all the stuff and equipment one needs when going oceanic and "small" enough to fit everywhere. Bigger than that and things get complicated.
The Berckemeyer Philosphy
I admire the Berckemeyer-lines. Beauty is in the eye of the beholder, sure, but Menzer does something very special here that, to my knowledge, no other yacht designer masters so great. He is not adding to create an own style, he leaves out. A Berckemeyer design-wise, so it appears to me, is reduced to the absolute necessary, no frills, no bling, no over-designed properties – what is left is then turned into clear clean shapes that please one´s eyes. A kind of an Apple-esque approach, I´d say.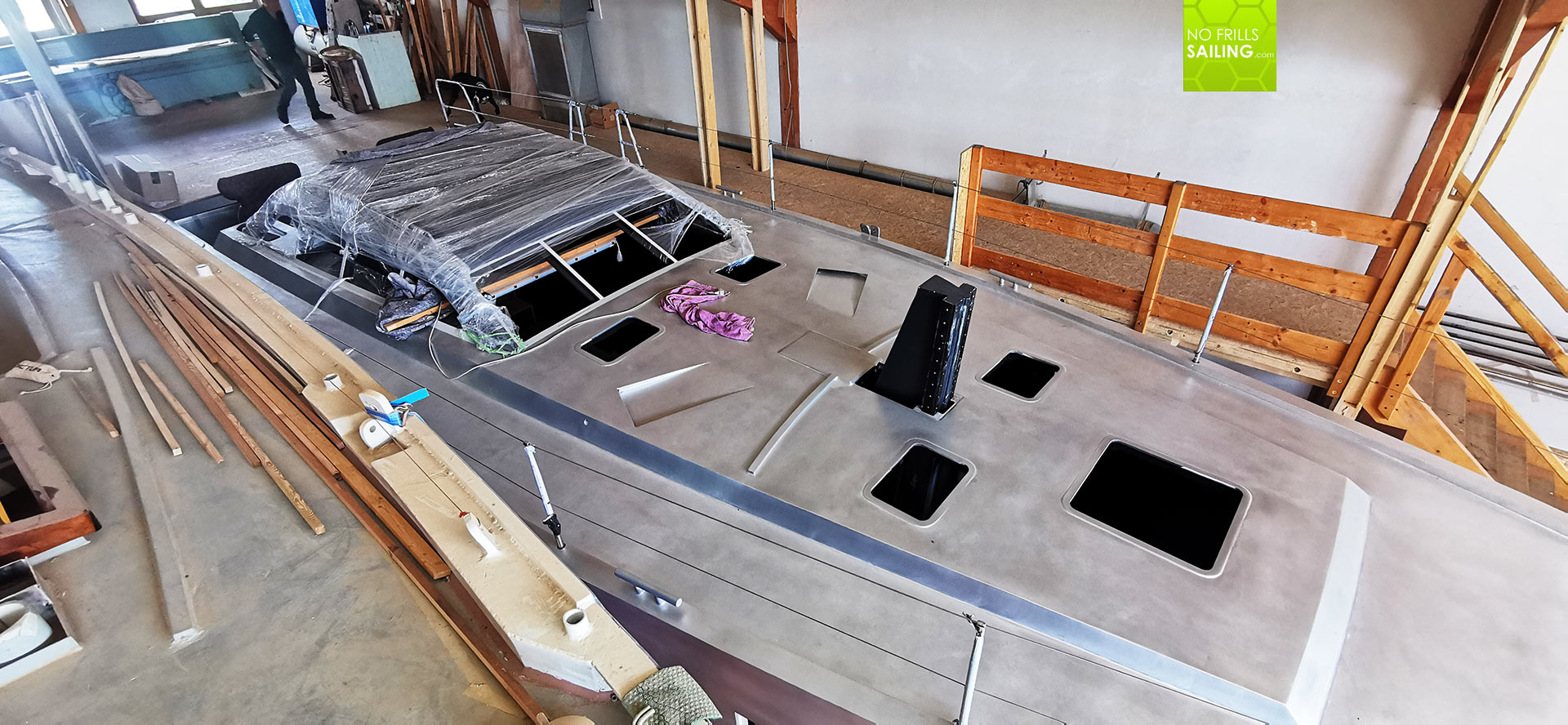 With (almost) every Berckemeyer comes one signature feature: The hydraulic drop keel. For Menzner this is an essential part of a ship´s capability, even more so on those which are potentially used by their masters to discover all the fascinating and exotic places of the world. Isn´t it revealing that all "real" blue water brands like Allures, Garcia, Boreal, Bestevaer or Alubat are offering their boats with variable drafts? I can clearly see the tip of the keel in retracted position looking out of the deck just in front of the mast foot.
Discovering something new …
I´ve met Martin Menzner several times, had the joy to sail with him aboard his J80 and was happy to be welcomed by him in his very home in Northern Germany. He is kind of a remarkable person, shy in appearance but very distinguished and straightforward in communicating his beliefs. Martin sometimes refuses to accept offers, sometimes has his undisputable boxes which he must check before doing a job. But also, sometimes he comes up with something new and before unseen.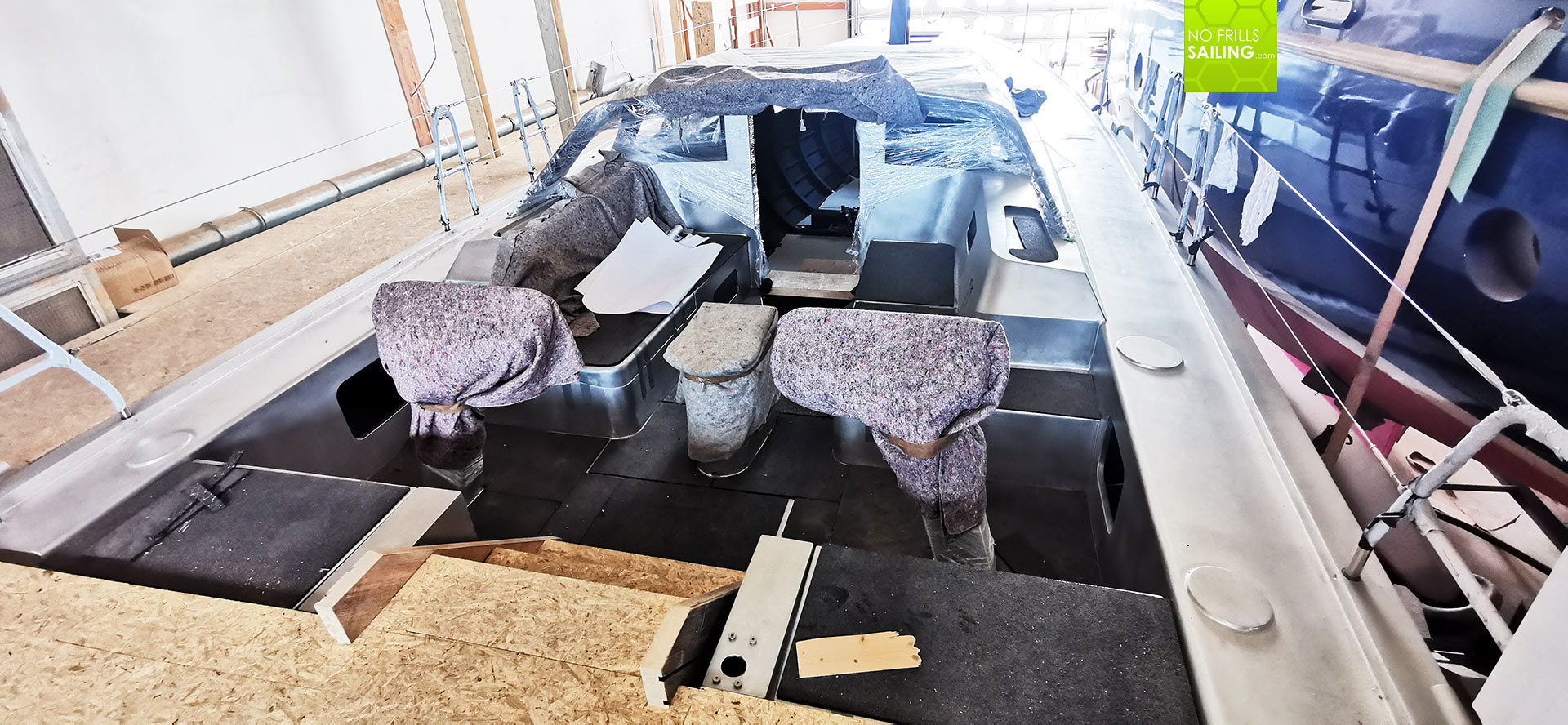 For example, on this new BM 50 for the first time I saw double steering posts. I remember travelling to see a similar boat, a BM 49 some two years ago, which is just a fraction smaller. On this one, like it is a matter of fact for him, a tiller steering had been fitted. Martin told me that this was the natural way to steer a ship for him, a similar standpoint favored by Dutch aluminium yard KM Yachtbuilders as well.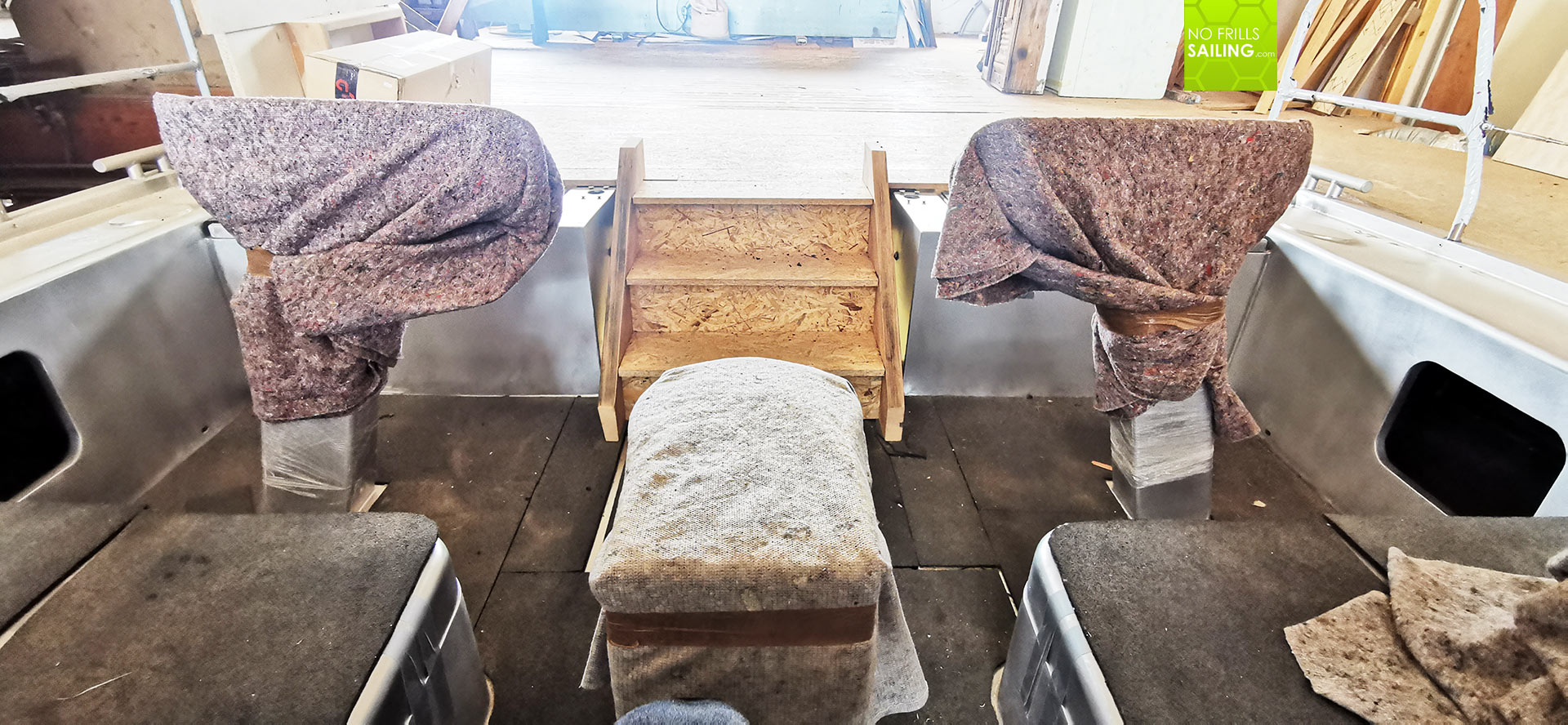 I enter the cockpit, which is relatively small compared to the ship´s size, and admire the level of manufacturing quality of the metal works. This yacht had been built by Jachtbouw Folmer, a well-known Dutch yard specialized in making aluminium kasko and by the way one of the destinations I will have to visit. The welding seams had been smoothed perfectly, the surface of the metal sanded and polished so nicely. Round edges are smoothed so even that it almost appears to be a perfect GRP-boat with a shiny metal paint. Just wow.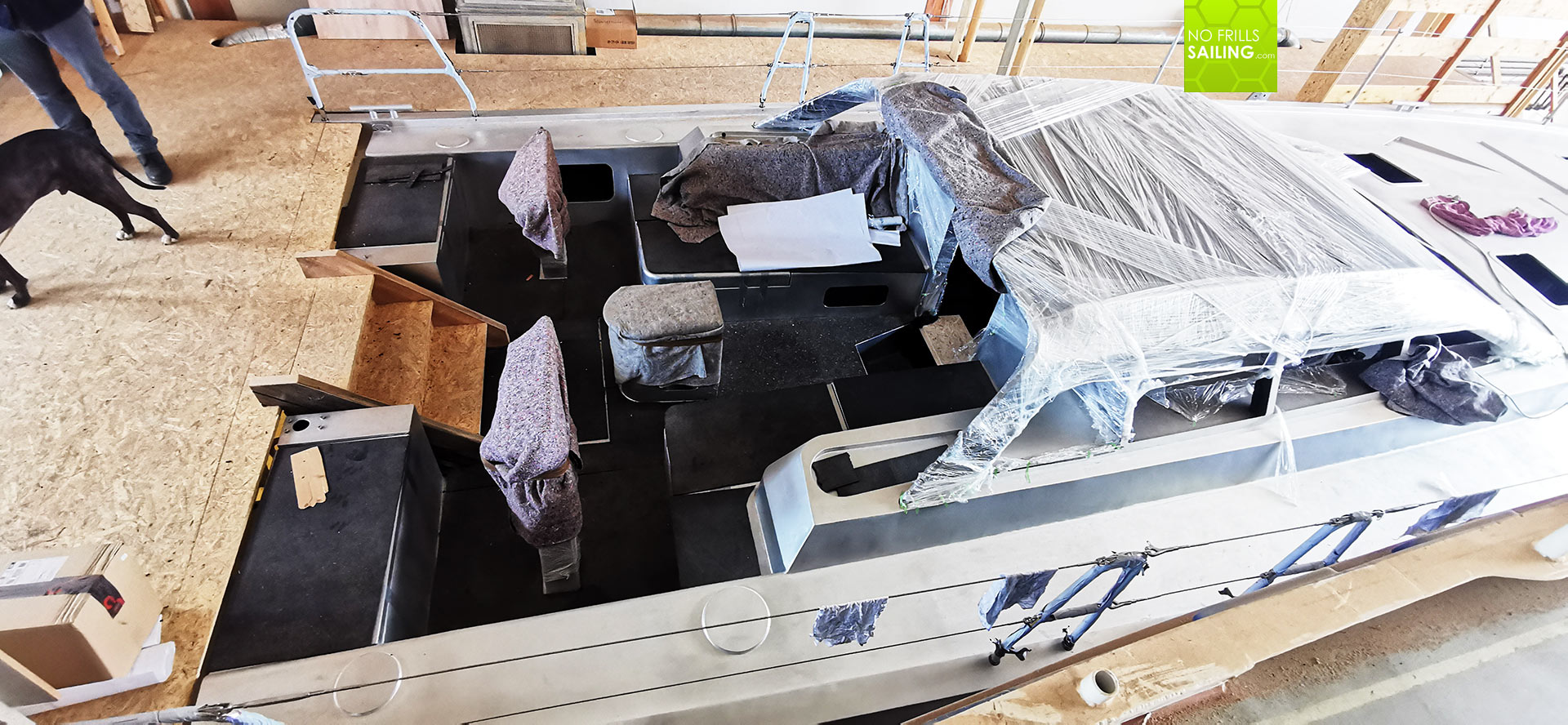 Stepping back I can see another signature of the Berckemeyer-style. This is the remarkable and second-to-none ratio between the sheer line and length of the deck and the size of deckhouse plus cockpit. The whole boat appears to be an endless bow. A never ending bow which at its end features a streamlined deck house and a tiny cockpit. An aesthetic that is only matched by the big Luffe yachts like the Luffe 48 which has a similar appearance. Certainly, there is no ship so smooth, clean and elegant as the Berckemeyer. Even this unfinished specimen conveys the pride of its rare breed.
The very special lines of Martin Menzner
I walk along the deck and come across the deck house. Berckemeyer yachts are made in two main lines: For the cruisers it's the apparent sleek, steamlined performance design and for people interested in having a yacht that adheres to the more classy and "ship-like" looks Martin Menzner can make a pilot house classic cutter, much like KM´s Bestevaer – but only on Steroids.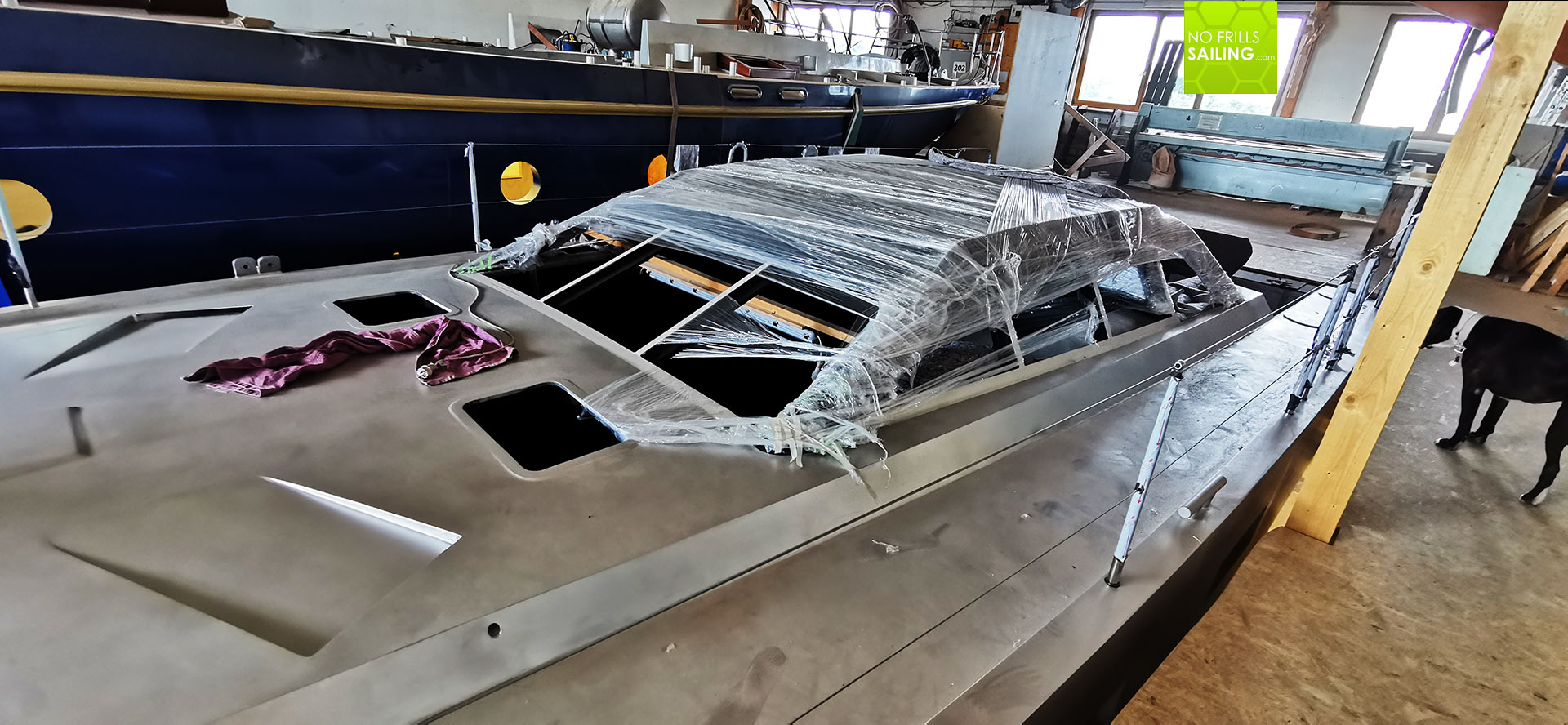 The deck house features big windows on the front and sides which will make for a light-suffused saloon and loads of natural light down below. The cockpit is small. Like all serious offshore and oceangoing yachts designed for the big trip it offers high safe coamings, a rigid doghouse that also serves as a shield against spray. The seating is limited to the minimum and narrow: One can sit here and admire the sea whilst being kept safe. This is not a yacht meant to be moored in Saint Tropez or at anchor in the Med. This one is for sailing, that´s for sure.
Custom one off with all individual freedom
I go down below. Like every well-made aluminium yacht the combination of hull and deck makes for a body that is stiff and rigid. No need for bulkheads to add structural strength. This yacht literally could be made as a huge single-room boat without any bulkhead and it would still sail absolutely torsion-free, without wobbling or loosening stiffness. Nevertheless, of course, she will receive a proper interior fitting: Thatswhy she is here.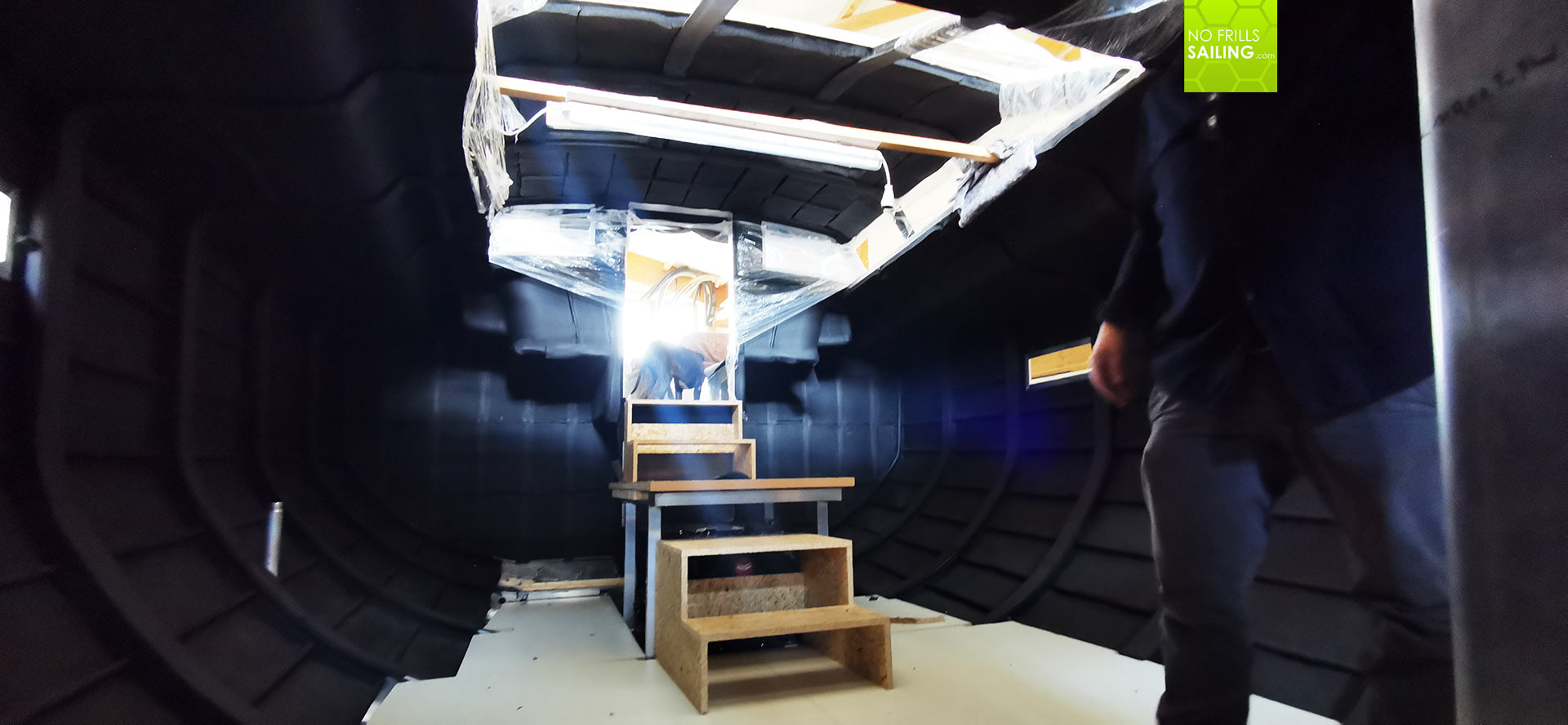 Judging from the plans Willi Brune showed to me, this boat will have a central saloon with starboard side longitudinal galley. Right underneath the pilot house´s benches to port side a big guest cabin with double berths will be positioned, a small workshop and a WC plus stowage vis-à-vis. No aft cabins (as it is another signature feature of Berckemeyer). Around the drop keel housing to the front a large master bathroom will be fitted with the owner´s cabin to port side near the pivot of the ship. And then there is something special again …
Pointing to the very front of the interior, right adjoining to the crashbox-bulkhead, Willi Brune says: "And here we will make a Sauna." I ask two times to confirm and it seems that it is true. I cannot hide my amusement and initially have to imagine Martin Menzner´s face when offered this demand by the owner: "Can you fit a Sauna right in here?". I smile, it made my day.
Rigged for serious oceanic travel
Berckemeyer yachts are high performers. Made to sail quickly they carry a decent area of sails while their hulls are manufactured to weigh less. Willi shows to me a mockup of this yachts joinery: Instead of using standard boat plywood with veneers, the company makes their own furniture: Willi Brune is not only a master in boatbuilding but also a master carpenter. Onto a thick but lightweight inner layer of Balsa wood a 2 mm layer of plywood and another 2 mm of hardwood veneer is glued and pressed. This makes for a very lightweight material out of which most of the interior fittings are made. Willi says that in total 1.1 tons of weight are saved using this proprietary material.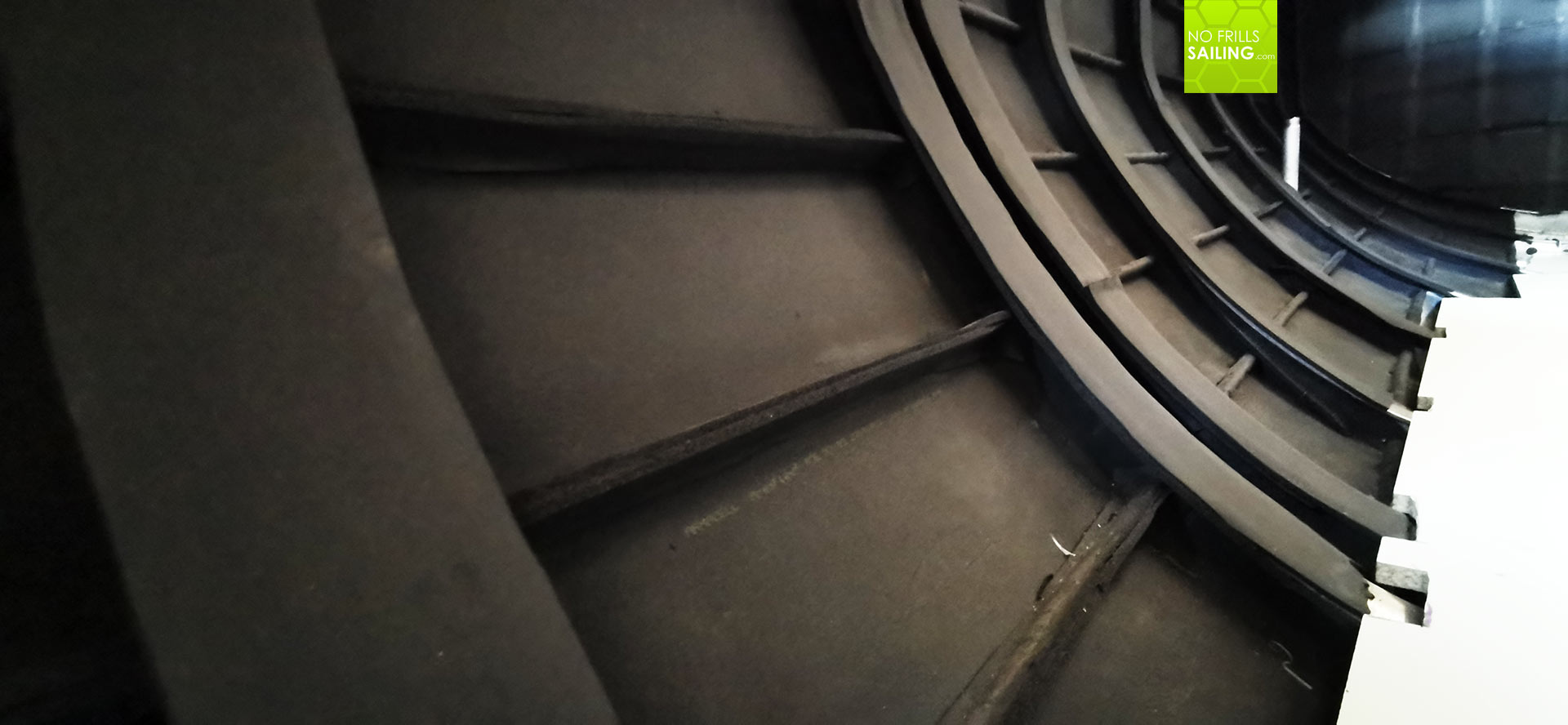 High seas can also mean high latitudes. No problem for a Berckemeyer though: The whole ship is carefully and meticulously insulated with German-made ArmaFlex mats which are glued onto the aluminium hull, stringers and vertical frames. This insulation is long living, makes for a perfect condensation barrier and is protected against fire, hard to ignite. Of course, seeing the whole ship like this needs some imagination to envision the yacht in her state finished.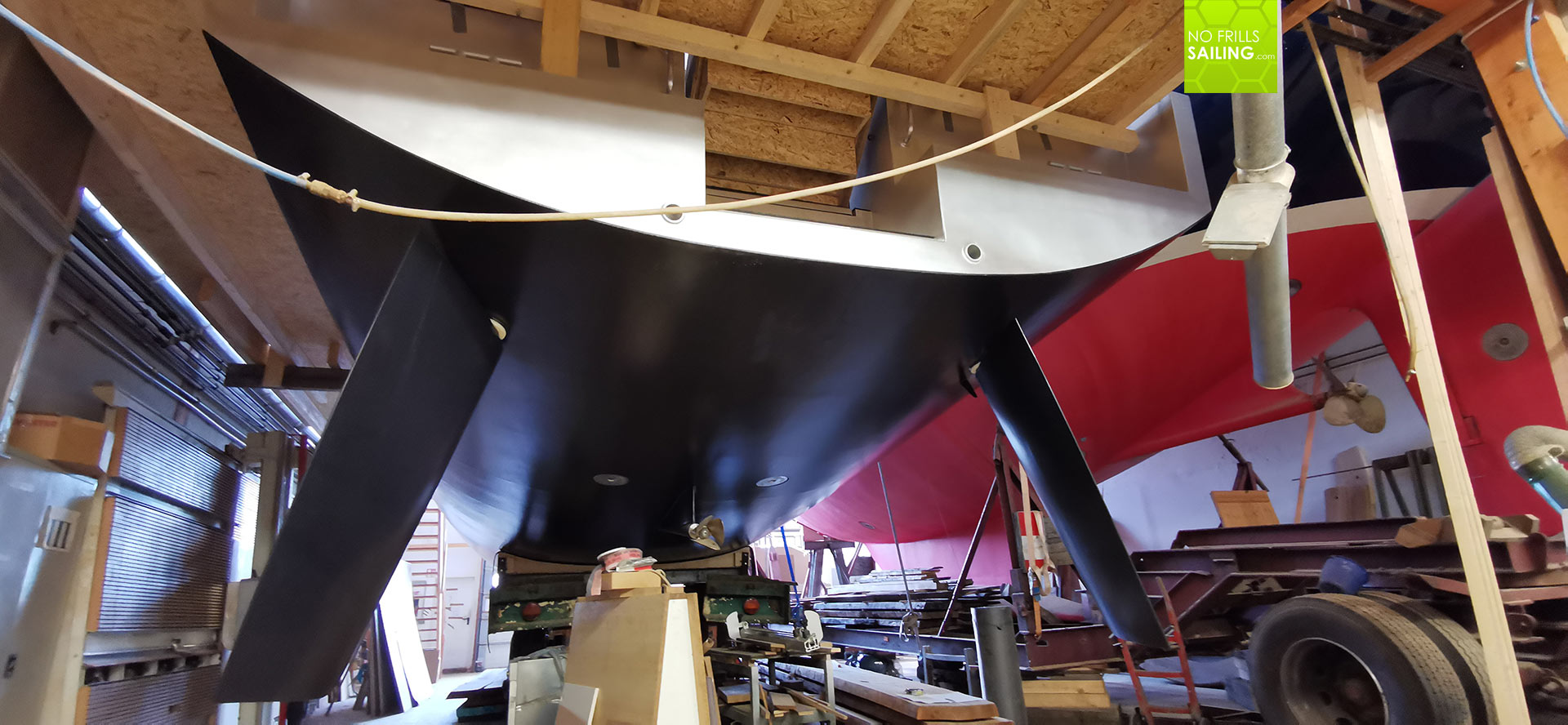 She will be fitted with clean and clear plain white furniture, not very many colorful accents just like Martin Menzer would approve. Will Brune is going to invest some time into nice little details showcasing the high level of craftmanship he and his team is able to pull off. So far I am excited, this all new BM 50 is exactly what a dreamyacht by Menzner should be like.
Generations of Boats
As much as I admire the Berckemeyer and the more Willi and I talk, the deeper I dive into this fascinating place. The yard, besides the aluminium marvel by Menzner, is home to a handful of absolutely stunning and interesting yachts and boats currently under refit. A colorful setup of boats, generations of sailing vessel represented by so bloomy vessels like a wooden 1936 Colin Archer double ender, a Sparkman & Stephens race winner, one of the best refitted Jongert sloops and a Reinke hard chineed steel-yacht.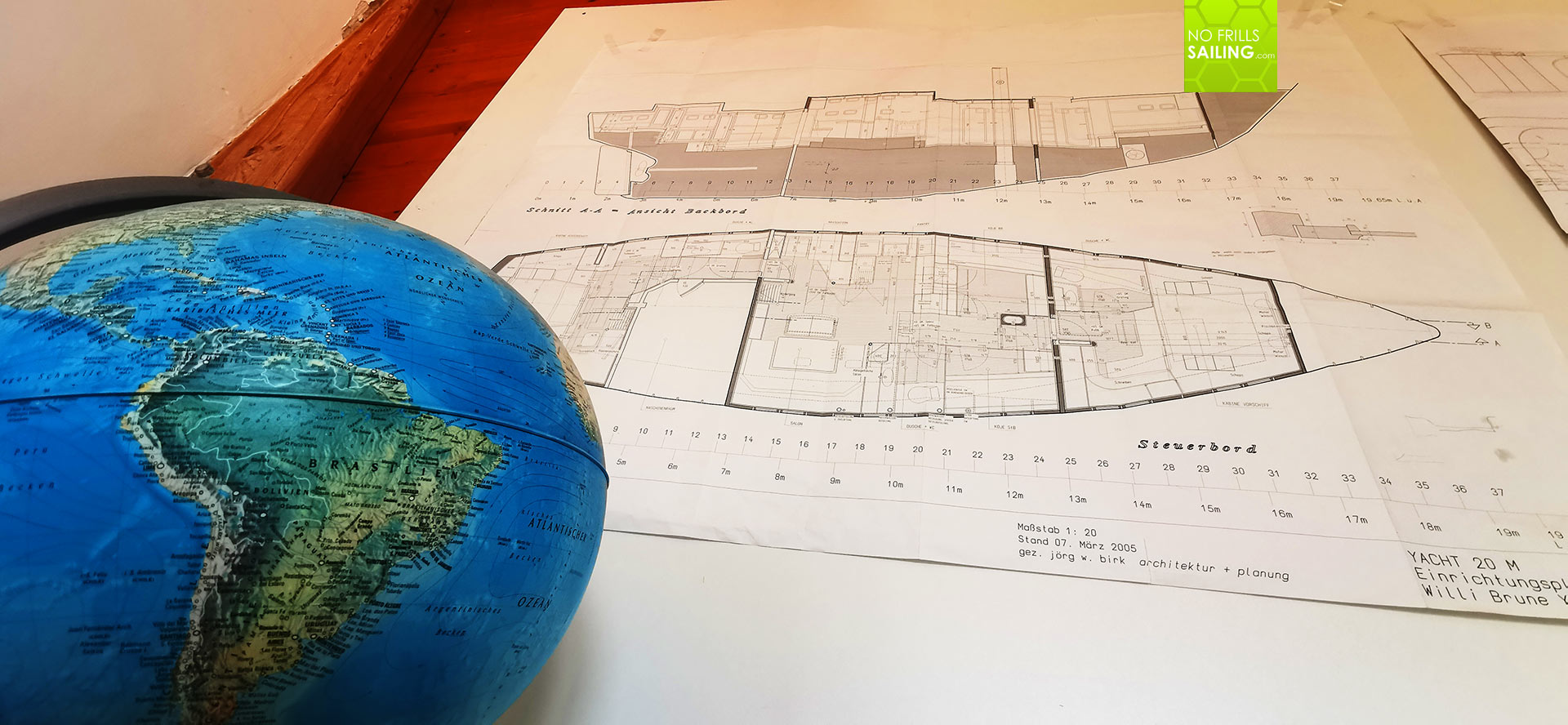 This yard offers so many stories and insight into a shipbuilding world that is so fascinating, a long shot apart from the big production cruiser-makers, the multinational brands dominating the GRP-market. As we finish our tour of the BM 50 I stay for two full hours more, taking hundreds of pictures and listening to even more fascinating stories. I decide to have another article about this place, Brune Yachtbau, onto which you, dearest reader, might be looking forward to as well as to the follow-up article of the then finished new Berckemeyer BM 50.
You might also like to read:
Aluminium marvel: A Berckemeyer in the making
A BM 49 interior fitting – DIY
Walkthrough inside a BM 36