The bad news from this year´s edition of the Vendeé Globe are devastating for all carbon-loving foil-lovers out there – with HUGO BOSS dropping out, Escoffier activating his EPIRB and PRB dropping out – the real test for both material, new technology and the IMOCA-skippers is yet to come in the Southern Ocean. And I may ask myself if "faster-lighter-more extreme" is the solution for everything. Well, it certainly seems to be for professional offshore racing but I would say for private skippers daring to traverse to the far Northern or Southern parts of our earth a rather different approach is more likely to produce a success: Aluminium.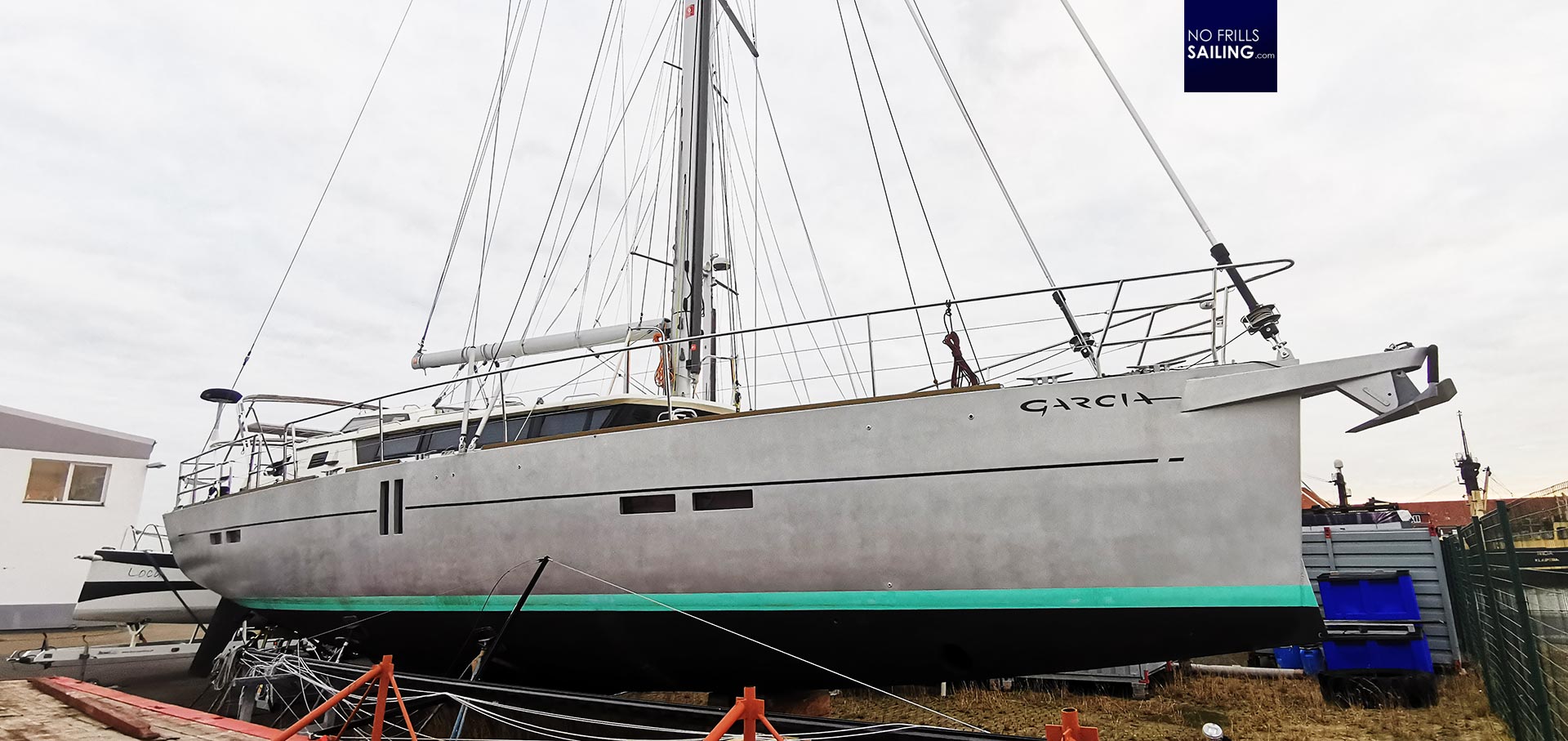 How convenient: Just last week I again watched the masterpiece "The Terror" about the ill-fated Franklin expedition more than some 180 years ago, quite fitting to the falling temperatures here in Germany. Now, with the first snow downpour already in the forecast and people starting to dress up for the serious winter-period I called my dear colleage and friend Nils Schürg of Blue Yachting. I know that he regularly has some nice boats at hand, asking if he could show me something: "Well, nothing less than our current flagship!" I jumped in joy and followed his call to Bremerhaven.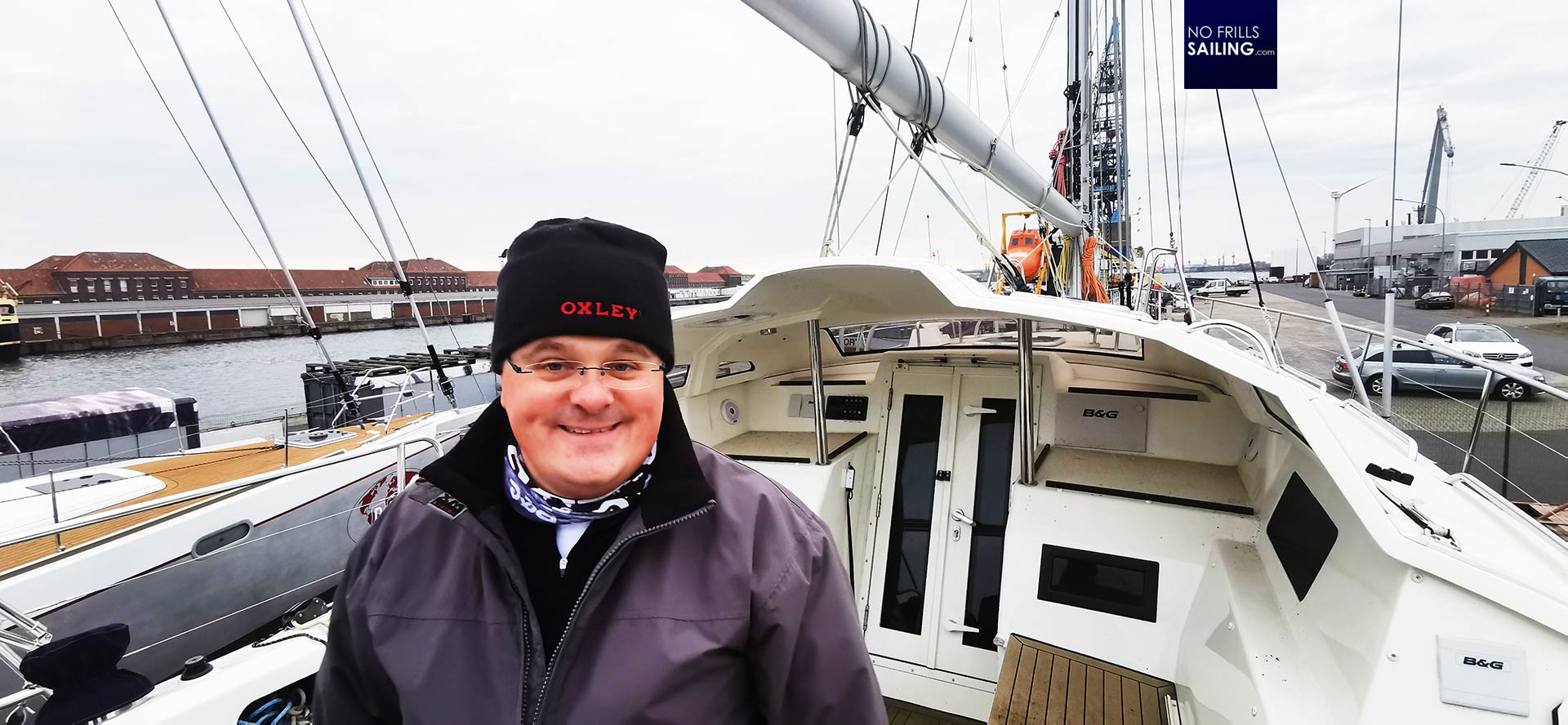 Nild Schürg is Germany´s aluminium specialist when it comes to the boats made by the Grand Large Yachting Group – their two distinct brands Allures and Garcia are top-notch French-made sailing boats made for demanding sailors planning the ultimate trip. I already visited the yard in Cherbourg (read the full article here) and had quite a good picture of how these boats are built and to which level craftsmanship, quality material and parts and dedication to a perfect product goes. From my own experience I know, that these boats are rare gems. Yachts sold on the second-hand market are quickly off proposal – if ordered today, your brand new Garcia might be delivered in 2022!
The difference between a yacht and a ship
It´s always a pleasure crawling aboard one of these ships. And I deliberately use the term "ship" here because these boats have almost nothing in common with ordinary big production yachts made of GRP. The aluminium hull, in case of the Garcia Exploration a round-chined hull with a flat bottom for grounding, can take a load. Collisions with floating objects, ice growlers or sleeping whales won´t do much harm to these real ships. But there are also lots of bigger and smaller details which sets them apart from their recreational counterparts.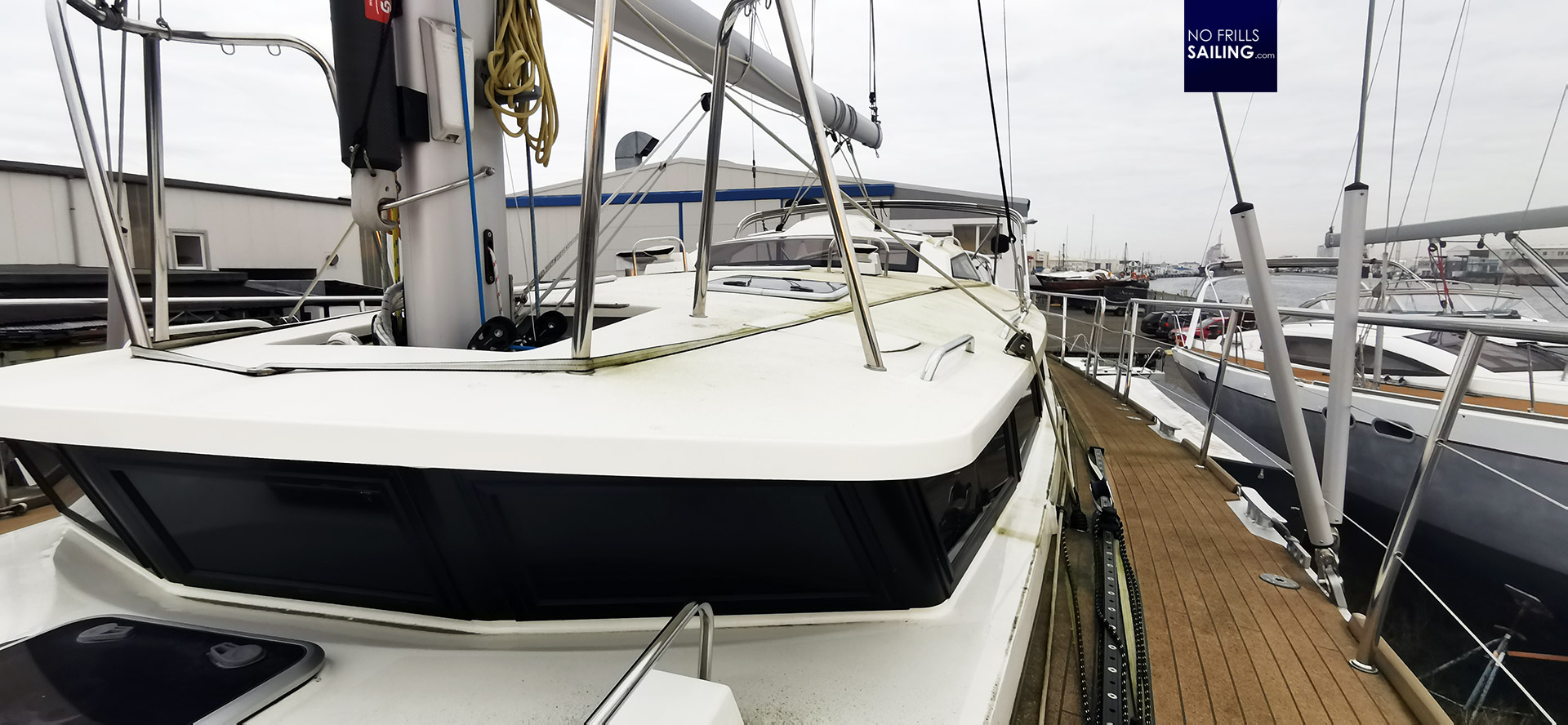 Take Explorations´s coachroof for example: The large, thick granny bars, made of solid stainless steel tubes indicate that this boat might be operated by men in harsh sea- and weather conditions. This boat does not come with convenient in-mast furling like the Mediterranean leisure craft, a thorough full-batten main climbs up the almost 19 metres high mast – an almost 7 metre long carbon-made spinnaker boom indicates serious sailing action. Have you noticed the inverted front windows?
These are more than just trendy accessories. Seen from inside it becomes clear that the sloped windows will insure that spray and rain from above won´t be hitting the glass too much, a detail copied from professional shipbuilding. Also, the unusual placement of the navigation station right next to the mast stand in the front of the saloon is a trademark of Garcia yachts. When trimmed correctly, the boat can be steered from here safely – dry and warm, best round-sight guaranteed, plotter, Radar-data and charts quickly at hand.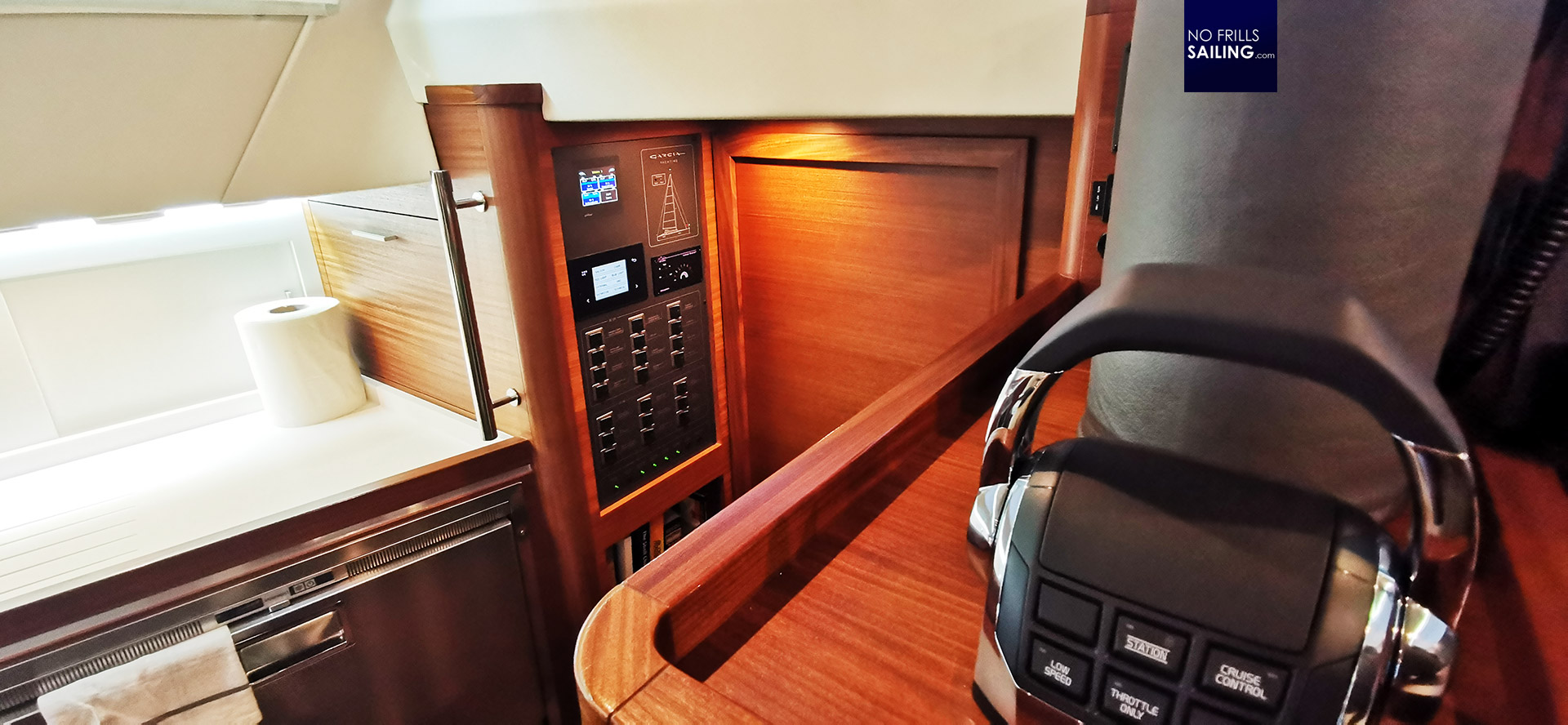 The Garcia Exploration comes with the right mix of electric and electronic aides without over-equipping the boat. At least the owner of this very Exploration 52 refrained from taking on too much of those gadgets. Of course, electronic engine controls like we know them from power boats is a must here, but I was astonished and positively surprised by how little electronics this boat boasted. Nevertheless, this huge 16.60 metres long behemoth needs power …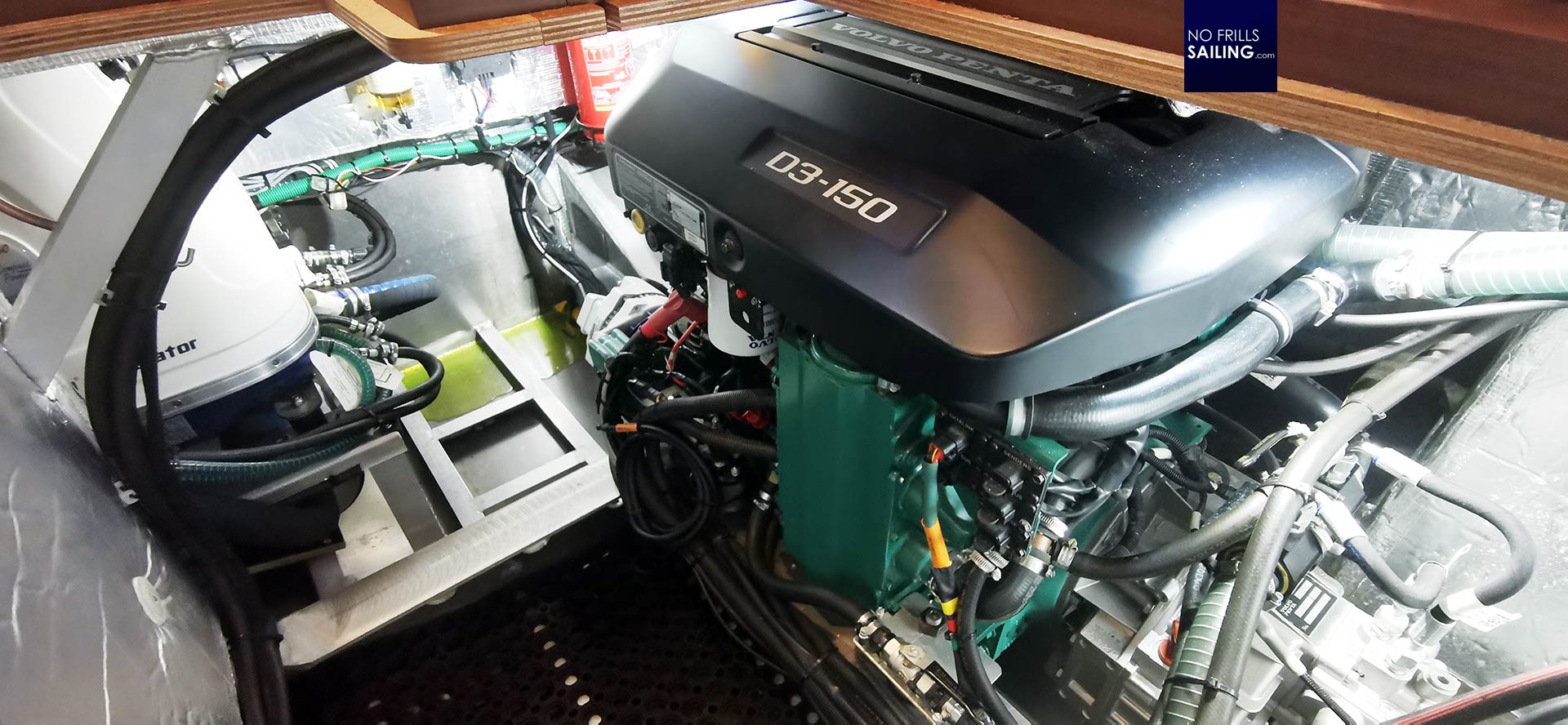 The sailplan offers 121 square metres of upwind sail area (the almost equally big Beneteau Oceanis Yacht 54 clocks in at 128 square metres) with a 130 square metres Gennaker. She of course is neither a speedy nor a particularly vivid boat. Her full body hull, the centreboard configuration and the relatively high displacement of nearly 20 tons (compared to 16.6 tons of the Oceanis Yacht 54) aren´t made to compete in twinkle-toed sailing. A Garcia is made to beach off the Arctic Circle somewhere on a rocky deserted island, to offer shelter in Force 10 winds and high waves and bring you safely to places most – of not all – others can´t go.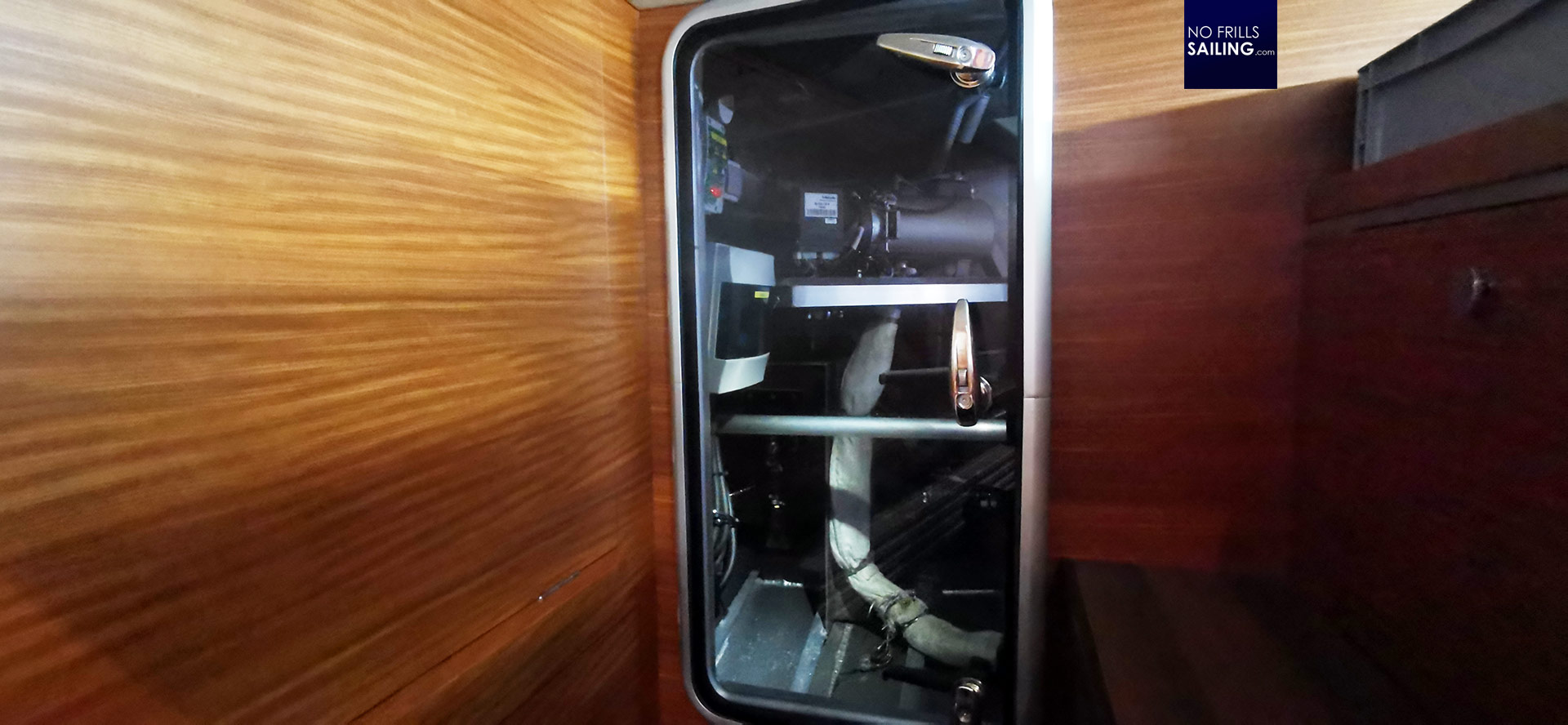 See the thick seethrough-door sealing off watertight the lazarette from the aft port-side cabin? These are the detais I love about this boat. Not a small opening for revisioning, a hole just barely suitable to have two mechanic´s hands go through to do the annual steering-cable check – but a whole door a man can fit through properly, a thick safety-glass door to quickly observe and quickly taking a llook onto steering and other equipment. A ship. A true ship.
Safe and sound: Living aboard the Garcia Exploration 52
A 52 footer with just two cabins. That´s telling the story of who opt for a boat like this. It´s most likely the well-off couple, having finished their commercial life, maybe having sold their company, their stock or other assets, realizing their lifelong dream of the real adventure. These aren´t more than two people. A couple with occasional guests. In standard layout, this bort comes with the owner´s cabin in the forepeak and the aft cabin to starboard side. Vis-à-vis a workshop (with a pilot berth) is fitted. Clearly, the center of the yacht is the large saloon that takes up more than one third of the hull and most of the volume.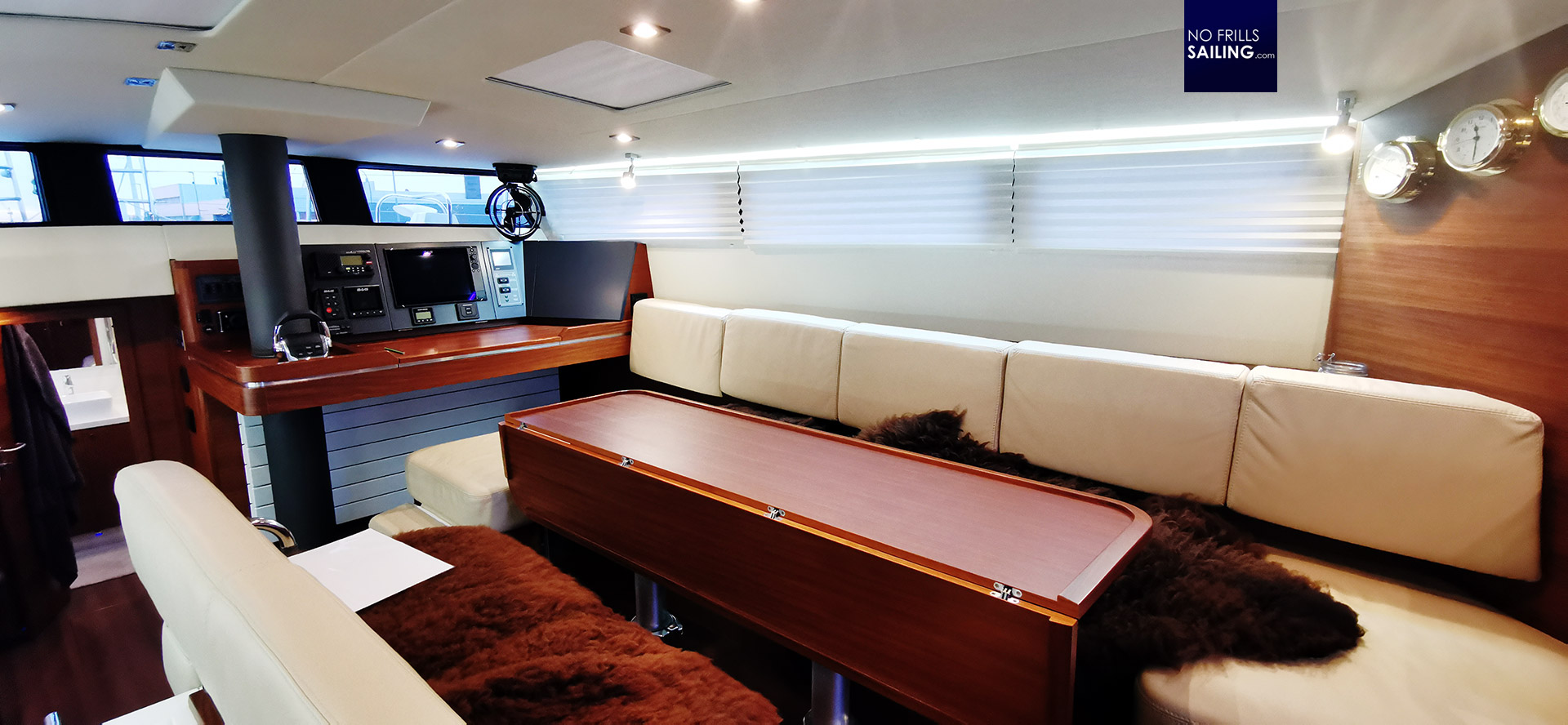 Garcia offers a multi-level saloon, a mix of the deck saloon-concept, classic yacht-design and own approaches, like the forward facing captain´s station. Upon entering down the short companionway a guest can use the bathroom to port side (ingeniously equipped with a large wet-locker that has heating-outlets) or directly enter the large dining/seating area. That´s a huge O-shaped sofa with a folding table (that can also slide down, converting the whole area into one large bed). The level is elevated so that one can enjoy almost a 360 degree round-view through the coachroof windows. Two steps down to port is huge galley.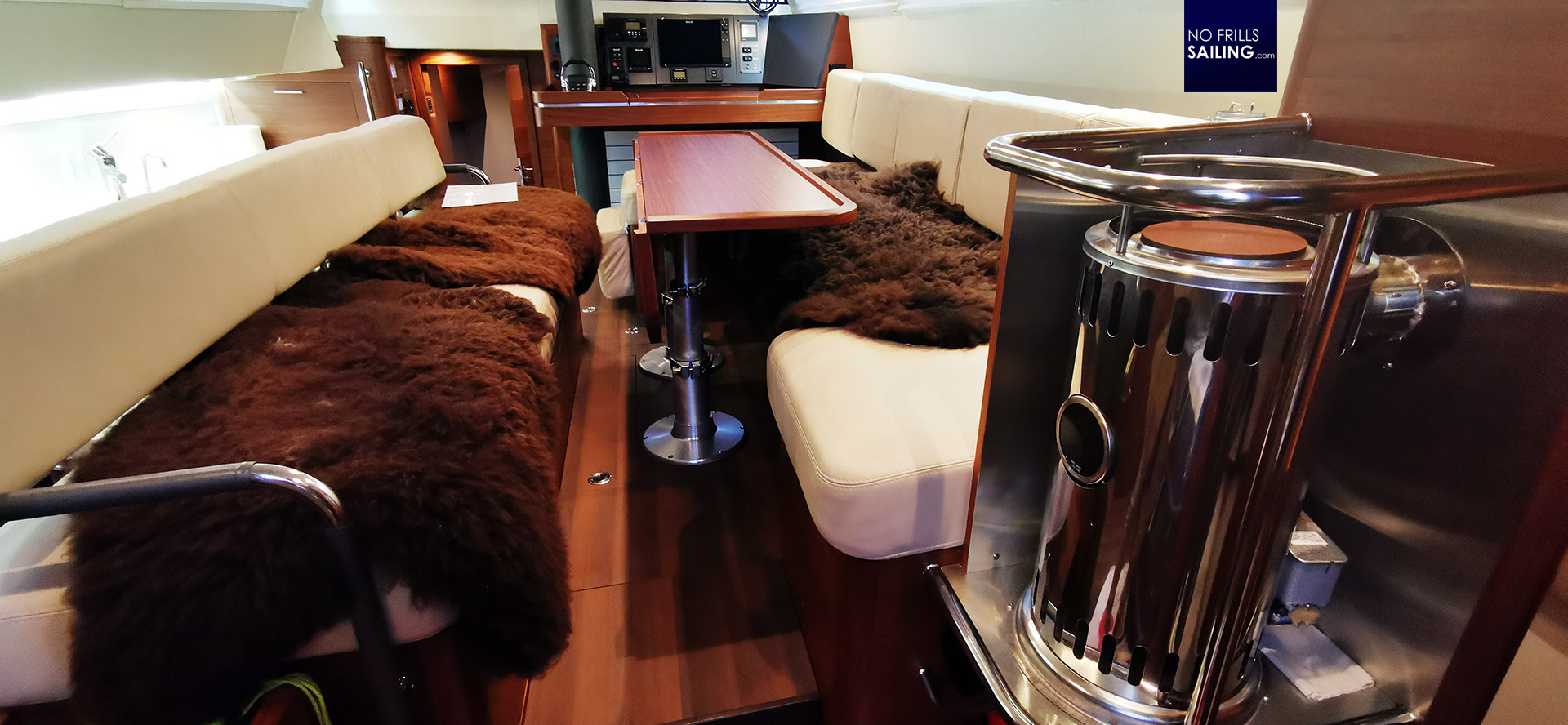 I loved the classy Danish-made Refleks-heating which can be substituted or flanked by traditional Webasto Diesel-heating systems. Just imagine being at anchor in Patagonia, temps below freezing and a warm, thick moist heat is boiling in this saloon – fresh coffee and a chart of a new, unknow island before you … what a dream! Talking of imagination: This boat is full of expertise and ideas of seamen and able skippers. The amount of details, some of them hidden, some so obvious, is staggering.
It´s in the details
I´ve seen lots of them in the yard when I got a full tour and had the pleasure of seeing the yachts being built from raw aluminium-hulls, receiving their insulation, electric installations and so forth. Nils shows me the lee-sails which make the captain´s seat safe even in extreme heeling, fitted in 15 seconds. I loved the opening handles of the large galley windows – normally you get these fizzling small venting holes, on the Garcia it´s a whole window that opens up.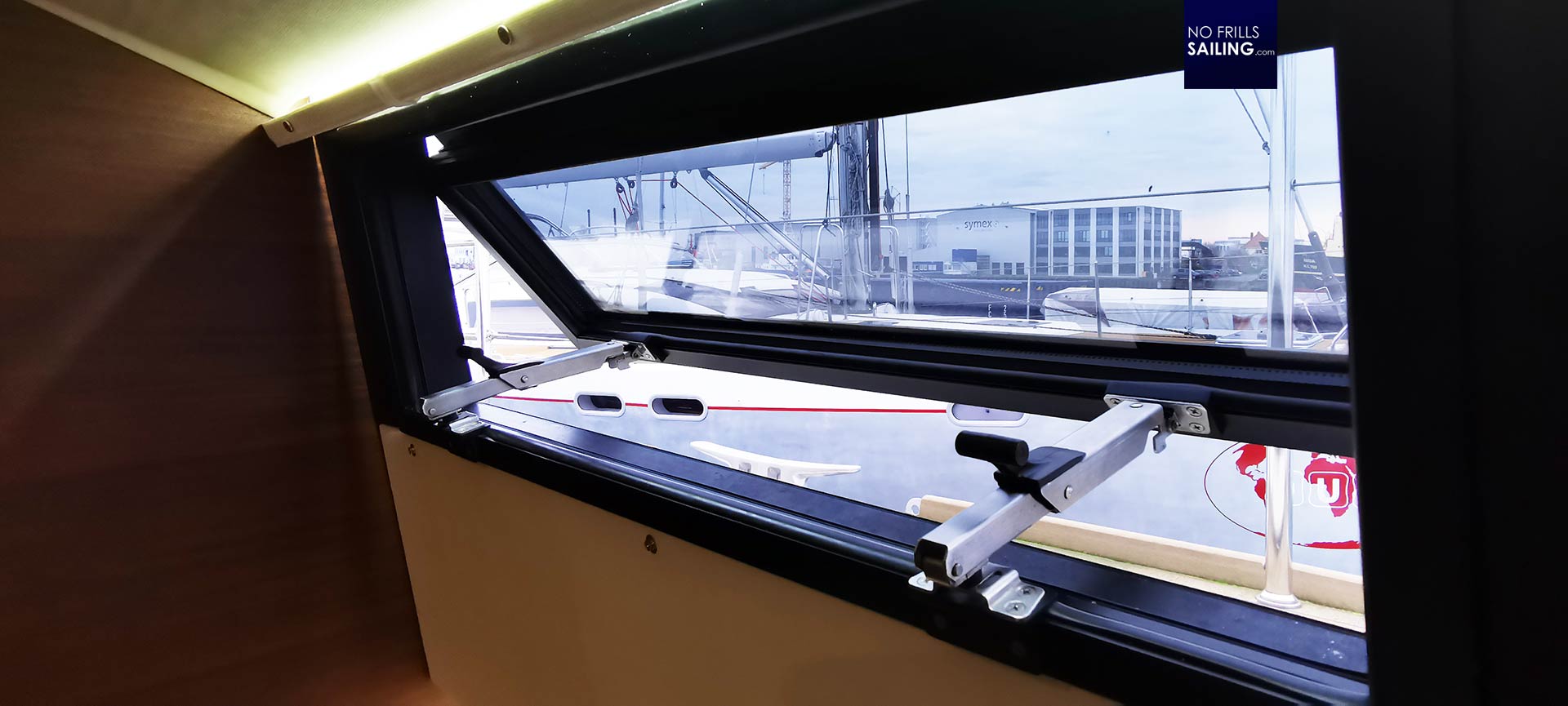 The furniture quality is flawless. We talk a lot about quality and the differences of the brands. In Garcia, there´s a spotless fitting of wooden equipment, lots of massive timber, nicely sanded and mounted rock solid. No cheap veneer. And also, no one-off fitting flaws: Garcia and Allures yachts are built in a modern, modular and industrialized style. People are not running around with single parts to be screwed together within the boat: All the furniture arrives ready to be mounted. In this, Grand Large Yachting is a very modern yard – most certainly their finishing quality is what makes them the leading brand in aluminium boating to date.
If not produced by themselves, Garcia utilized OEM parts of highest quality. Just by looking at the hinges in the table, the latches, the small and bigger handles up to the knobs here and there: When on the production boats these parts are mostly the same, you won´t find them on Garcia. Rock solid, mostly metal, plastic is avoided where possible. That adds up to the budget, of course – but people going for a boat like this most likely do not have to care for the budget.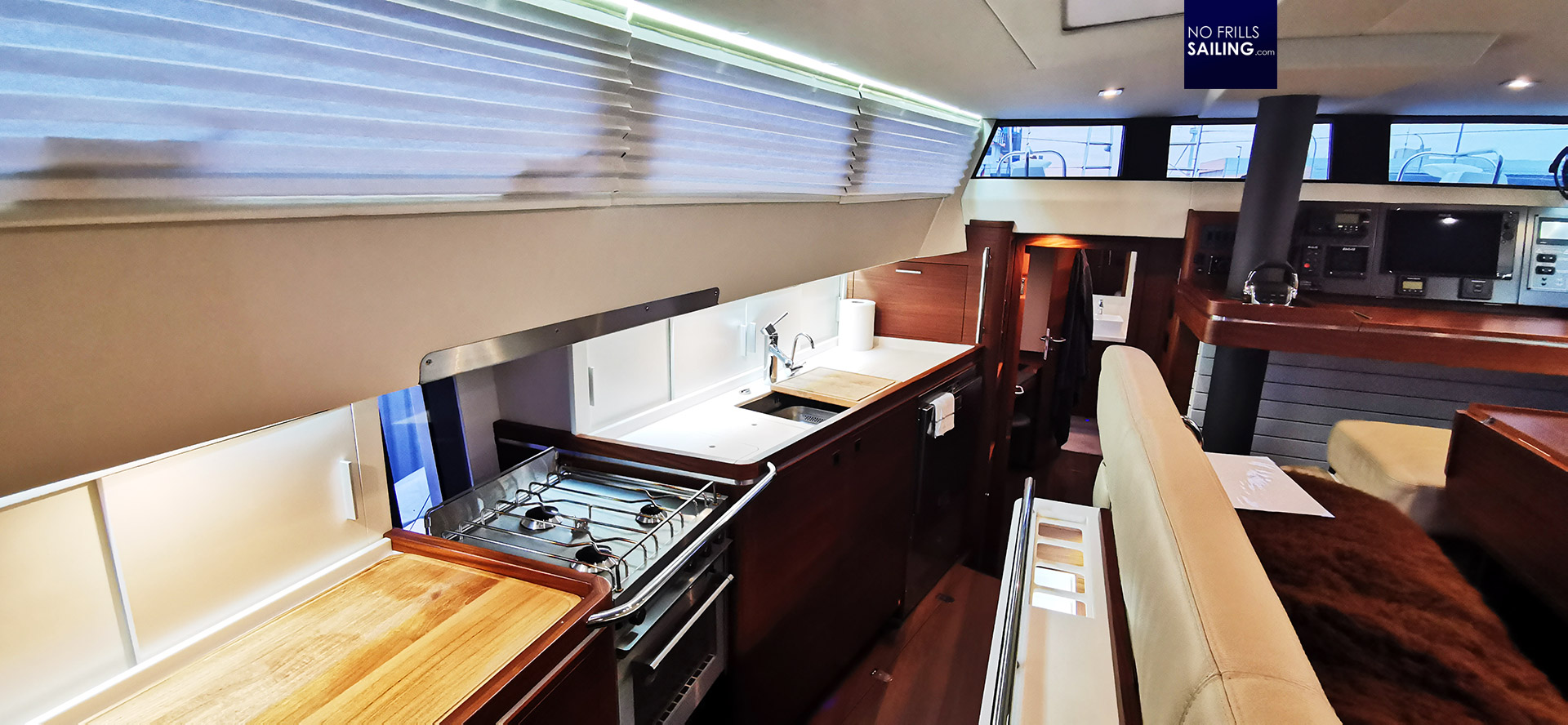 A Garcia Exploration 52 starts at some 1.3 million Euros. Depending on the boxes you tick when ordering one, up to 1.8 million Euros is a pretty realistic scenario. I wonder how many – or less – people on Earth can really sail a boat like this in the way it is conceived to? How many will go traversing the Northwest Passage or round the Cape of Horn? Doesn´t matter, I reckon: Life is in our heads. Even when the owners of this particular boat will never listen to growlers scratching along the thick aluminium hull, as long as they are loving their boat, who am I to judge them?
If I´d be captain here.
All boats are a compromise. Garcia trades safety and sturdiness for speed, of course, trades her ability to getting beached or fall dry for lower pointing abilities due to her centerboarder-configuration. Her internal layout is unique but pretty perfect – apart from the only thing I do not really like: The owner´s bathroom, which is located in the farthest front. I know, when underway people will use the main bathroom in the saloon anyway, but that´s a thing I don´t like.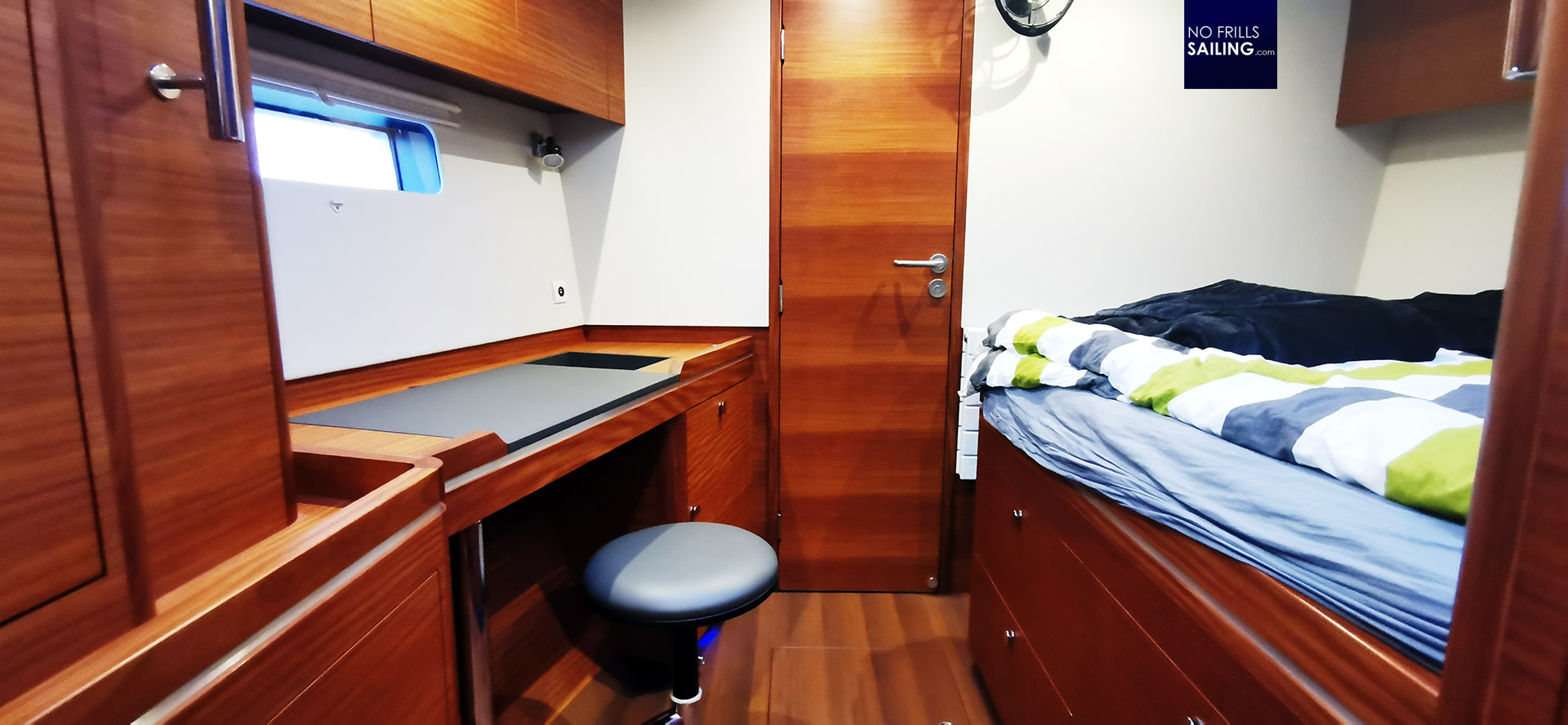 Apart from that, the forward cabin is nicely done. The large bed isn´t one of these fancy – but in high sees or extreme (and also in rather low) heeling almost unusable – island beds. Instead it is located alongside starboard side hull, to port lee sails provide safety against falling off from bed when a wave hits suddenly and boat heels over to port side.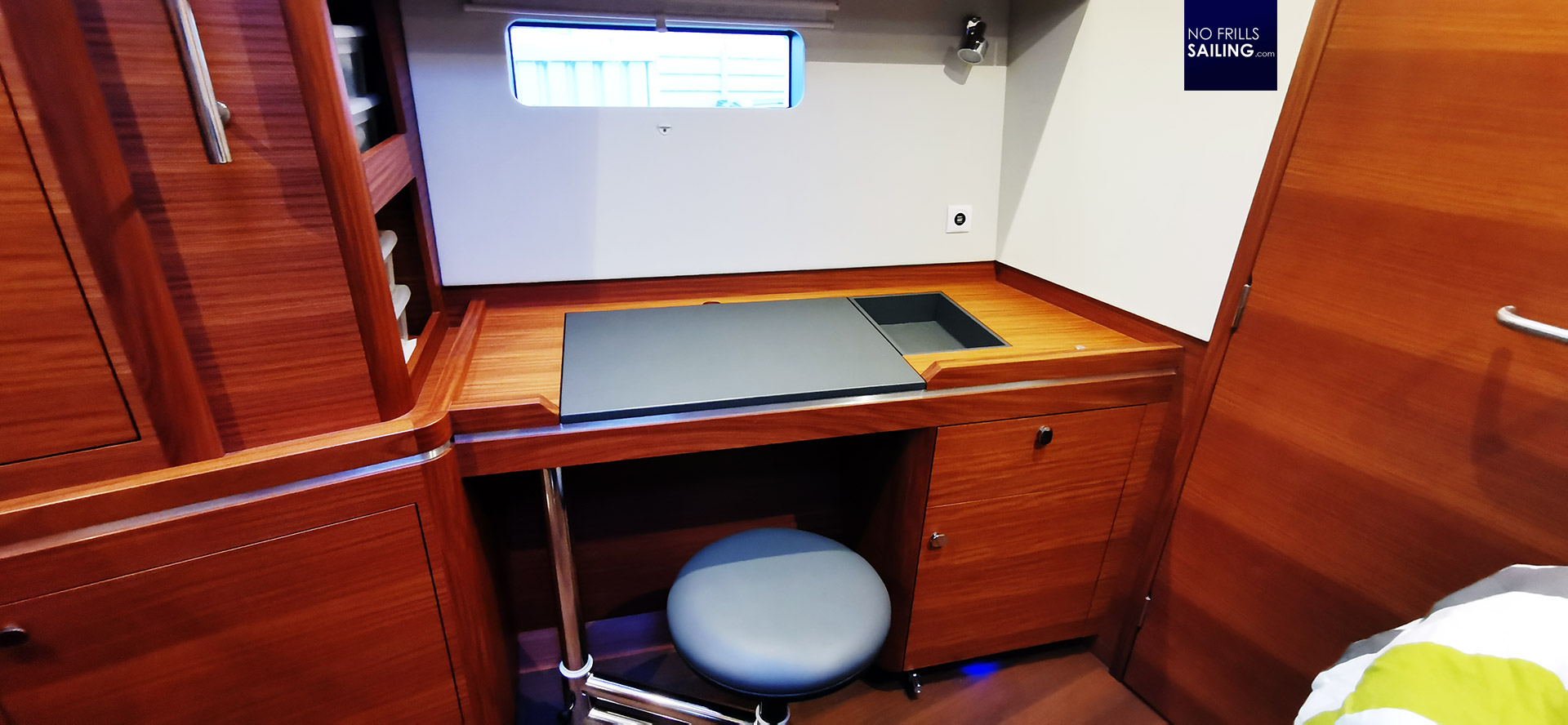 What I loved though was the working area on this very port side in the fore cabin which is exemplary. A nice well-sized table top, a swinging stool (which I would probably order with a back rest) and a nice view out the small window. When my kids are too loud out there in the saloon, that would be my place for sitting over the charts, hitting the keyboard of my laptop and at last getting to write all those books I wanted to have written for so long.
You get what you pay for …
Now, is that a dream yacht? Most certainly, yes! Garcia yachts are sold out even longer than my own brand, people seem to tackle waiting time without a problem. Out there are just a handful of serious competitors, like KMY when it comes to units and building quality, Alubat, maybe Boréal when it comes to similar concepts. The rest is a set of interesting brands and concepts but made in expensive one-off builds which is not always best for the quality in the end.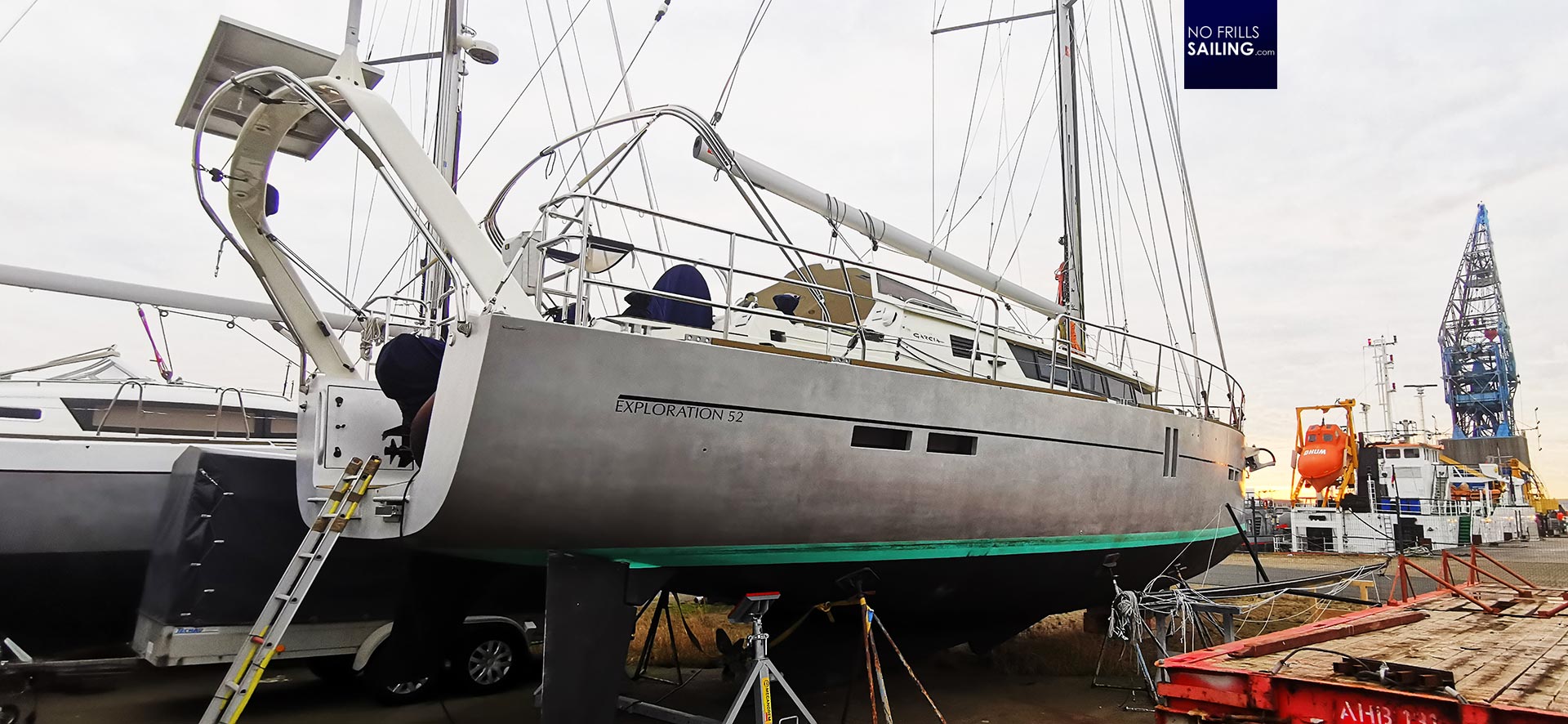 I enjoyed the hours aboard this Garcia Exploration 52 although this kind of boat – even if I´d had the money – would not be "my" boat for sure. But lucky me, the yard offers with their Allures-line a slightly different, more faster and livelier boat almost capable of achieving the same range of application. It certainly was an interesting re-assurance that boat building is more than huge flat cockpits, sunlounges and big bathing platforms – there is something for everyone, Garcia tops out being something very special for very special people.
Read more about aluminium boats here:
At Garcia/Allures Yachts in the Cherbourg yard
Buying a used aluminium boat: A trip to France
A bargain aluminium hull: A project worth a thought