Now that´s good news indeed! Yesterday I got sent a bunch of pictures from the friends of Seascape in Slovenia. Subject heading: "Your boat is on her way ?" Well, I got excited ever so slightly since the new boat has left the yard several weeks ago, ready to go. It was at some point due to Corona that delivery had to be postponed several times and because my boat, hull nr. 122, actually acted as the model for a big photoshoot held by the yard. This shooting was done on the occasion of the official introduction of a new line of First/Seascape boats – the 24, the 14 and the 27 are now available with aluminium-rigging, backstay and slightly less sails area in Dacron. For the 27, there´s also a small galley with sink and cooker, a fixed keel (still trailerable) and an inboard 15 horse power Diesel-engine on shaft.
That being said, the yard had all boats – the new aluminium sport cruisers called "First" as well as the carbon-rigged laminate sails-equipped racers, now called "First SE" (Seascape Edition) – in one Marina for a big shooting. Now, it makes me a bit proud thinking of my GEKKO being printed into the catalogues now as the new role model First 27 SE. Shooting is done as a big snow storm passed by and so all boats are due to be delivered and the yard gave green light to have the "alu-message" being made public. I must say I like the idea of the alu-rigged inboard Diesel galley equipped fixed keel First 27-version. That´s a good thing for families. Although, personally, I am happy having ordered the "real thing" though.
Loaded and ready for delivery
Among the pictures is one of GEKKO being hauled onto a trailer. The boat will now be brought back into the yard and polished and refurbished where necessary. The guys will then fill her up with the equipment I have individually ordered. I am very eager to have the boat delivered within the coming two weeks and read her user manual on a daily basis, have a bombardment of questions sent to the technical guys and get excited by the minute in the face of such pictures.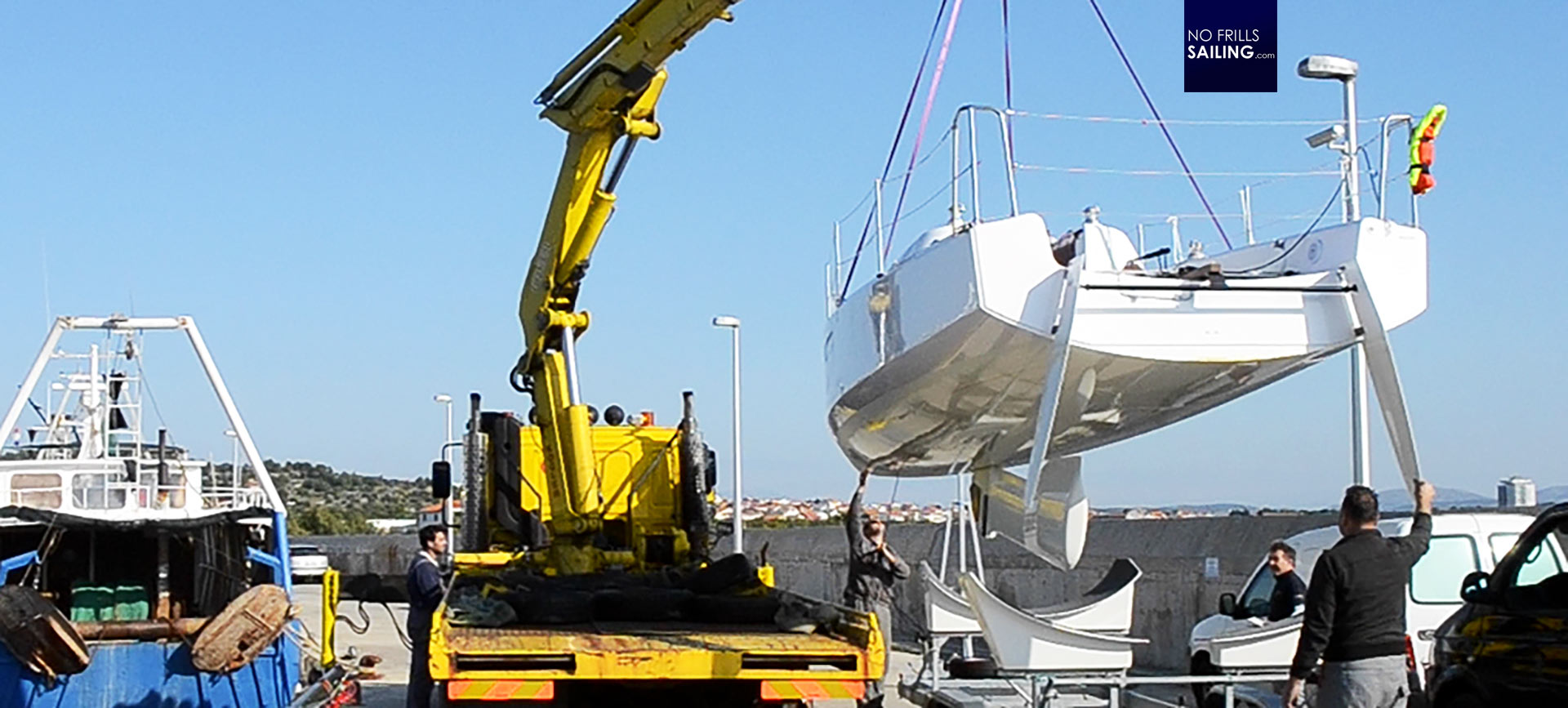 GEKKO´s trailer is ready as well since weeks as it has been delivered by our supplier in late autumn last year. We went for a high quality custom-made First 27-trailer by German company Harbeck which is a family business with a long tradition and very good service. I am going to have a dedicated article about transporting small sailboats on trailers and the setup needed published here soon. So much beforehand: My trailer is painted in plain white and looks just awesome. Not that anyone needs this, but it´s just a beautiful extra that makes me smile happily every time I see it.
The shopping tour
Seeing the official pictures of GEKKO´s interior it´s not much of my boat. The yard was so nice to not use the very cushions I´ve ordered for the shooting but I also guess that my choice of colors didn´t match with the general taste: I went for the orange cushions as tested on our First 24 MADCAP recently and maybe that´s a bit too bright for a catalogue that is to please a general audience. Nevertheless, I am currently on a shopping tour (through amazaon) as you may have recognized.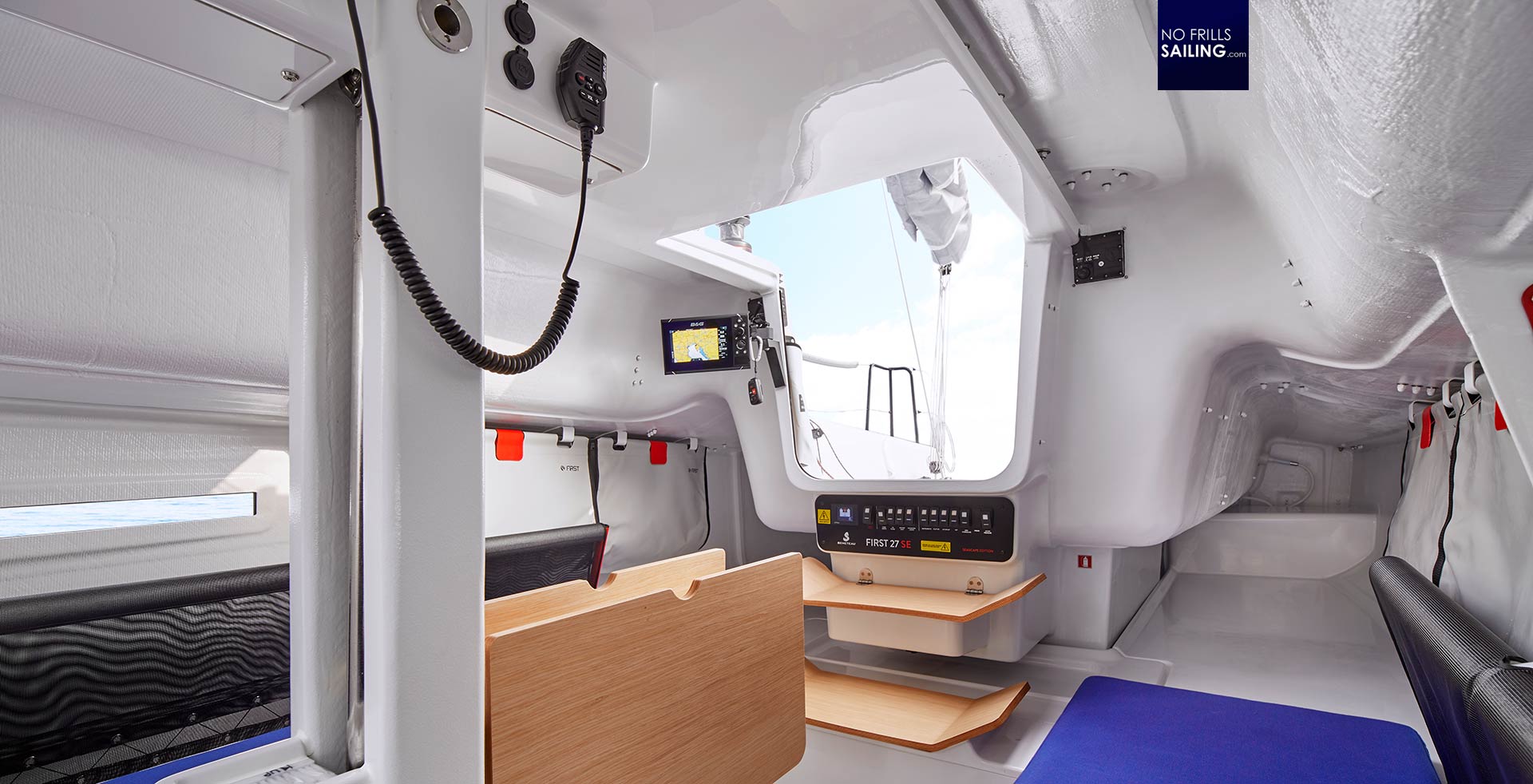 In this I´ve changed my order several times which – kudos to the yard! – was possible even though the order was sealed and processed. In this I changed the initially as well orange-colored bean bags which I love so much as they add lots of comforts in the cockpit whilst at anchor or in the berth. As GEKKO will receive a custom-made hull design in many shades of fresh green – I changed the colors of the bean bags to match this Gecko-green as well.
Only part I wasn´t able to adapt the colors to was the Gennaker which I couldn´t switch to green as well as the light-blue one was already produced and delivered. Well. I´ll work out something here. Besides this, I think I shopped everything for the small boat galley for GEKKO, starting with the Jetboil cooker to plates, cutlery, thermos flasks and all sorts of kitchen-equipment. This will be located on the aft-port section of the boat where also the gimbal mount of the Jetboil-cooker is situated. Thanks by the way to my dearest reader Pernilla from Sweden for the hint of perfectly suiting storage bags – I initially thought of getting hard-plastic baskets but this solution is even better. Best thing about it: They come in blue and … orange. Top!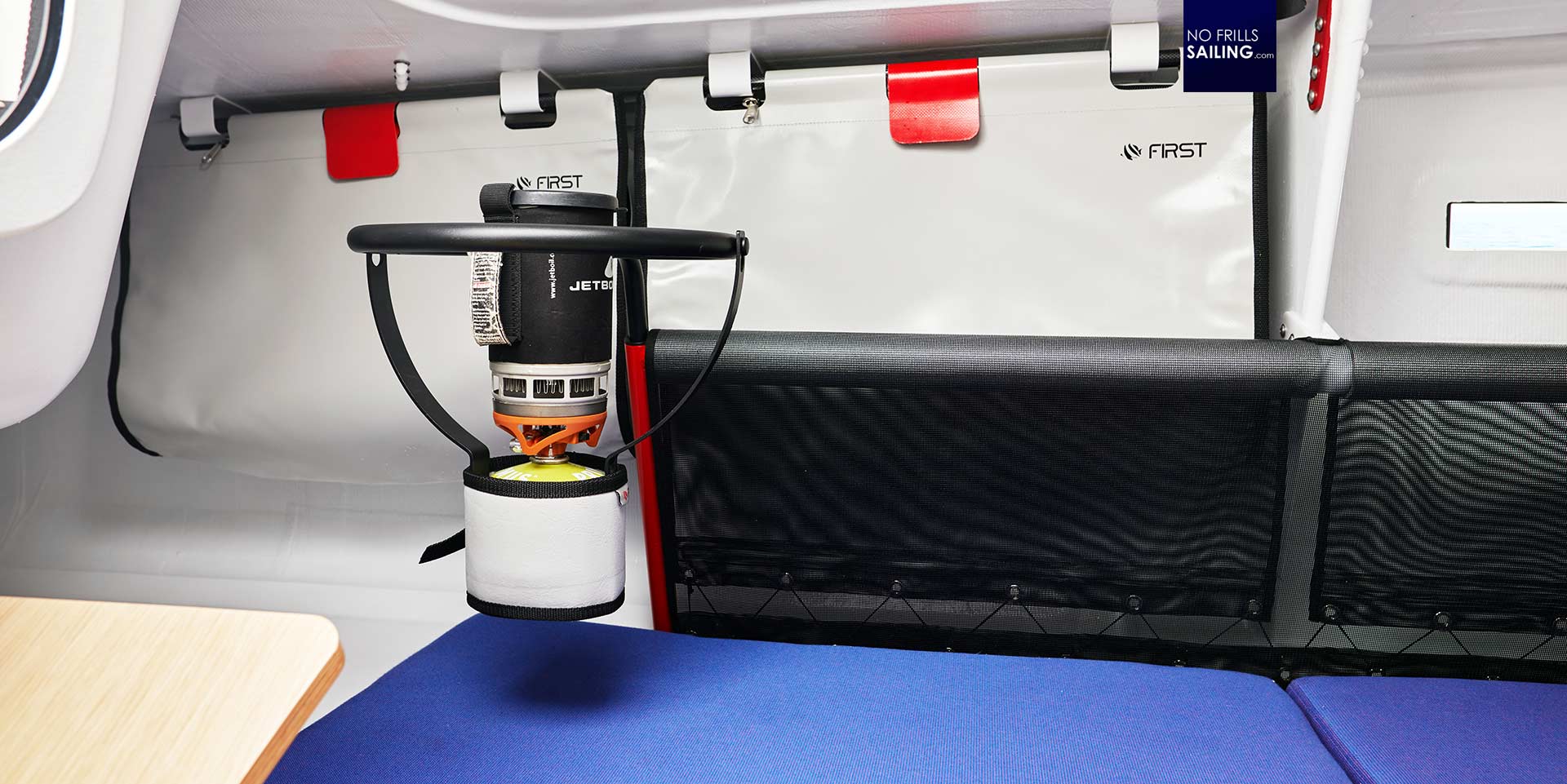 I also have everything set and ready for equipping the small head of the boat: That be self-adhesive, nicely designed stainless-steel hooks, hand towels (in Gecko green of course) and a hanging washbag with all utensils needed for personal hygiene, in green, of course. A nice touch will be self-adhesive small hexagonally shaped mirror tiles which look like the pattern of reptile scales. I will used them to either side of the very small head to increase natural light by reflection and enhance the visual size of the "room". Most interesting project though, definitely worth a #microcruising article.
Electric propulsion and solar power decisions
Now, another big project will be the fitting of the engine. As I wrote earlier, I´ve decided not to fit a combustion outboard engine to GEKKO but the Torqeedo electric engine. That´s a Cruise 4.0 outboard engine fed by their latest WH 48-5000 Lithium battery. I most certainly have gone for inboard propulsion as now offered in the aluminium-version but since it´s not possible to mix Diesel wit carbon-rigging I sticked with the electric solution.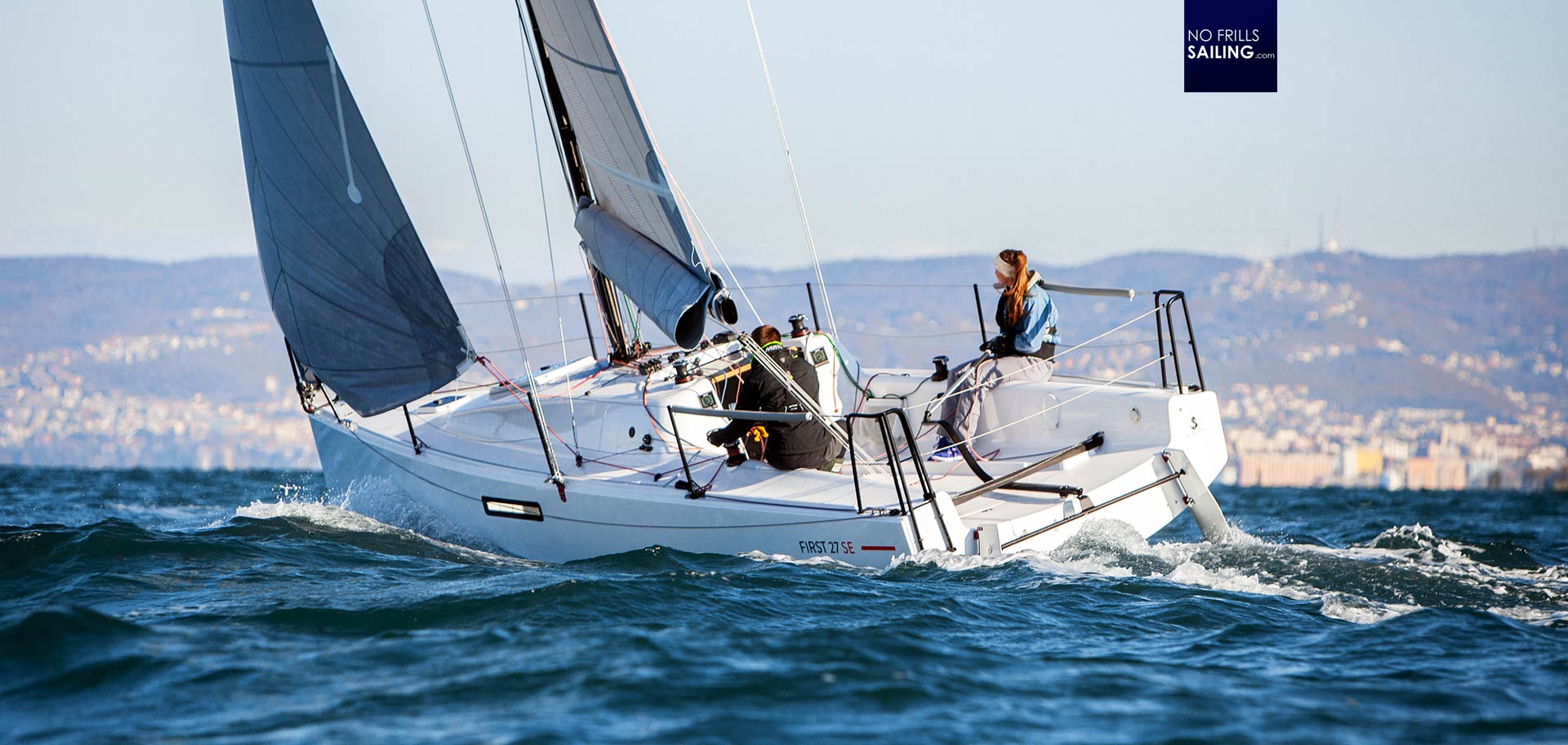 In this I can keep GEKKO´s weight down and can start another interesting upgrade project which is the solar array for alternative energy production of my boat. GEKKO comes with a 50 Watts solar panel already fitted by the yard. Together with an Austrian company named Solbian I re-designed this array and plan to fit a custom 2-part panel of which – also yesterday – the 1:1 gauge prints arrived.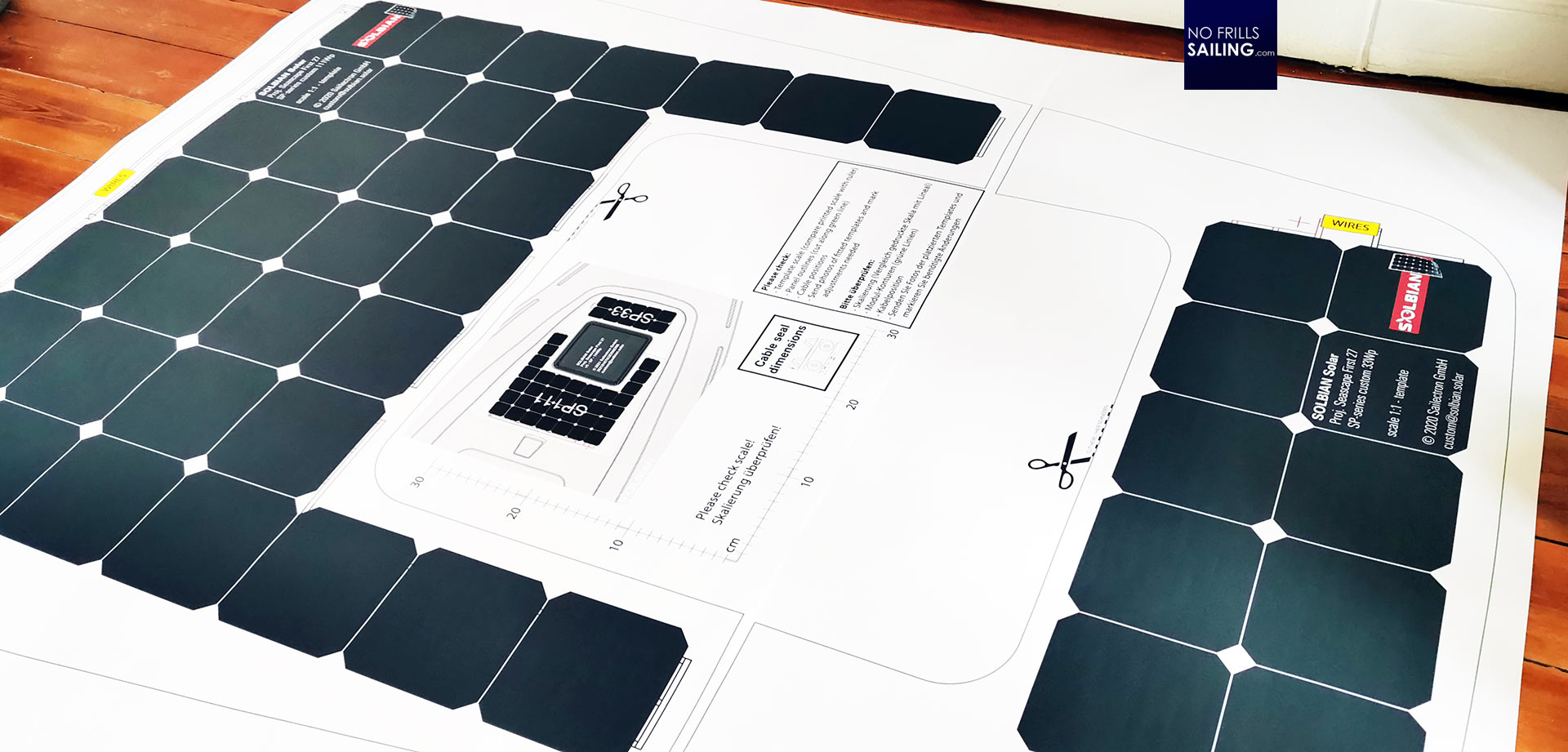 In this we managed to increase the projected power generation from 50 Watts/peak to now 144 Wp which is nearly threefold: I hope to being able to re-charge either faster or more efficiently when solar irradiation is low. That´s a big project we have at hand here and I hope of being able to have it all done and finished within February/March. Of course, it all starts when the boat is finally delivered to Germany and it looks like the transport will be ready end of next week.
Let´s go, GEKKO!
So, let´s go then! Everything is prepared for unloading the boat here at home and putting her on a rack. My colleagues have ordered all the equipment and material for our first step in readying the boat: Antifouling. I´ve asked to – at least to a certain extend – do the antifouling-works by myself too. I want to experience and learn how to sand down the hull, apply both Epoxy primer layers and the very antifouling layers by my own hands. Very curious about that and promise to publish one or two dedicated articles on this matter as well.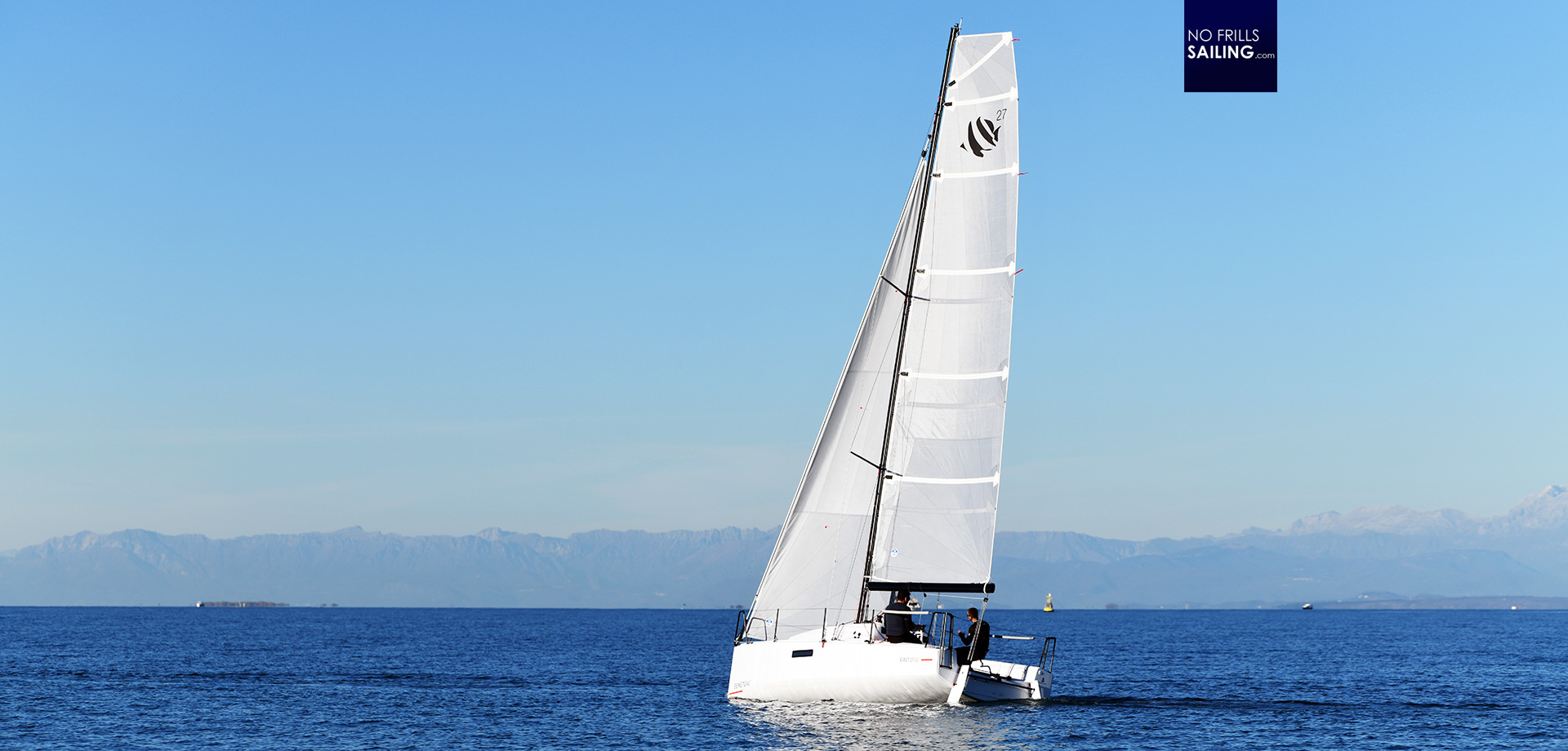 If everything works out just fine, boat arrives in time and Covid-restrictions aren´t forbidding working on the boat I guess I can have her in the water by end of March, beginning of April. Two weeks of vacation request forms are already conveniently posted on my employer´s desk for GEKKO´s maiden voyage of which – you can bet! – I am dreaming nearly all night. Maybe, if weather conditions allow, I can make come true my summer sailing trip-plan of 2020 at last which I wasn´t able to pull off … we will see. For now, I enjoy those fantastic pictures of GEKKO flying over the waves and can´t wait to see her in real life.
You might also be interested in these articles:
Every GEKKO- and Seascape-connected article by clicking the hashtag #thinkseascape
My concept of Micro-Cruising in a nutshell
Go small – go now!