It was one of these wonderful coincidences which brought me to driving half an hour from my home town of Luebeck to a an even smaller town in the middle of Northern Germany. Located within one of our most beautiful seascapes between a handful of marvelous lakes, the town of Eutin welcomes me. I follow directions to a big old house, kind of resembling a medieval castle, on top of a small hill. Here´s the yard of Jan von der Bank, called "Backe". A fresh fallen thin layer of snow covers the driveway in which he stands and waves a warm welcome.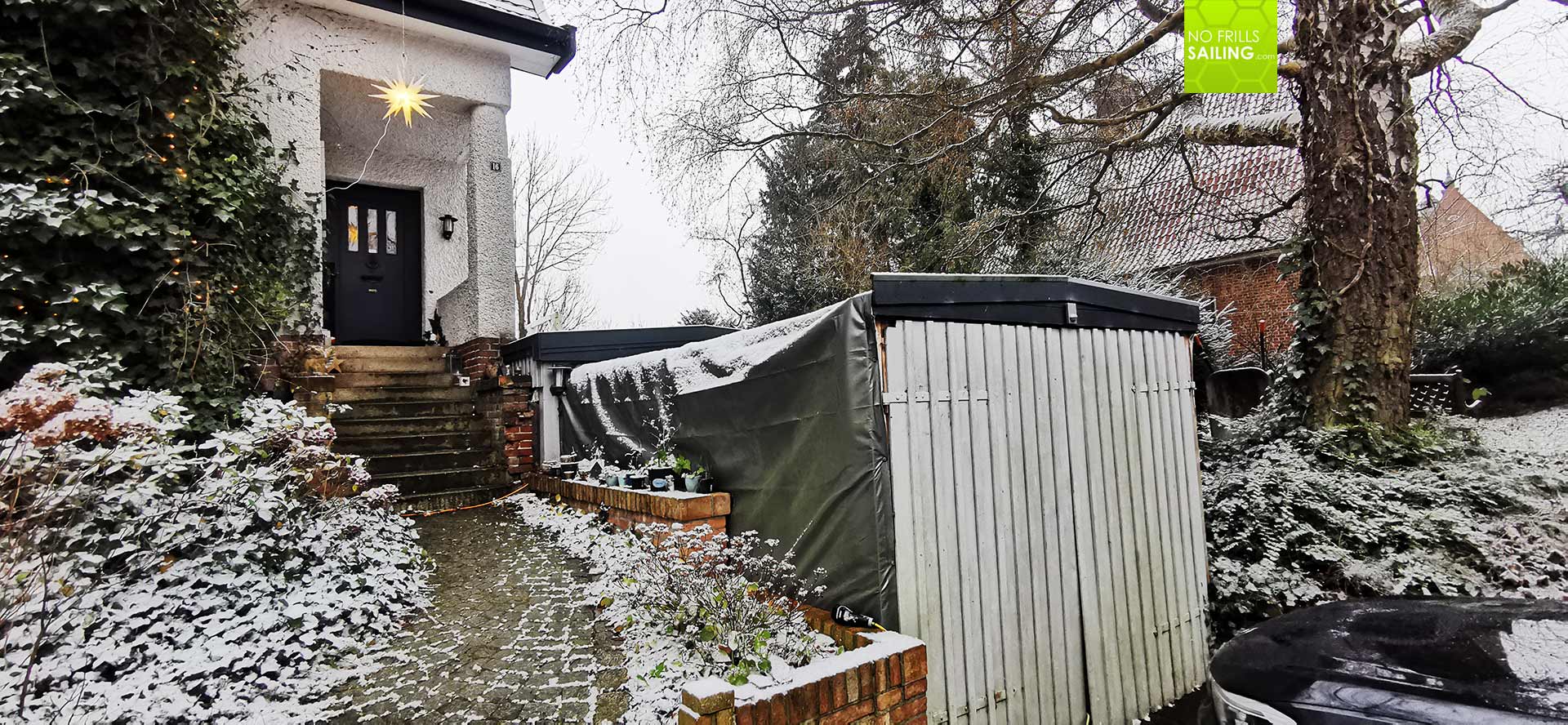 Jan is one of these guys you rarely meet: For fulfilling a lifelong dream, he does not simply buy a boat. He also not just builds one of the DIY-kits. He had his dream yacht designed for him on purpose. A boat tailor-made to suit his demands. And – as I shall be learning quickly throughout our 3-hour-meeting – he absolutely makes not a single compromise, meticulously aiming for nothing less than absolute perfection. Which, of course, I could know already when parking the car, getting out and receiving the firm handshake of a craftsman. "Welcome, Lars!", he smiled bright and pointed to a fluffy-white covered makeshift shed: "My yard. Come inside."
A wooden marvel in the making
Inside the house, after heartfully welcoming a sweet brown Labrador, we went down a long staircase to the basement of the castle. Passing some door, I noticed that the smell changed from "cellar" to "Teak", which is an odor so unchangeable burnt into my own memories, closely connected to boat building. A smell I love, a smell I hate. To my surprise, this time the wonderful cliffhanger would appear very early in the story: Backe is building a Berckemeyer!
No way!, I thought: Berckemeyer! These boats, conceived by wonderful Martin Menzner who is not just a more than capable sailor but also – and moreover I shall say – the hidden gem of boat design. His Berckemeyer aluminium yachts have a spotless nimbus of exclusivity, superior sailing capabilities and a unique style unmatched in both clarity and beauty.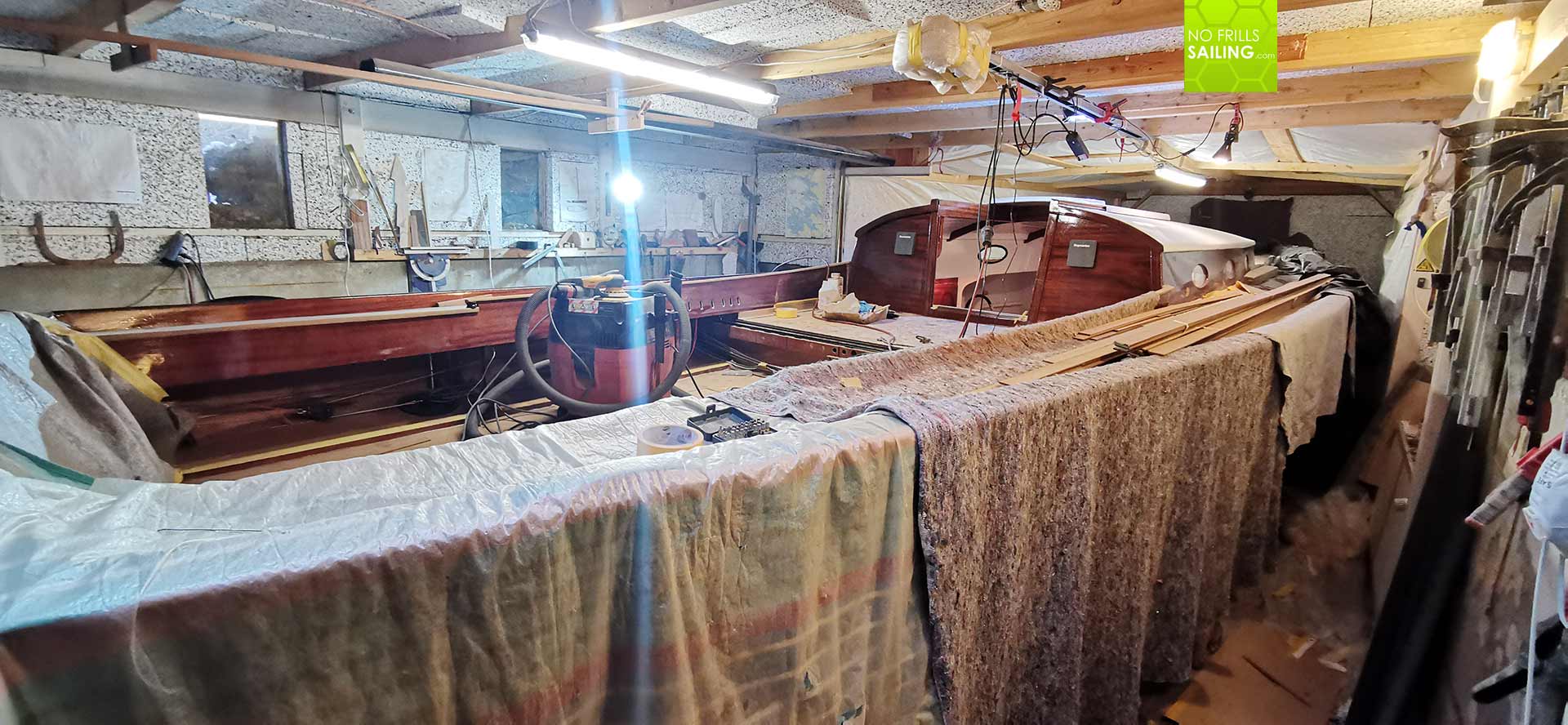 Readers regularly roaming my magazine know about my passion for Berckemeyer Yachts and as such you may imagine my excitement to see the all too familiar shape and style of Martin Menzner´s pencil pinned to the wall of Jan´s shed. But later more on that – I couldn´t take a breath as Jan literally pulled me through the last of them doors and here we were, standing right the makeshift insulated building shed. First still covered from dust and damage by a tarp, I rounded the boat where Jan especially for me took away the protective cover. And what a sight this was!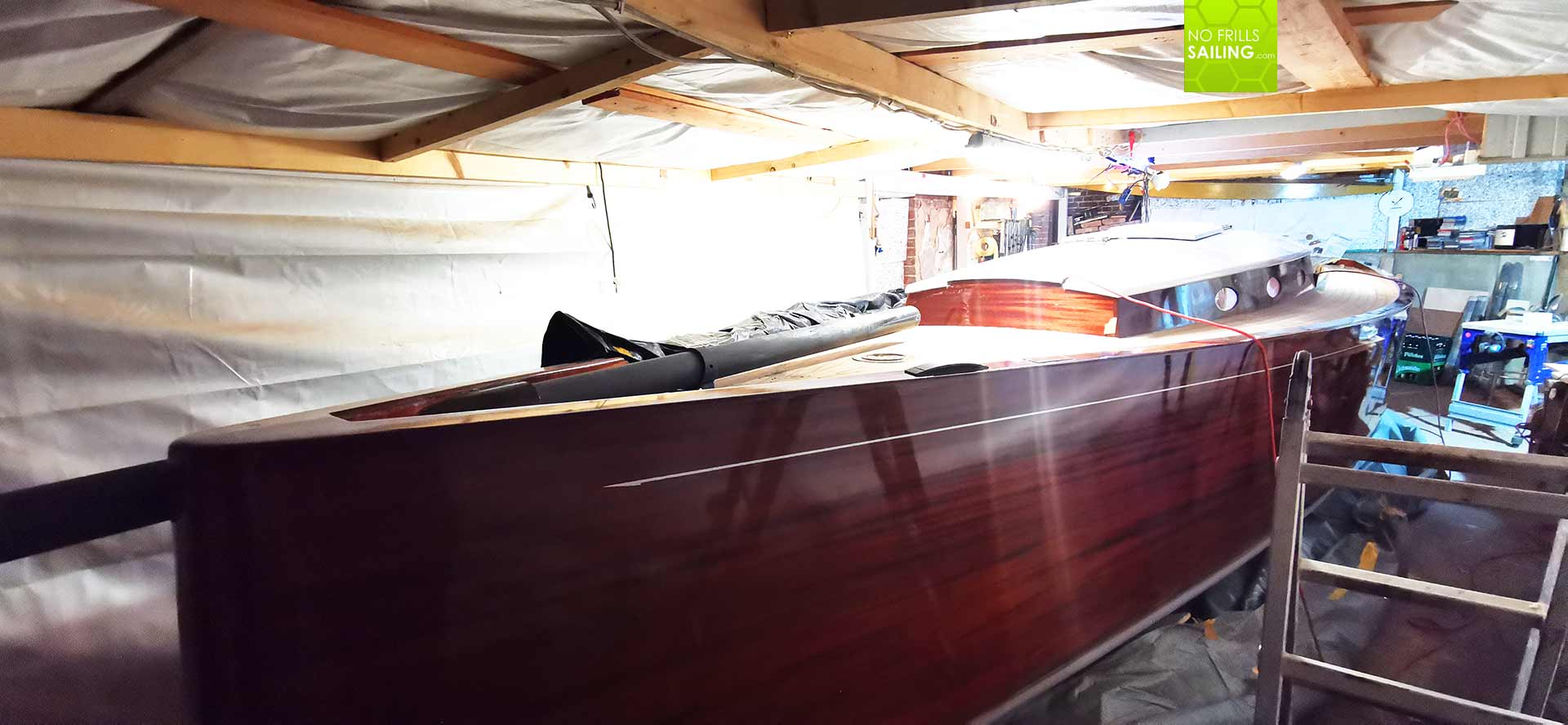 This BM 31 Classic, a 9 meter boat, is built solely from wood. CNC-milled thick plywood make for the base-construction, semi-round chined plywood for the extremely well done hull. The boat has been crowned by an absolutely spotless veneer in Sipo-Mahogany. The boat tightly fits the shed and nearly fills it up. To the roof it´s just under 2 meters. Spotlights and construction lamps light up the room but every now and then a shadow is cast, contributing to this very special feel, almost ecclesiastical. "I am a bit proud and humbled that Martin Menzner agreed to design my boat", Jan tells me. More so, his BM 31 Classic also made it to the website of Berckemeyer Yachts, which equals an accolade by the master himself.
Who is Jan?
But who is this man, receiving me in his holy working space and starting an uninterrupted elegy on his project, full of pride but also so fascinated, pulling out a story and an interesting fact literally every centimeter he passes by alongside the yacht. Jan von der Bank is a screenwriter. One can say that almost every German owning a TV has watched his stories. Germany´s most favourite detective series, called "Tatort" features his stories as well as other thrilling TV-formats. Parents, especially in the North, might know him by his sweet works on the children´s book series, the "Klabautergeschichten". He is a storyteller. A dreamer. How perfectly well this boat suits a character like his, I instantly think and begin to grasp even more the meaning this boat might have for Jan.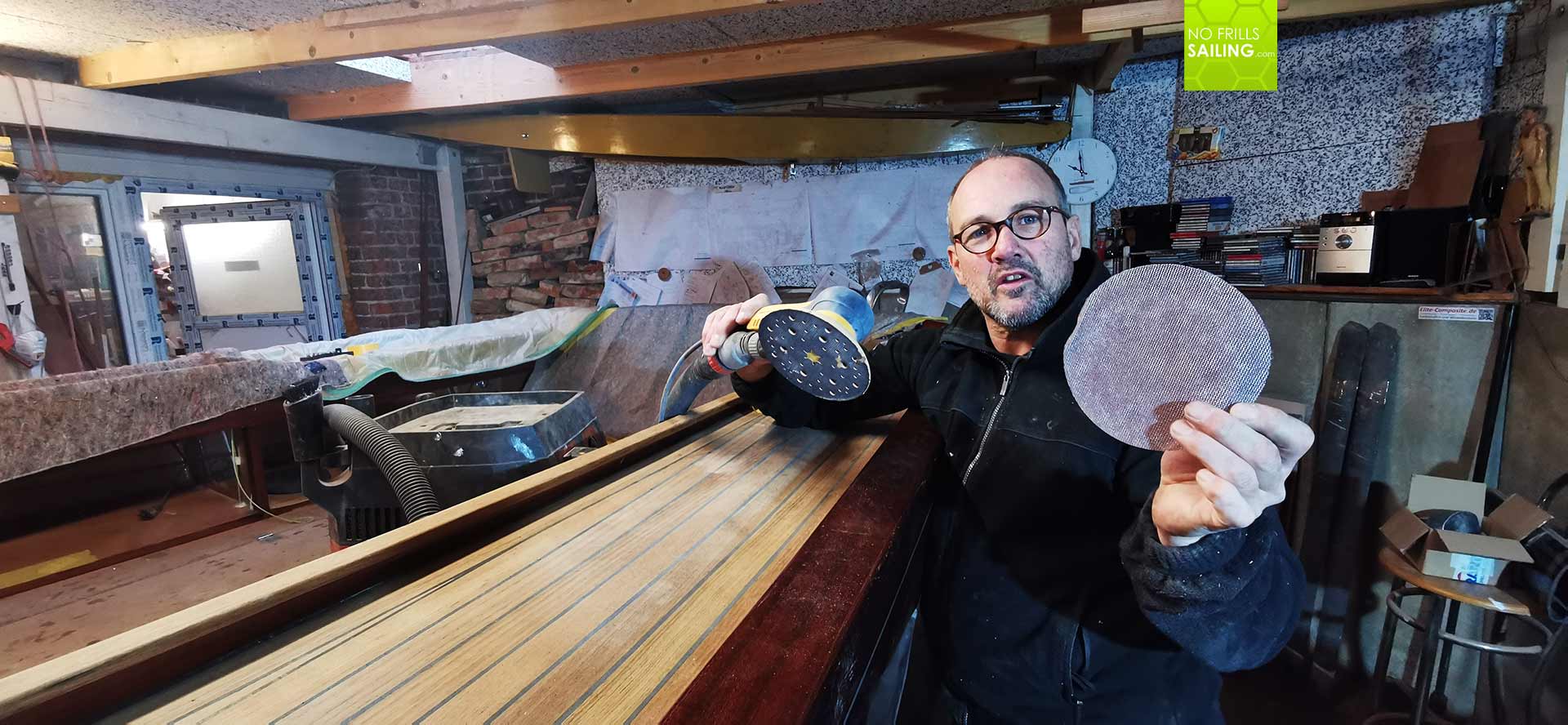 Ssss"I always wanted to build a wooden boat", he says. "Starting with a Dudley Dix-design, which I originally wanted to do, I quickly sensed that this wasn´t the kind of boat I´d liked to make. It was a lucky and strange chance that Martin Menzner agreed to draw the lines of this boat. And I simply loved it from the first glimpse I got onto the very first sketch!" He likes it simple, plain and classy. A sexy sheerline, no frills, no playing around. "She should be clean, I don´t want anything visible. If you ask me."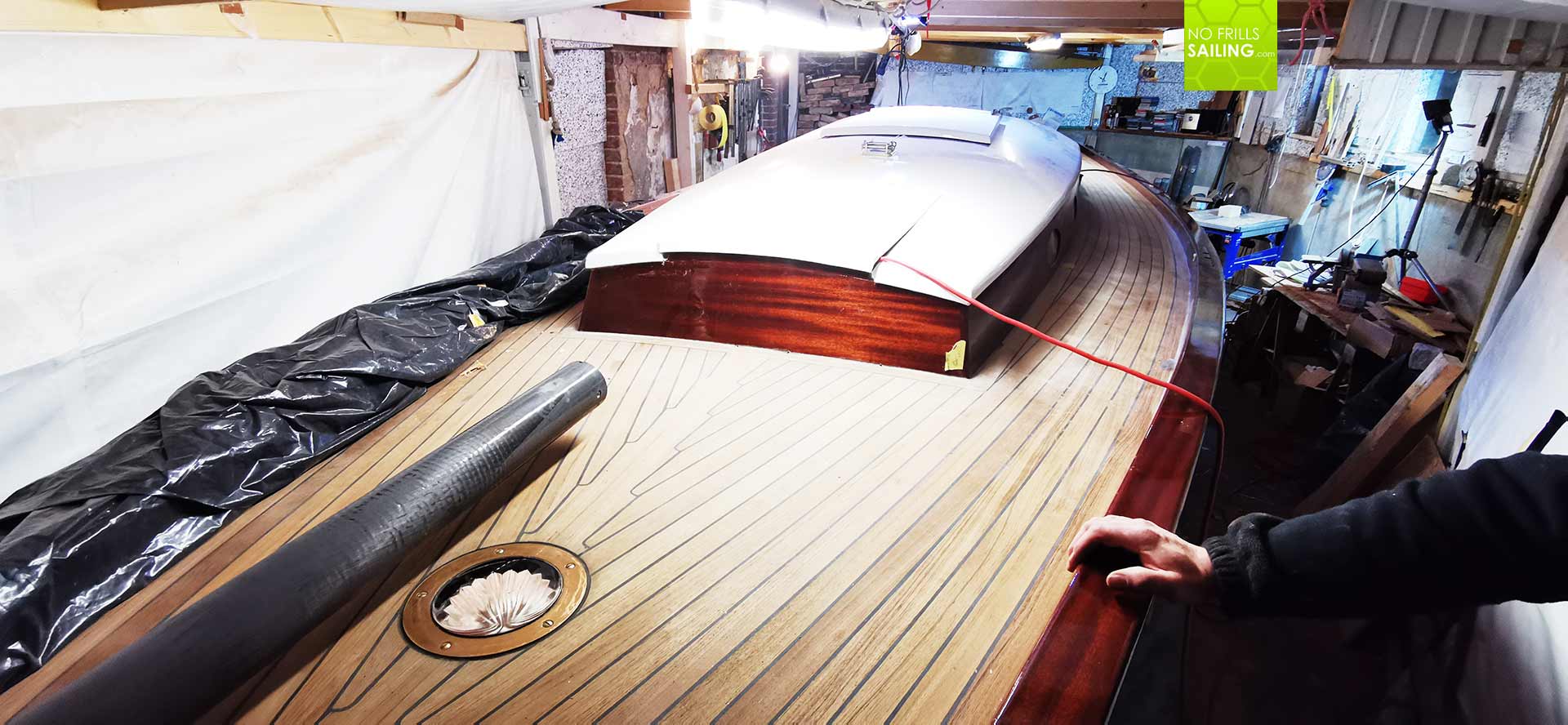 Almost everything on the boat is done by himself. Veneering was outsourced to a professional, who really did a great job with glossy-painting itself done by Jan (spotless, smooth, Wow). The rest is his own work. "I guess I am kind of a autist", Jan confesses and smiles: "Often I lay sleepless in my bed, dreaming up all those nice details and twist my mind for hours over solutions or workarounds of how to make it. It´s a complicated and delicate matter building a boat – more so when the pretense is of having a clean boat: No chance to mount stuff afterwards, I try to hide everything as much as I can. If you ask me, the boat later should only be wood and black, meaning Carbon." And that is where the astonishment starts …
Like a pro murder story: The details count
I am a storyteller too, though never slightly as professional as Jan is. But I know so much that a story only works if the parts summing up a line of action are presented deliberately and clever. For a crime story, which is the specialty of Jan, it´s even more delicate: You can´t give away who is the murderer in the first scene, you shouldn´t present the whole case in the beginning. It´s a game of showing just as much that your imagination does the rest. What works for a thriller, works for his boat too.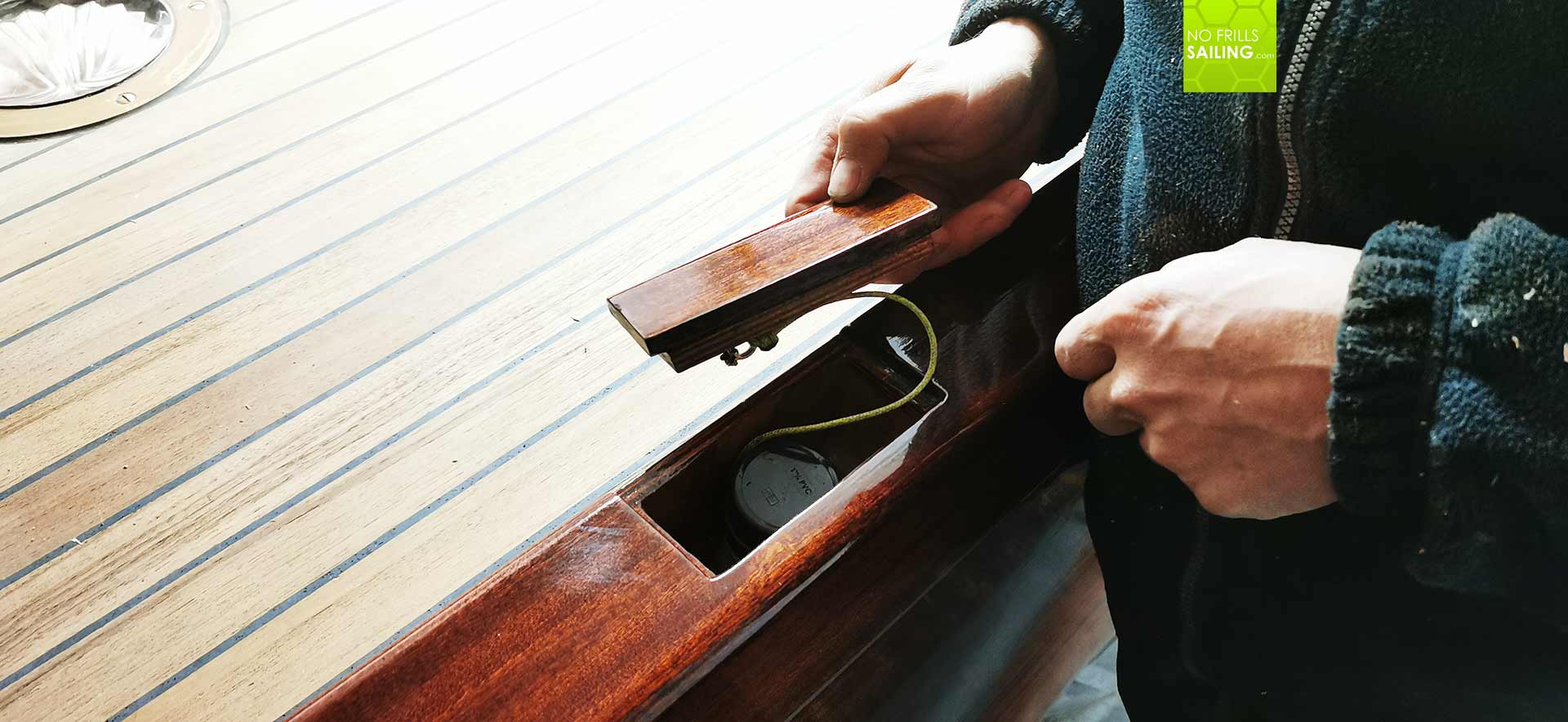 "You see, I don´t want to have a brutal stainless steel inlet screwed onto my Teak deck", Jan says, showing me the fresh water filler neck. He takes away a delicately placed cutout from the coaming – of course the wooden grain is preserved – to show me the solution. The inlet is recessed, still reachable for daily use but adhering to Jan´s philosophy: Hidden, as much preserving a clean uninterrupted look of the boat.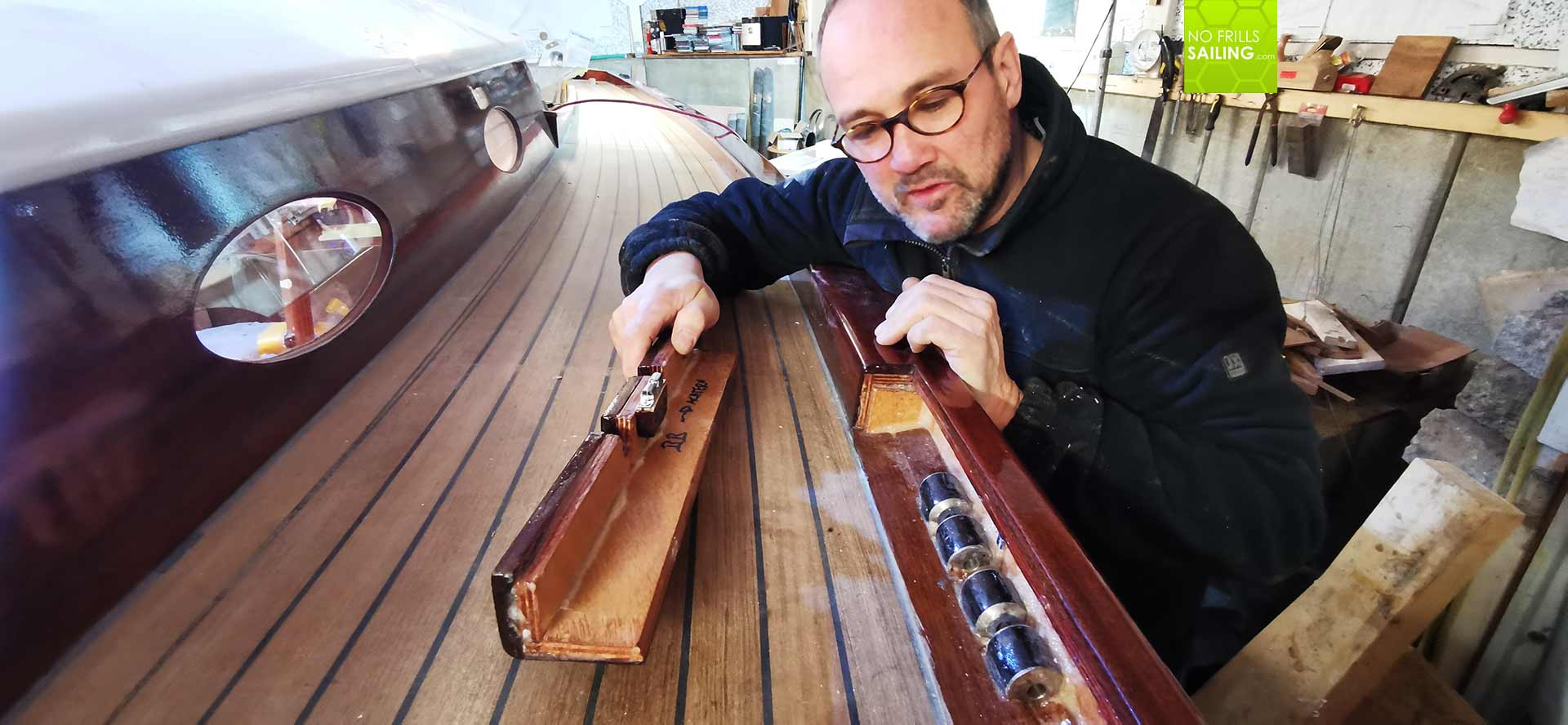 "Same goes for the chain plates of course", je says. On most boats this crucial part of the standing rigging is bolted to the outside of the hull or, for brands attaching some more importance to the looks, placed to the inside of the boat. But that would be too less of an effort and outcome for Jan: As well as for the fresh water filler neck, he cut out a part of the coming and placed the chain plates as deep and tightly to the deck as possible. In the end, only the shrouds will be visible, the rest covered and hidden. "Most of these ideas are very complex one-of-a-kind ideas, some are proven lifehacks I happily receive from friends, like this one …", he says and points toward a set of line-exits.
"Martin Menzner, the designer of my boat, told me this: Just use simple stainless steel chain links …", he points toward this little detail and smiles: Really, a quick, easy, cheap but equally elegant solution to prevent chafing of the valuable and beautiful wooden coamings by the running rigging. It is this attention to details which excites me most about Jan: The love for the details and his somewhat easiness, a careless childlike fascination and happiness about those. So refreshing to observe.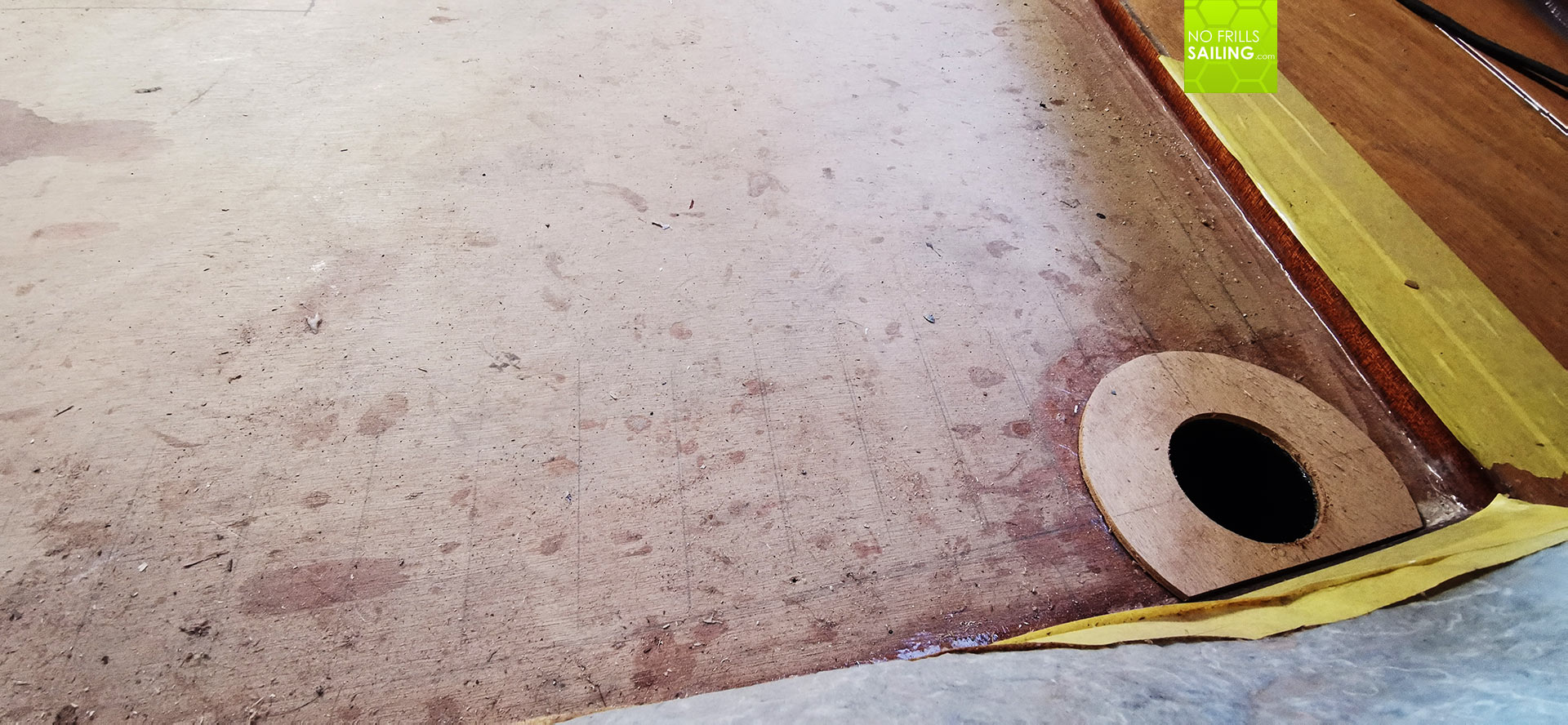 In all this, Jan knows what he is doing. Other than my 4-year effort of refitting OLIVIA, he seems to know exactly what to do when, in which order and manner. Best seen in the cockpit, the last part of the boat´s deck still uncovered with Teak. He not just took a measurement to calculate how many battens of Teak he would need, he meticulously sketched each and every single one of them to the plywood-base: "Of course, the seams of the battens will match the opening hatches´ edges …" Yes, of course.
"Mumm" means "to have balls" …
I knew Jan von der Bank from facebook where his page comprises a proud and regular audience. But I somehow never quite got into his project in detail, I must admit. In fact, Jan was the one seeking a connection to me when he wrote an e-mail, asking if I could deliver a gooseneck from a Seascape 27 of which he assumes it would fit his carbon rigging. Another nice story: A brand new – but damaged – Carbon mast of a Mumm 30 was offered him and as he is well connected to pro boatbuilders, he found somebody who was able to professionally repair the mast. Seeking a Beneteau/Seascape-dealer I was the nearest.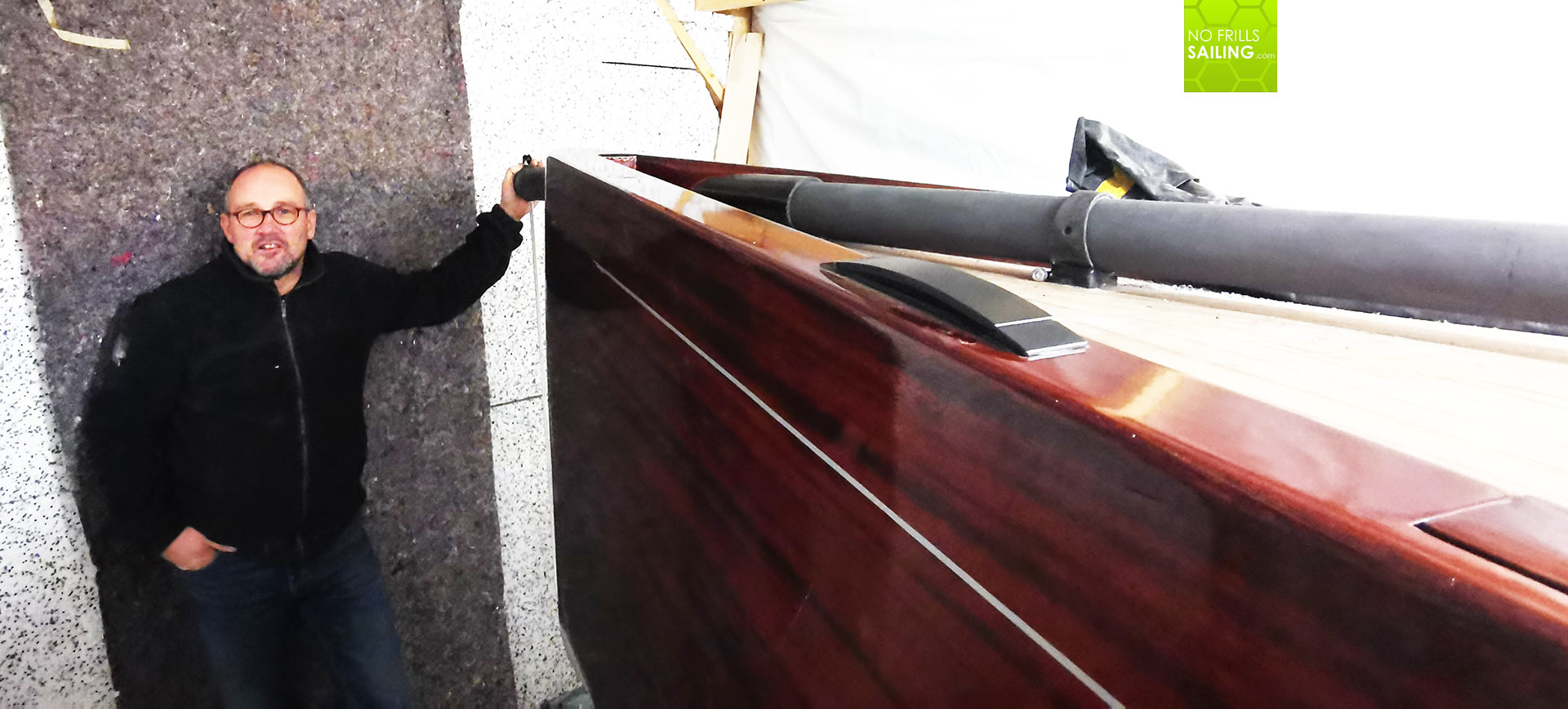 So his Berckemeyer 31 Classic will sport a tall Mumm 30 full Carbon mast, Carbon boom (the one of which he assumes it is identical in construction with the First 27 SE). Another nice co-incidence and maybe a sign: "Mumm" is not just a brand of renowned racing boats, but also a German word. It means something like "having the balls." Everything about Jan´s project is "balls" indeed!
Another story of an electric powered boat
A wonderful clean boat like this cannot be powered by internal combustion. I just can´t! Like my philosophy on GEKKO, Jan as well sees the potentials of an all-electric boat propulsion and from the beginning his boat was conceived as one. We climb into the cockpit, me sitting down behind the rudderstock tube. Jan is standing on three cockpit hatches, opens the middle one: A prop-unit, folded up and a closing hatch for the underside of the hull is visible.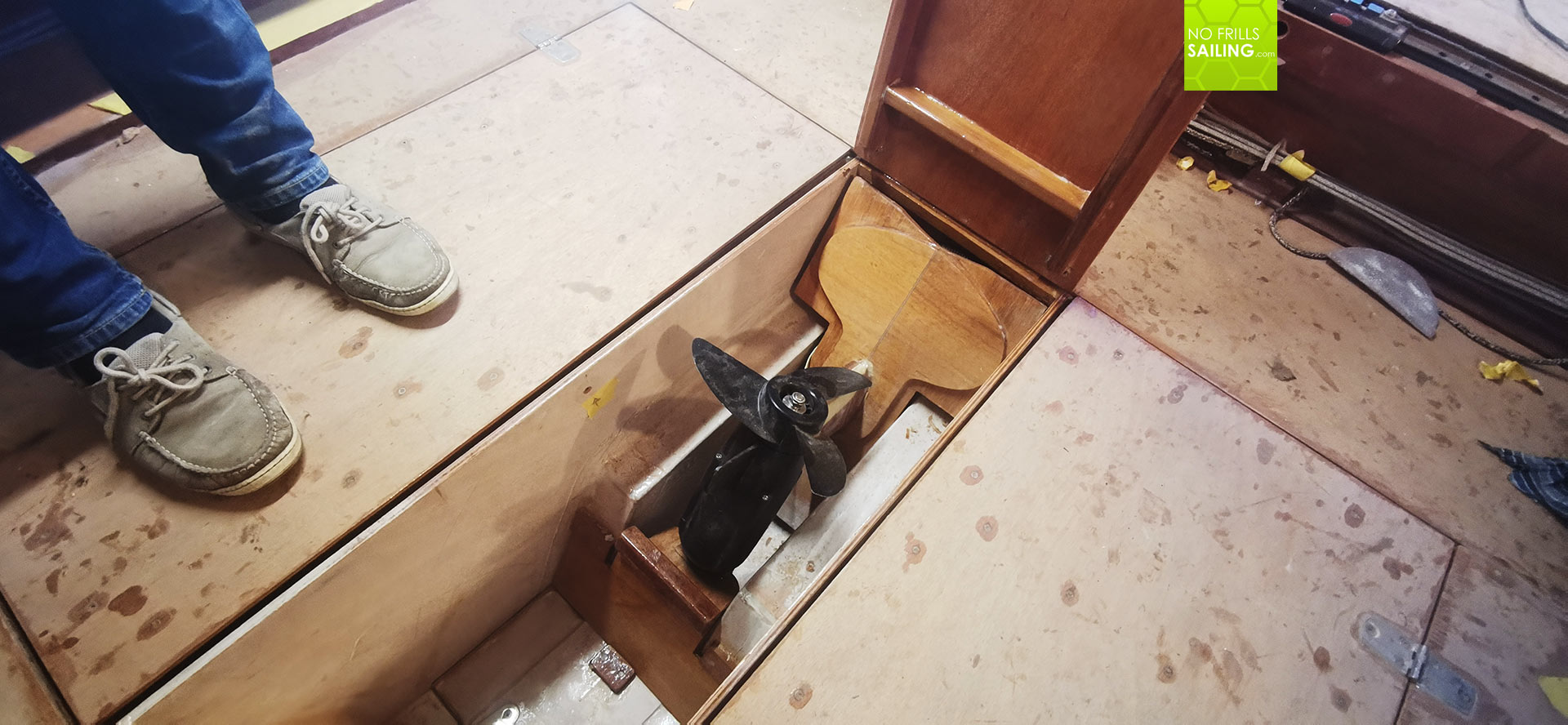 I instantly recognize the system because it is similar to the one on my First 27 SE: When under sails, the propulsion unit is folded up, downward hatch closed and the surfaced body of the hull if free of obstacles, a guarantee for lowest possible friction in the water and uninterrupted flow in the element. "I tried to work with Torqeedo", Jan says, "but sadly their people proved not to be very flexible or open-minded for individual solutions. It was kind of hard and stressful to explain what I had in mind. So I switched to no-name manufacturers, ordered directly in China and – not just saving a lot of money – was able to realize this system without any further problems."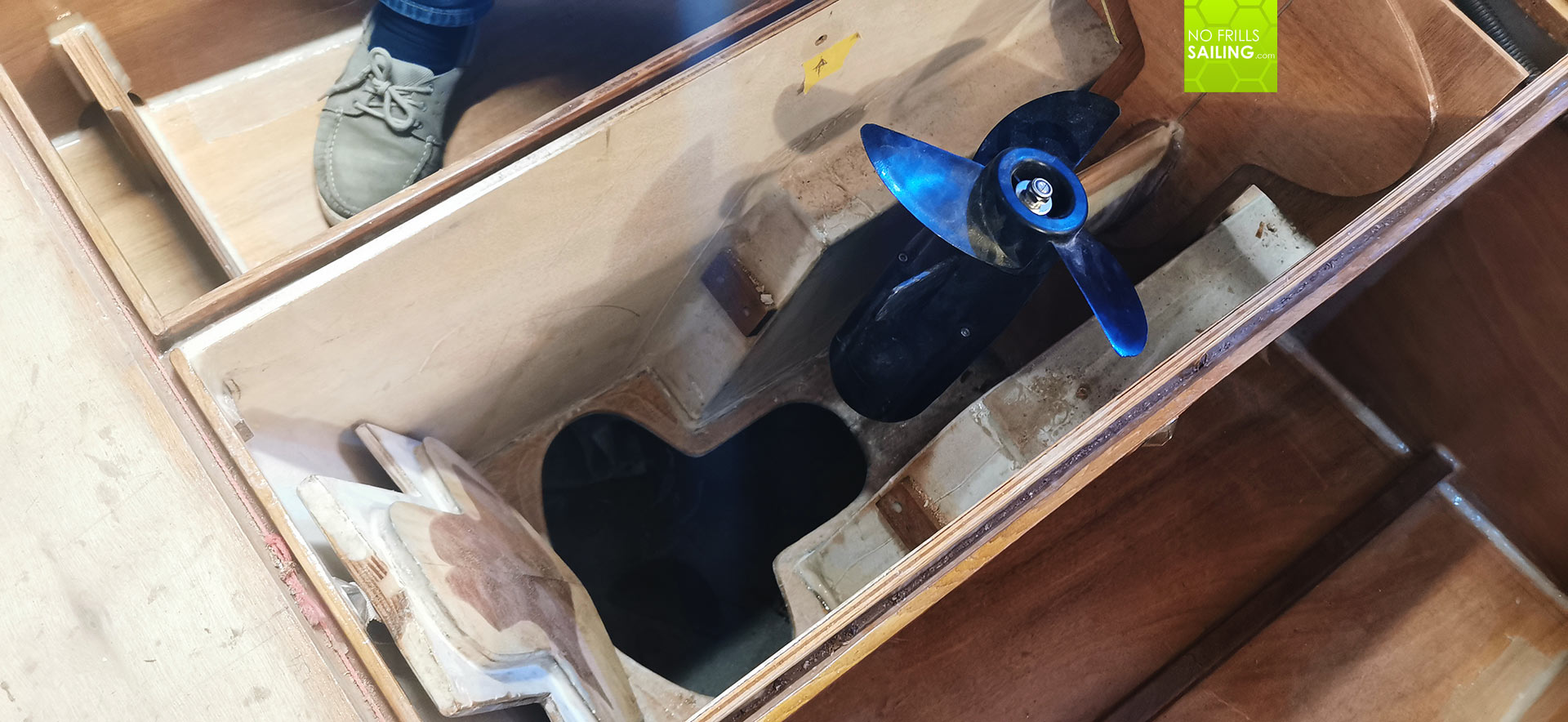 With a few simple movements of the hand the pod is detached and main power switch engaged. The unit is powered by a 200 Ah LiIon-Battery that will be recharged solely by shore power: "It is a sailboat and I am intending to use it that way. I consider the size of the battery absolutely adequate to fit my needs for berthing and casting off, the rest will be done under sail, of course." Smiles Jan and invites me into the boat´s saloon – and indeed, the surprises do not cease to happen.
Plain, simple – but overwhelmingly beautiful
It is just awesome! The boat, 9.5 meteres in length and 2.75 metres wide, offers a sleek, cozy, open and surprisingly light suffused interior. Classy as the whole ship, the dominating color is the wonderful Mahogany veneer and white lacquered surfaces. The small windows and a classic deck-prism even in a dark surrounding like Jan´s building shed create a warm, welcoming atmosphere.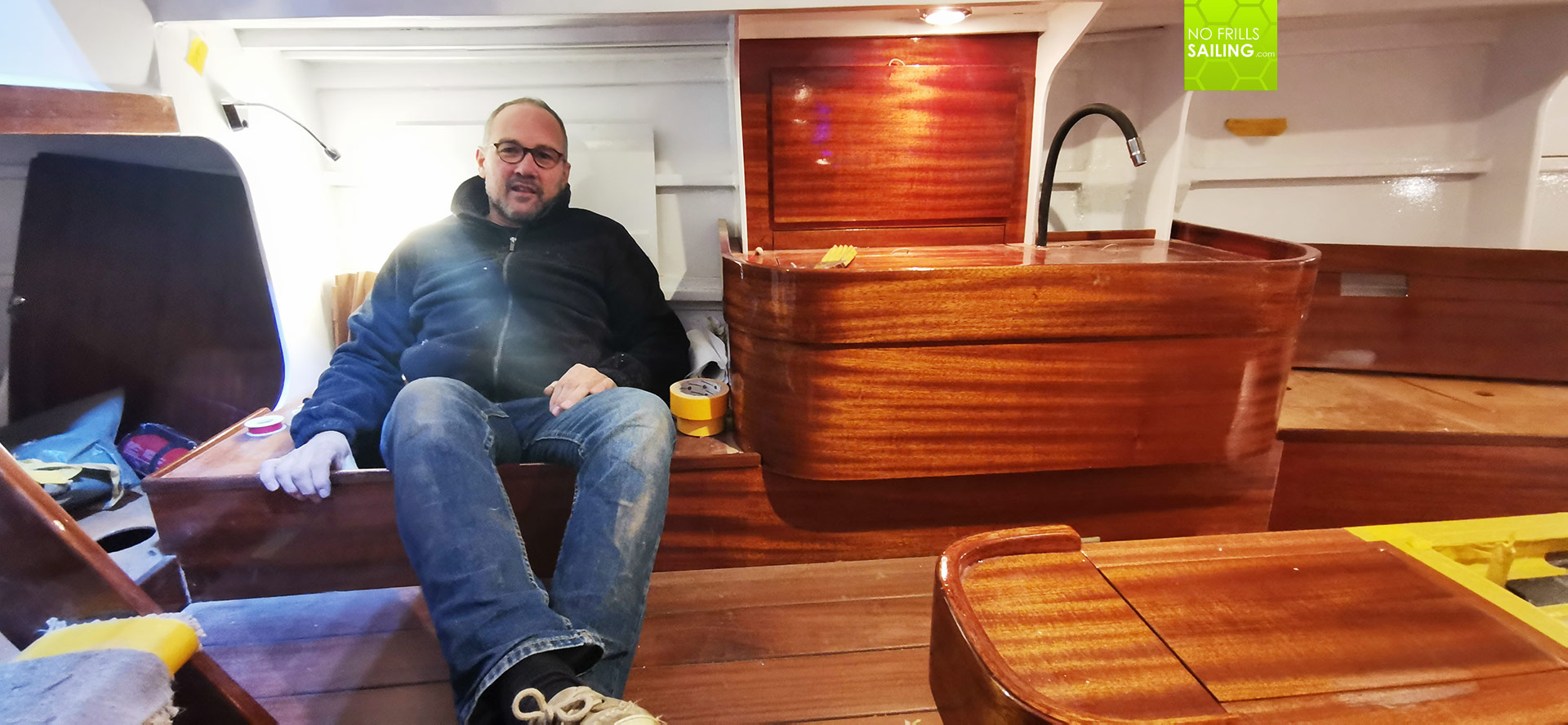 Jan opens a hatch under which a rounded seating appears: A simple stowaway solution for sitting down near the cockpit. I do the same and we sit face to face. Looking around I can easily identify the large V-shaped fore-berth in bow with two benches leading aft. In the middle of the boat is the keel housing which also is home to the main battery.
X
As with every Berckemeyer sailing yacht this BM 31 Classic is equipped with a drop keel. Her draft of an impressive 2.20 meters can thus be reduced to 1.40 meters, making it possible to enter all those charming shallow Southern Danish harbors or hidden anchorages of the Baltic Sea. The boat could also be fitted with a 1.60 meters fixed keel though.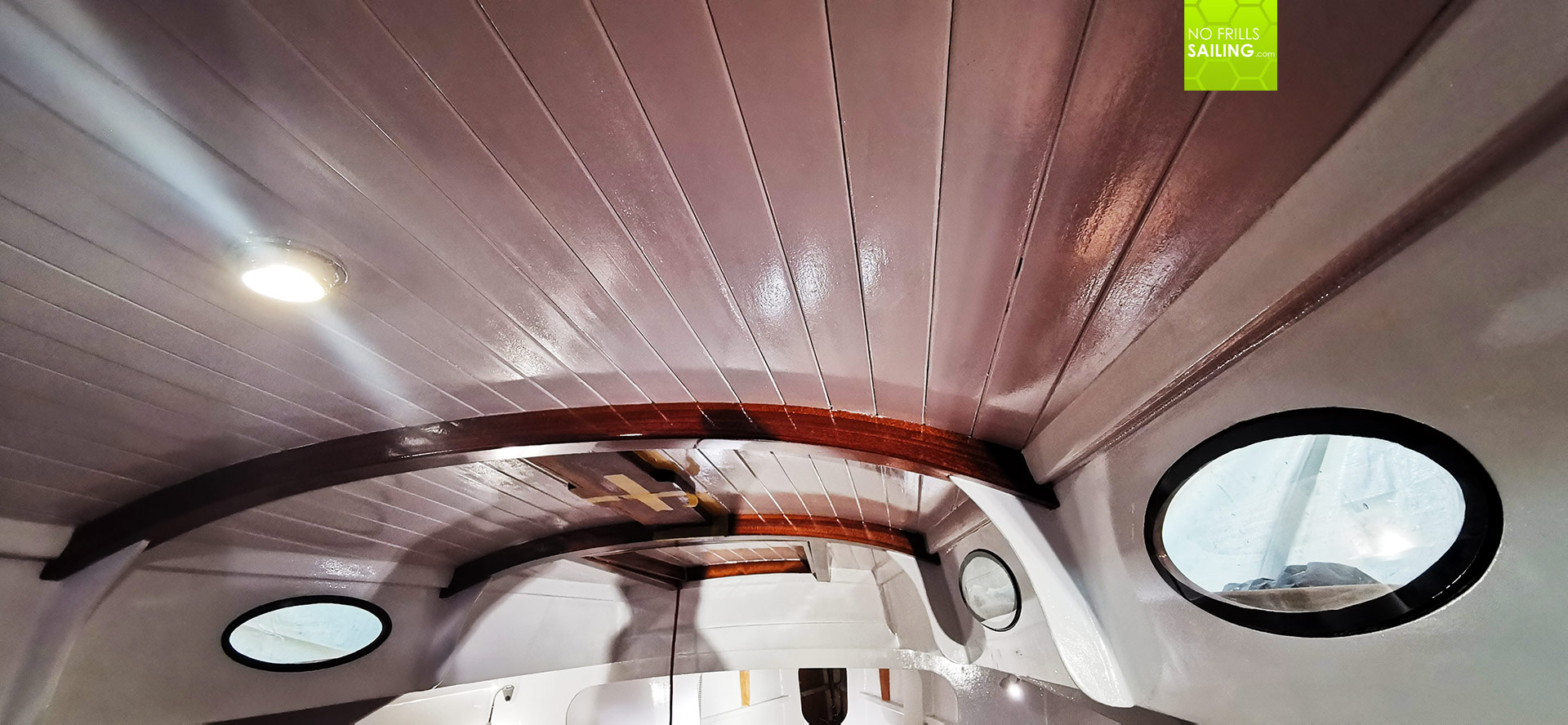 I look above and admire the work Jan has done with the roofing: I remember that this was one of the biggest single items on my to-do list with OLIVIA and one of the toughest jobs to do. Jan´s work is remarkable. The white lacquered battens are fitted spotless and absolutely accurate. Hats off to his craftsmanship abilities! The joinery inside is of the highest quality: The veneered chart table may be considered a work of art.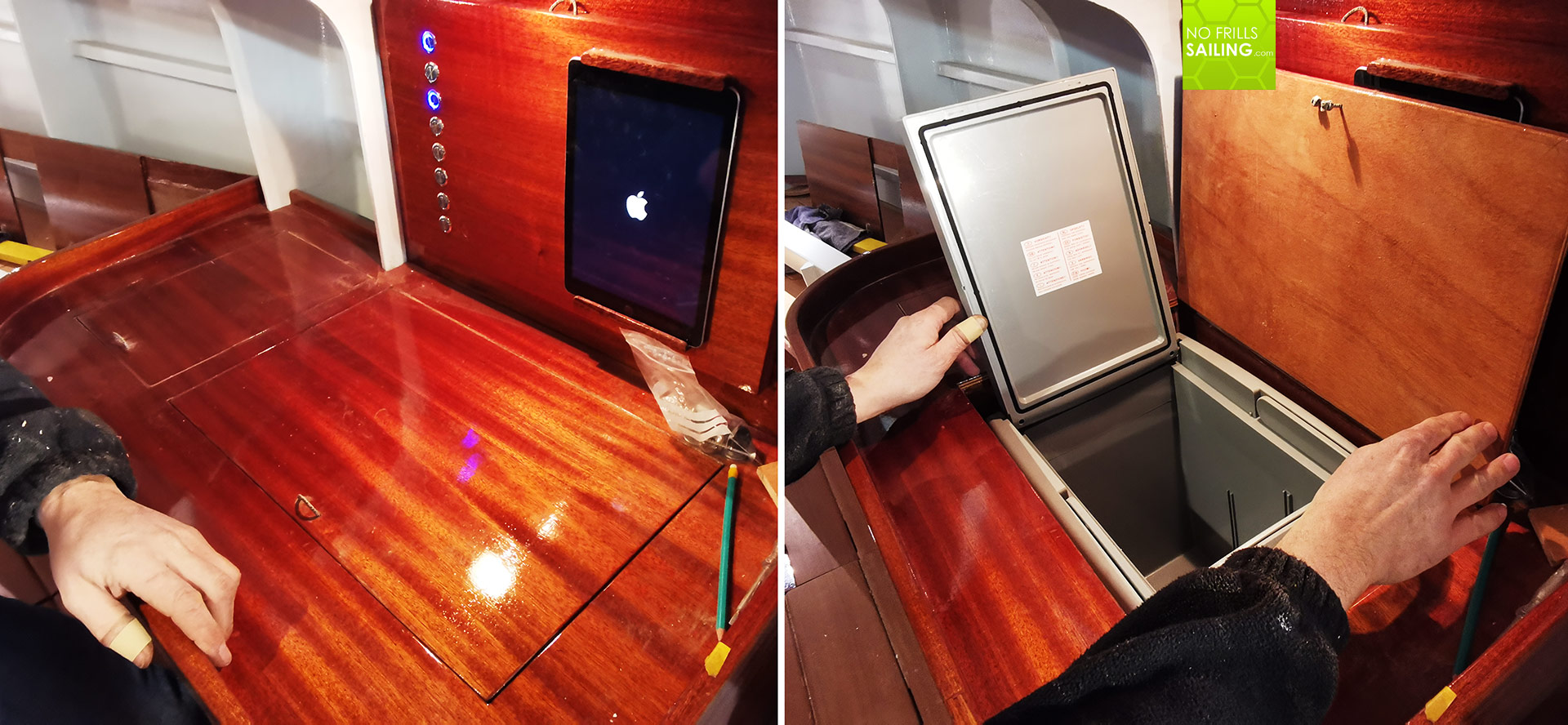 In all the classic design, Jan does not deny modern technology: Opening the chart table a cooler/freezer unit is visible, an Apple iPad is custom fitted to serve as chart plotter and home of te navigational apps as well as of the Raymarine equipment. Modern LED-lights create a nice indirect atmosphere on the flooring, blueish glue of the switches fit surprisingly well to the classic appearance.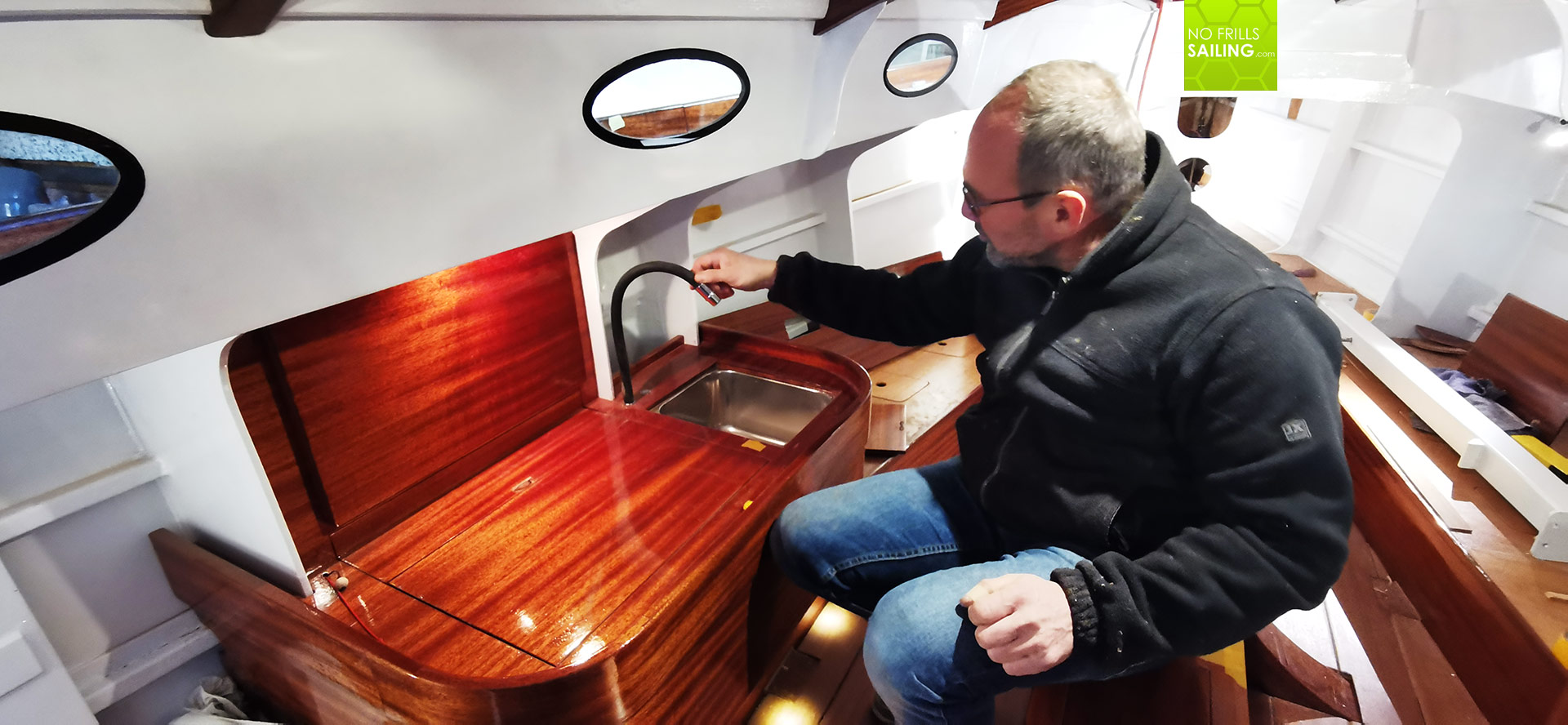 Vis-à-vis Jan has built a small galley that in every sense fits perfectly my own idea of #microcruising. It is a mirror image of the chart table from the outside (which in itself is a masterly achievement) but sports a clever and practical set of equipment. To the right a small sink with an electric pump will serve well for cleaning cutlery. "By the way, when finished, the keel-house will be a seat to either work in the galley or, by turning around, on the chart table", Jan states and smiles.
XXXXXXBILD  20 Gas stove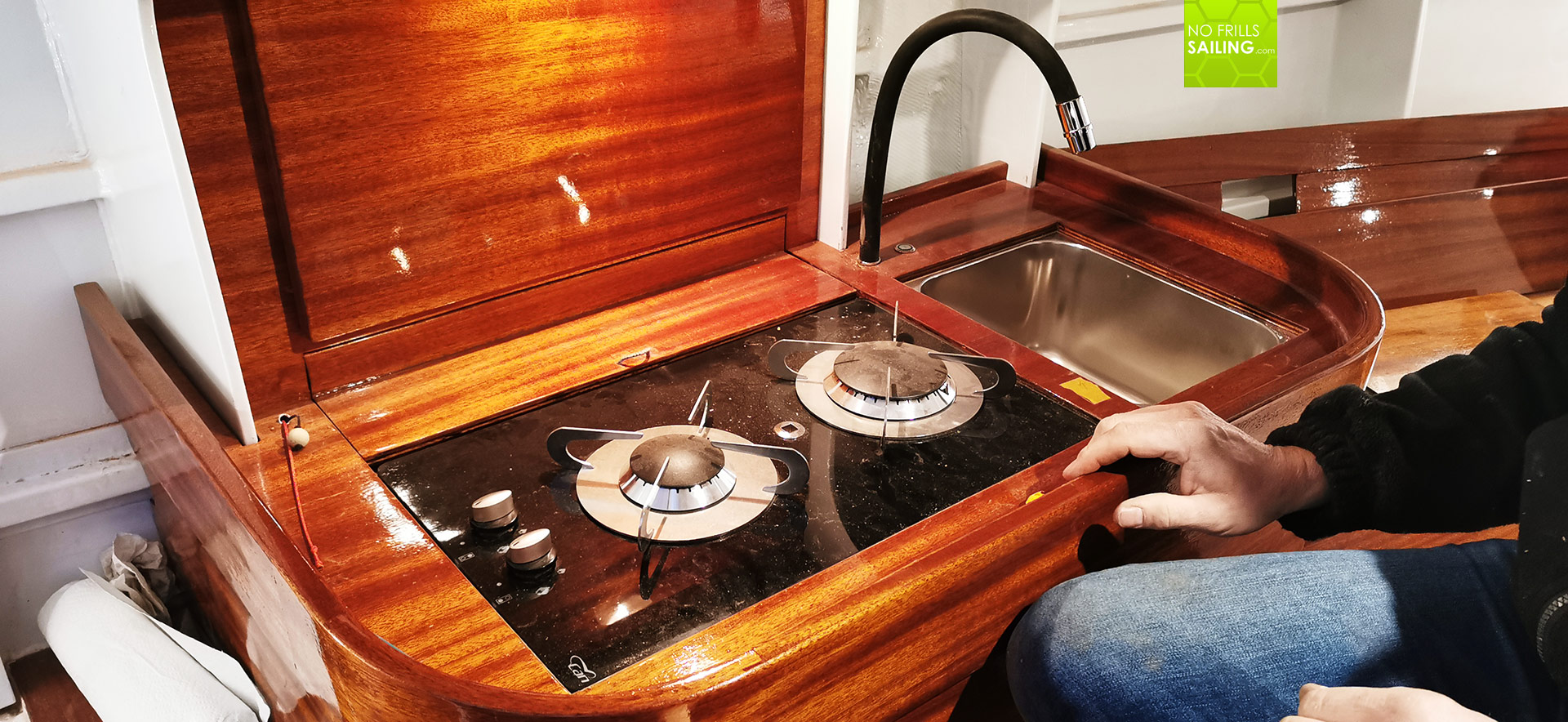 He opens the hatch, giving sight to a large stowage for kitchen-stuff. The propane-powered 2-flame stove slides elegantly in place and is ready for use in a matter of seconds. Behind it, on the hull´s wall, is even more space for herbs, plates and equipment. When closed again, this full-fledged ship´s galley disguises itself again in this classy look and if it wasn´t for Jan I can so easily imagine good old Ernest Hemmingway coming down here, mixing one of the first Mojito´s at anchor somewhere in the Caribbean of the past century … it´s magic, indeed.
A boat of a lifetime
Although the boat is unfinished, it breathes style. "I still don´t have a name", he says: "There are a number of ideas, some are fancy, some are classy, but it is strange, that is the only thing I haven´t come up with a solution up until now." I know it perfectly well: Finding a good ship´s name is a delicate matter and is much, much more important for the rest of the boat´s life than one instantly would think. But I am sure, it will come, at least when the boat is ready to be put into water. By the way, what is his plan for the boat anyway?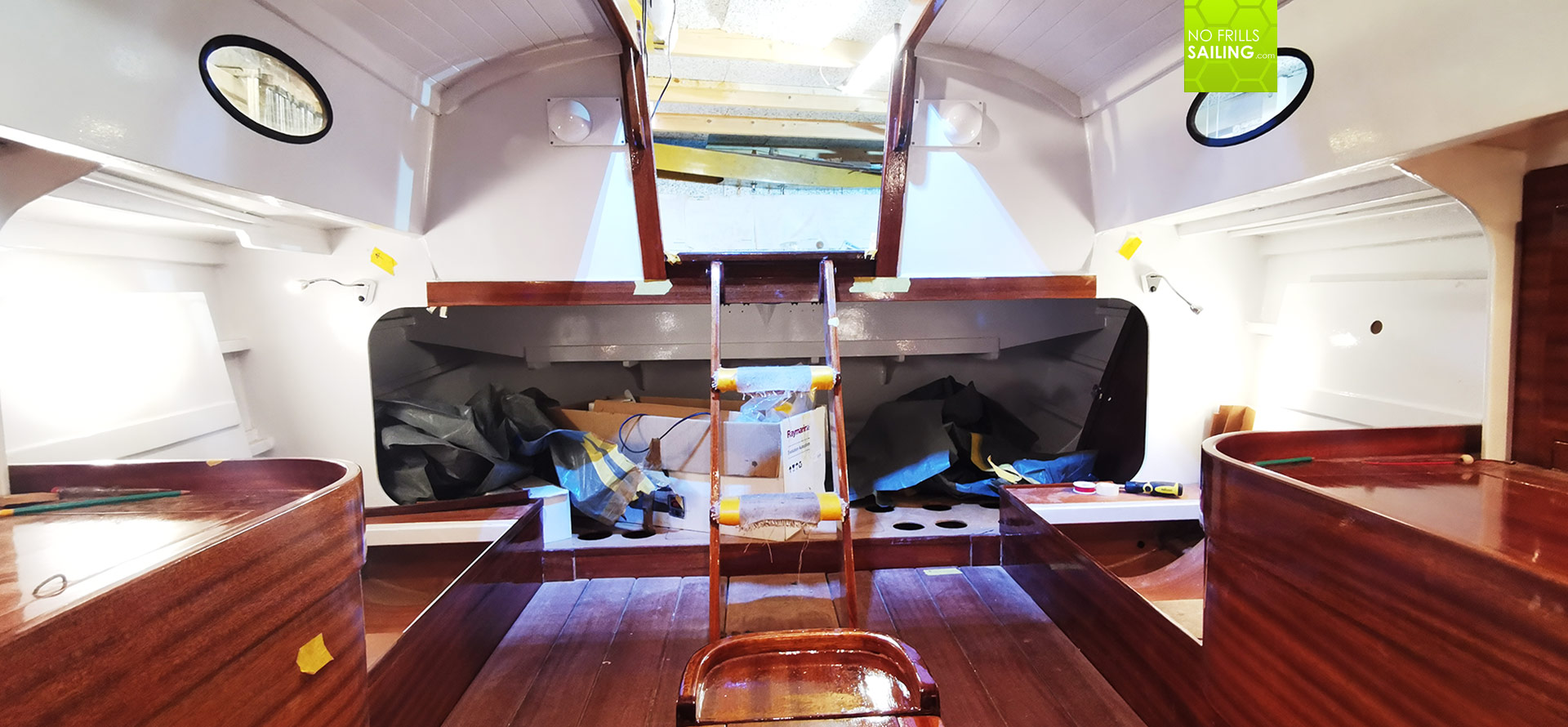 "Well, she is finished to … let´s say some 80, 85 per cent", Jan says. "Except for the standing rigging, of which you know I am working on right now, and some last woodworks, it is just the keel and the lead bulb that is missing." The lead bulb is scheduled to be cast in the coming few months, which is a story for itself: There is only one small factory left in all of Germany that is able to deliver such a highly customized product. "I will start producing a model for the mould soon", Jan confirms: "Martin Menzner will send the plans."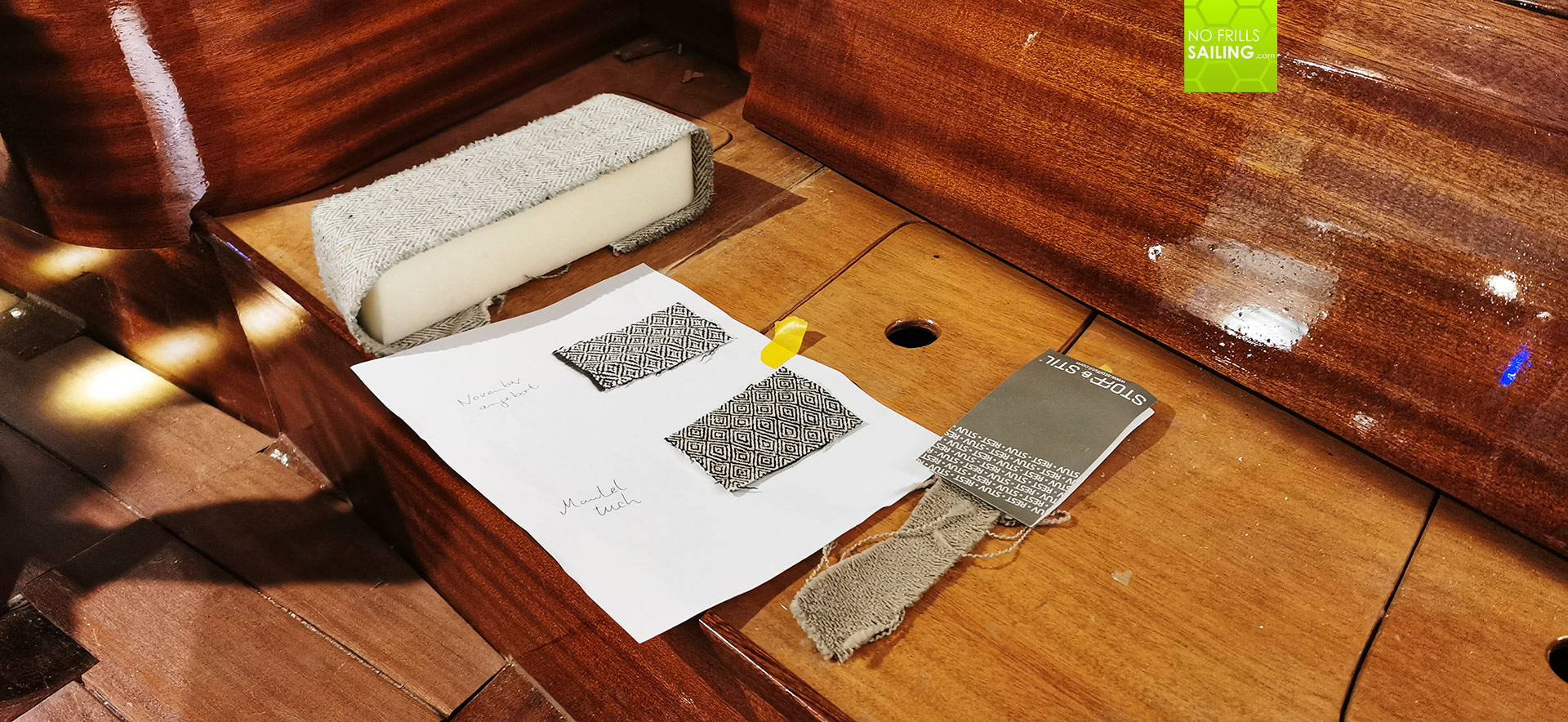 Other than this, the few remaining items is the cushions for down below. Jan shows some samples of the garments and instinctively I choose the one he opts for as well. "I like to have it conservative again when it comes to colors down below" and he makes a bit of a suffering face when I suggest that a "fresh apple green" sofa cushion here and there would spice things up. Well … we smile. Maybe Granny Smith-colors aren´t the one Hemmingway would have gone for as well.
3.000 hours. 70 clamps. And book full of notes …
"I think the boat will see water for the first time next spring", Jan states. As we have early December right now, that is roughly 5 months to go. "In general, everything is working and almost everything is finished. I am really looking forward!", I can perfectly understand – and can see the glow in his eyes. "Corona is a bit of a pain in the ass regarding berths as there are simply none available. I try to be lucky and get one in Kiel or somewhere easy to reach from here." I promise that on the day this wonderful boat touches the salty waters of the Baltic Sea for the first time, I will be there.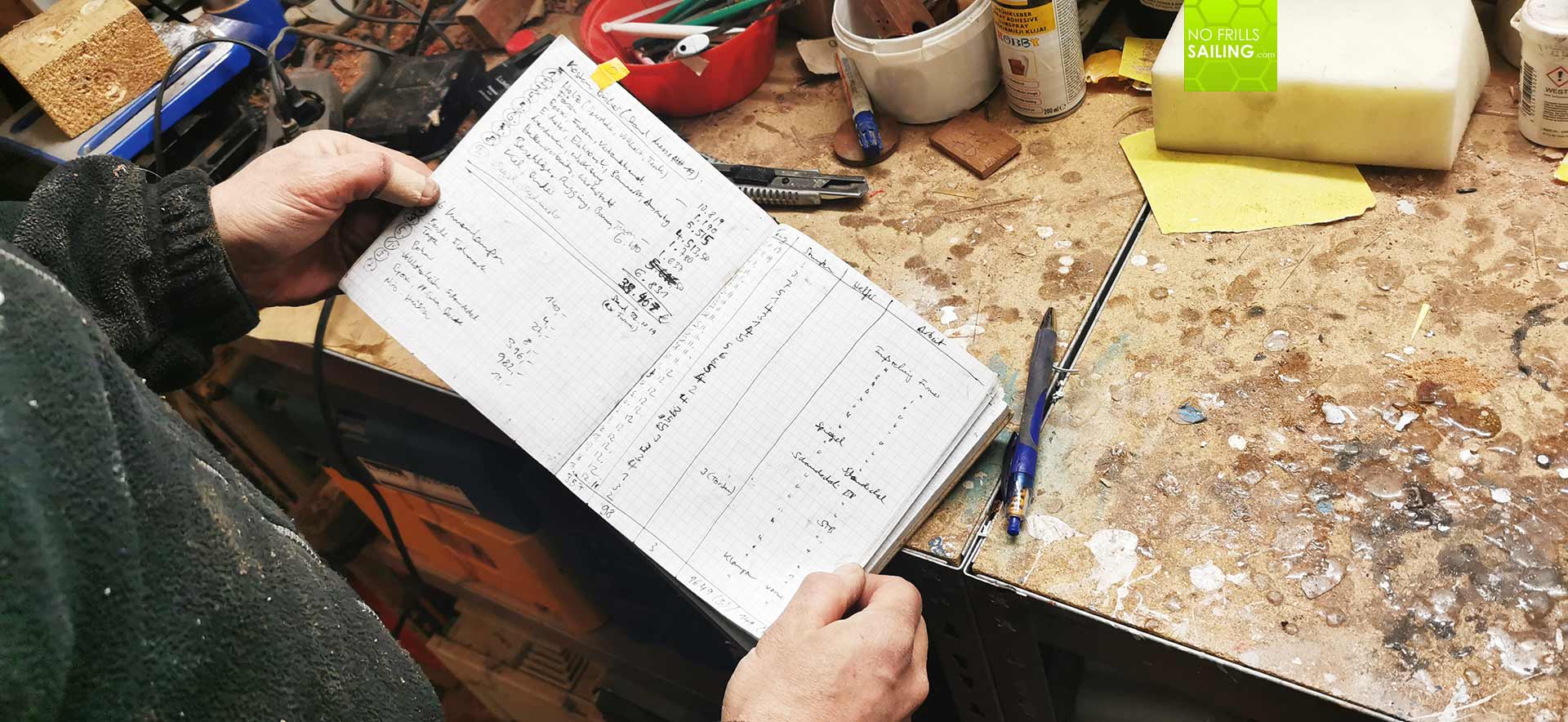 As I say Goodbye to the boat and we switch off all the light, we pass through the various rooms of his basement yard. Jan grabs a book, showing me the numbers: He keeps all of them in a book. Other than myself, he is not only counting the working hours going into the boat (3.000 net hours as of now) but also the budget spent so far. That is something I never did – which literally prevented me from getting a stroke – but Jan likes to have the numbers at hand. But also all sorts of statistics too: "Can you guess how many clamps I used for the boat to this day? 70!", he says, and smiles. I leave Jan standing in his yard again, behind him the snowy shed with his wooden marvel inside and co-incidentally a glowing Christmas-star above his head in the main entrance to the house. What a peaceful and fitting closing shot, I think to myself, smile, wave Goodbye and drive home. I also smile and feel happy: This time, I am sure, this is a boatbuilding-project of which I will certainly see a real boat swimming in real water.
Boat building DIY – here´s some more on this topic:
Alex Lang´s Mini 650-project by Dudley Dix, parts 1 and 2
Berckemeyer 49 interior fittings
Black hole yacht refit?